Identifying Potential Breakout Players for the Minnesota Vikings' 2012 Season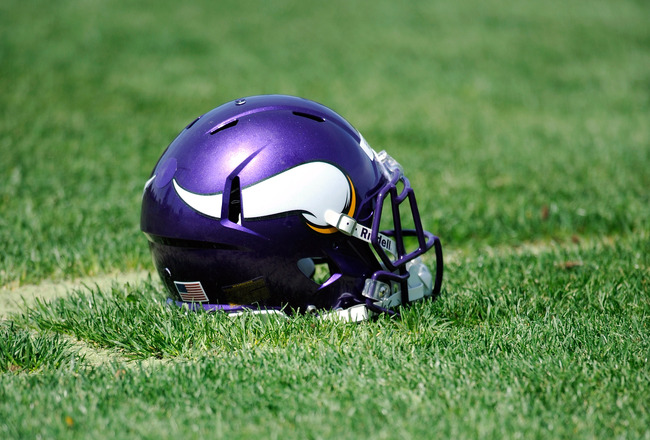 Hannah Foslien/Getty Images
We're at the last of our look at the potential breakout players in the NFC North, arriving last—but not least—at the Minnesota Vikings.
While last year was bad—we can't deny that—there is a lot to like about this team going into the 2012 season.
The franchise did a great job of adding talent for reasonable prices in free agency and through the 2012 NFL draft.
They're rebuilding, sure, but they seem to have put together a solid foundation to do it on.
So let's take a look at five players who could be in for breakout seasons in 2012.
Christian Ponder, QB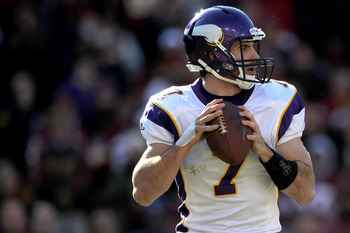 Patrick Smith/Getty Images
I've already written this week about how Vikings fans should be optimistic about Christian Ponder's second year.
I'll take it one step further—prepare to be overjoyed.
Given his struggles last year, I can't blame you for being unsure about him. But read the linked article and I think you'll be convinced.
The high points include a new left tackle in Matt Kalil, which allows Charlie Johnson to shift to guard—both moves strengthening the line by leaps and bounds. He also got several new weapons in the receiving game and will get Adrian Peterson back—if not in Week 1, then shortly thereafter.
Some of the comments in the Ponder piece I linked to were concerned about durability, as he was hurt in college a few times. I will counter by saying he made it through his first NFL season intact, though banged up. Everyone gets banged up and many veterans will tell you that the first time you step on an NFL field will be the last time you ever feel 100 percent on it.
So to me, Ponder has begun to answer that criticism by holding up to a pounding in 2011. He will admit that he needs to improve in several areas of the game, but he's a smart guy and should be able to do so.
Ponder will have a better 2012; in fact, I believe he'll have a tremendous one after the improvements the team has made.
Matt Kalil, LT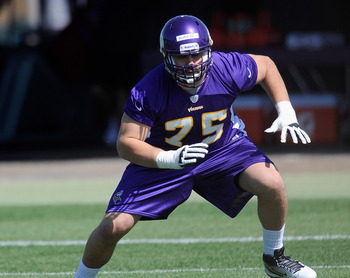 Hannah Foslien/Getty Images
When you take a rookie in the first half of the first round of the NFL draft, you expect big things from him.
Kalil will be no exception. Some are worried about the transition and have doubts as to how good Kalil is. How good is he? Well, he kept Dallas Cowboys left tackle and former first-round pick Tyron Smith away from his natural position at USC.
Roughly translated, that means he's no slouch. Kalil has everything you want in a left tackle. He's smart, athletic and strong. He'll hold up well under pressure from the edge and blow holes open for Adrian Peterson.
He's going to be a huge difference-maker on the offensive line from the first snap of his first game.
By December we'll wonder how the Vikings ever got along without him.
The truth will be, they didn't.
Harrison Smith, S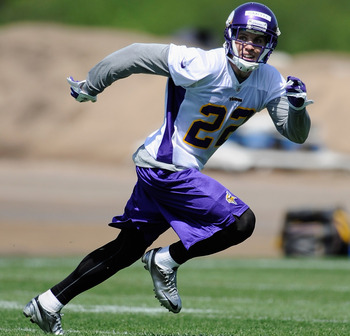 Hannah Foslien/Getty Images
The Vikings moved back into the first round for Smith, so you know they were high on the former Golden Domer.
I wasn't a fan of the move, but I am a fan of Smith and his potential impact on this secondary. Mistral Raymond was hurt too often last year and Jamarca Sanford is a good, not great safety. There is more than enough room for Smith to get involved.
Smith is a sharp-minded, athletic safety who excels more in a zone read situation than man, which shouldn't be a problem in this defense.
He's very good at reading the quarterback and has the ability to pick a pass off and make a big play.
I expect Smith to have more than one game-changing play this coming season.
Toby Gerhart, RB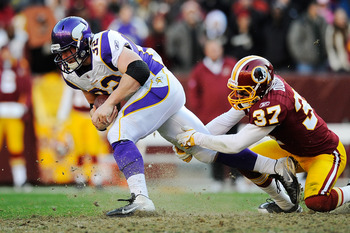 Patrick McDermott/Getty Images
Some of this depends on Adrian Peterson, both how and when he returns full time. Until that happens, it's the Toby show.
Gerhart looked so-so his rookie year but when he stepped in for an injured Peterson last fall, he looked much improved. Gerhart isn't Peterson—you'll never mistake him for that kind of elite back.
However, he is an incredibly tough runner who can break tackles and has enough speed to be dangerous when he gets into open space.
He's also quite a receiving threat and notched three touchdowns that way in 2011.
While he's not going to steal Peterson's job, don't be surprised when the team eases Peterson back into things to start the year and Gerhart takes a little bigger role throughout the season.
If he becomes as effective as his ceiling indicates, he and Peterson could be a devastating one-two punch.
Jerome Simpson, WR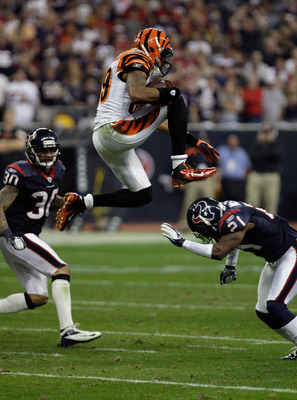 Thomas B. Shea/Getty Images
Jerome Simpson just saw his career flash before his eyes.
B/R writer Sigmund Bloom calls it a near-career death experience.
After finally beginning to reach the potential that got him drafted in the second round by the Bengals, Simpson ends up in trouble with the league—and the law—due to felony drug charges.
That's a wake-up call, and no mistake about it.
Simpson will take the first three games to think about what he's done and then return to slide into the wide receiver spot across from Percy Harvin. As their chief vertical threat, he'll see a lot of opportunity, as he did in Cincy last year.
He needs to do more with the targets, though, as last year he only caught 50 of the 111 targets thrown his way. He had a rookie throwing the ball at him and Andy Dalton became erratic as the year went on, but Christian Ponder is a youngster himself and Simpson will have to make a greater effort to help his new quarterback out.
With a better offensive line, I expect the Vikings to air the ball out more, and Simpson will be a huge beneficiary of that.
Keep Reading

Minnesota Vikings: Like this team?