Dos Santos vs Mir: Preview, Odds and Predictions for UFC 146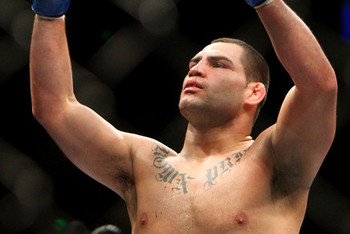 Five Ounces of Pain
This Saturday, Junior dos Santos puts his heavyweight championship on the line against Frank Mir at UFC 146, going down at the MGM Grand Garden Arena in Las Vegas.
It's a good matchup. No two ways about it. Best heavyweight MMA boxer on the planet? Check. That's Dos Santos. Best heavyweight submission artist on the planet? That's Mir.
The intrigue certainly comes to a head at the top of the card, but the entire lineup is thick with the stuff (despite some card shuffling that may have removed some of the event's initial luster). So here are betting odds, predictions and pithy info caps for each and every contest at UFC 146.
But wait, you say. Isn't gambling illegal? Yes, Jimmy, it is. I'm just passing along information here. Know what I'm saying? I'm just giving you some data points. Whatever you do with that data is beyond my scope and ability to discern. Consult local statutes for more information. For entertainment purposes only.
All betting odds retrieved from Bet on Fighting. Not that I'm into that kind of thing.
12. Mike Brown vs. Daniel Pineda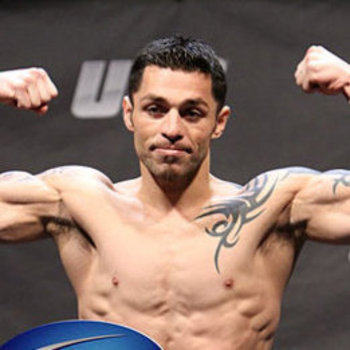 Photo: Tapology
Featherweight bout
Pineda +115
Brown -145
Good way to kick off the night.
Two notable featherweights passing each other on opposite sides of the career escalator. Brown is 36 years old and 3-3 in his last six. Pineda is 26 years old and 7-0 in his last seven.
On the other hand, Brown is a former WEC champion and easily Pineda's best opponent to date. But on the other other hand, all of Pineda's wins were finishes, with five of those seven coming in the first round, including the two he's had in the UFC.
I respect Brown's career, but I think I see some writing on the escalator.
Prediction: Pineda, Submission, Rd. 2
11. Kyle Kingsbury vs. Glover Teixeira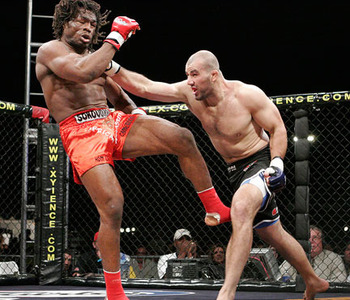 FC Fighter
Light heavyweight bout
Kingsbury +180
Teixeira - 230
After long last, the much-ballyhooed Teixeira reaches the Octagon. With 12 of the wins on his 17-2 record coming from a striking stoppage, a little ballyhooing should not be unanticipated.
Teixeira's from the Daniel Cormier School of world-class ground fighters using their pedigree as a takedown deterrent so they can pound on your head. (Formerly known as the Chuck Liddell School, which is apropos given that Teixeira trained with "The Iceman.")
The thing is, though, Kingsbury's fine with some pounding. He is comfortable with that option. And he doesn't have any first-time Octagon jitters to contend with, either.
In fact...wait...what's that I hear in the distance? It almost sounds like alarms. But not just any alarms...upset alarms. Let them ring, why don't you. The veteran's going to spoil the rookie's big debut.

Prediction: Kingsbury, TKO, Rd. 2
10. Jacob Volkmann vs. Paul Sass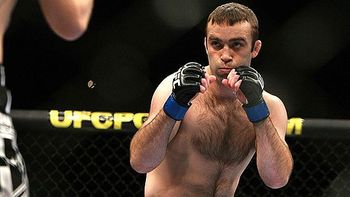 Photo: ESPN
Lightweight bout
Sass +165
Volkmann -205
As with Kingsbury, Volkmann's a veteran who won't fall for the younger man's wiles, even if the wiles in this case have their own nickname. Looks like I have another one of Volkmann's patented postfight political polemics in my future. I'm so pumped.
Prediction: Volkmann, Unanimous Decision
9. Dan Hardy vs. Duane Ludwig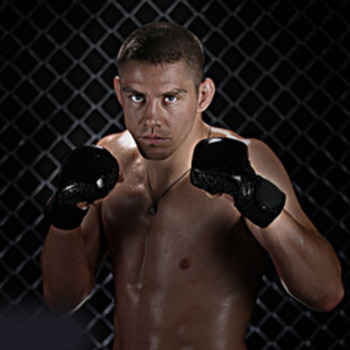 DuaneBang.com
Welterweight bout
(First bout of FX telecast)
Ludwig Even
Hardy -130
I can't believe Ludwig is considered an underdog in this fight. I also can't believe how much he looks like the actor who played Matt Hamill in The Hammer.
Prediction: Ludwig, TKO, Rd. 1.
8. Jason Miller vs. C.B. Dollaway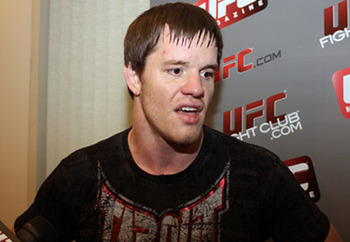 Photo: MMA Junkie
Middleweight bout
Dollaway +120
Miller -150
Hey, let's have a C.B. Dollaway photo caption contest!
My entry is: "COOL STORY, BRO."
But if I could break away from the hard-hitting analysis for a moment, I think we need to once again sound the upset alarms. Dollaway is going to maul out "Mayhem" on the ground.
Then Miller will be out of the UFC and doing some serious soul searching. Let me just take this opportunity to say that I think "Mayhem" would be a terrific fit for Strikeforce. I'm not even joking.
Prediction: Dollaway, Unanimous Decision
7. Edson Barboza vs. Jamie Varner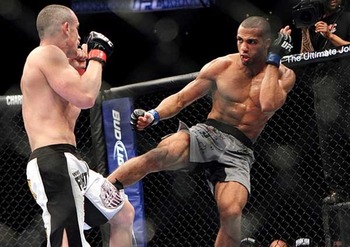 Photo: Tracy Lee for Yahoo! Sports
Lightweight bout
Varner +375
Barboza -525
The white-hot Muay Thai scientist is the second-biggest favorite of the night. Even Varner seems resigned to his fate.
Prediction: Barboza, TKO, Rd. 1
6. Diego Brandao vs. Darren Elkins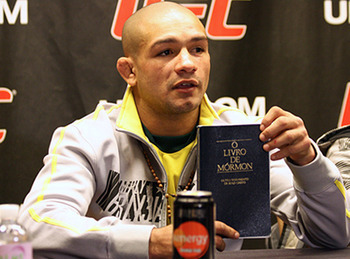 Photo: MMA Junkie
Featherweight bout
Elkins +210
Brandao -260
My Portuguese is a touch nonexistent, but I believe Brandao is holding up The Book of Mormon. Again...I'm just passing along information here.
In any case, Brandao is going to knock Elkins out. Just mark it down and move on.
Prediction: Brandao, KO, Rd. 1.
5. Stefan Struve vs. Lavar Johnson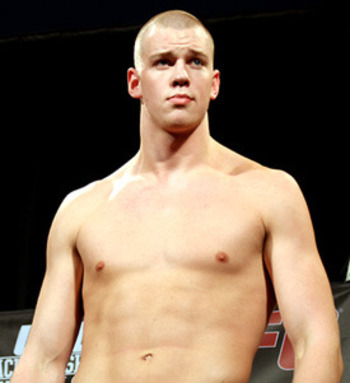 Photo: MMA Junkie
Heavyweight bout
(First bout of the pay-per-view)
Johnson +105
Struve - 135
In this corner, you have Johnson knocking everybody out. All but one of his 17 career victims, in fact.
In the other corner, we have a Dutchman who looked great in finishing his last two opponents. At the very least, Struve has himself a staunch believer in one Stefan Struve, who recently opined that Johnson doesn't have anything for him.
OK, Stefan. I'll put some metaphorical money where your mouth is. But now you gotta show me something.
Prediction: Struve, Submission, Rd. 1
4. Shane del Rosario vs. Stipe Miocic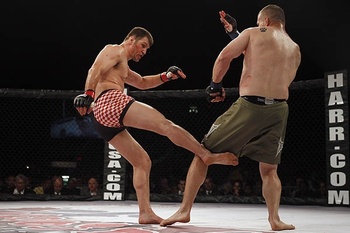 Photo: Fighters Only Mag
Heavyweight bout
Del Rosario +135
Miocic -165
Neither one has ever lost a professional MMA fight. Fifteen TKO wins between them out of 19 total victories. That means these guys knock their opponents out nearly 80 percent of the time. That percentage is higher than the average.
Del Rosario is the rock star of the two. Problem is, he's also returning to action after a 15-month injury layoff. And he's also making his UFC debut Saturday night. So this is not exactly business as usual for Mr. Del Rosario.
Meanwhile, Miocic is nothing but a businessman these days. This is going to be a great fight. Miocic is going to win it.
Prediction: Miocic, TKO, Rd. 2. Fight of the Night.
3. Roy Nelson vs. Dave Herman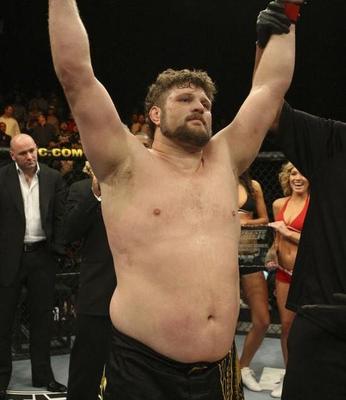 Photo: MMAFrenzy
Heavyweight bout
Herman +165
Nelson - 205

If Nelson loses this one, he might lose control of his UFC destiny. Because it would mean four losses in his last five fights.
But I don't see that happening. His original opponent, Antonio Silva, posed a stiffer challenge. As it is, the Renzo Gracie black belt can demonstrate that, yes, Pee Wee Herman, jiu jitsu really does work.
Prediction: Nelson, Submission, Rd. 2. Submission of the Night right here...I'll say armbar.
2. Cain Velasquez vs. Antonio Silva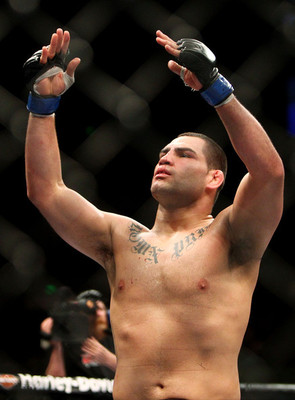 Photo: Five Ounces of Pain
Heavyweight bout
Silva +300
Velasquez -400
I hear another sound in the distance. But it's not the upset alarms this time. This time, the sound is more like a...BOOM.
Prediction: Velasquez, KO, Rd. 1. Knockout of the Night.
1. Junior dos Santos vs. Frank Mir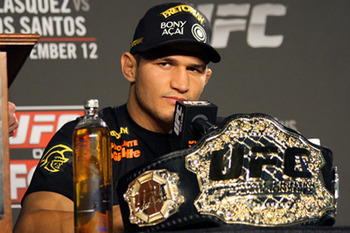 Photo: MMA Junkie
Heavyweight bout
For the UFC Heavyweight Championship
Mir +385
Dos Santos -535
Biggest favorite of the night? Even bigger than Barboza?
No way. Yes, Dos Santos is amazing. Yes, I'm dutifully wearing my Junior dos Santos action briefs just like all the other good little fan club members out there. Yes, I see that's it's a bad matchup for Mir. Yes, I think Dos Santos-Alistair Overeem would have been (and eventually will be) a better fight.
But Mir might be the best heavyweight submission artist in the history of heavyweights. That is not nothing. And he can throw a little bit as well. No way he's this big of an underdog.
Here's the part where I should walk it like I'm talkin' it. And I want to pick Mir. I really do. But I can't. Well, I suppose I can. I'm just not going to.
Mir will give him a fight, but in the end he won't be able to drag JDS past the shallows. Dos Santos will beat him to every punch, and in the end it won't be attractive. Think Mir-Lesnar II with a lot less mouth foam.
Prediction: Dos Santos, TKO, Rd. 3
Keep Reading