Green Bay Didn't Need a Running Back This Offseason: A Statistical Analysis
May 25, 2012

Jamie Squire/Getty Images
Follow the NFL long enough and you'll hear a lot of experts explain the way the game is changing, transitioning from a game led by quarterbacks to one ruled by them. 
They'll point out the league's top passers' statistics, and the fact that quarterbacks routinely pass for more than 3,000 yards—a feat once as reviled as 1,000 rushing or receiving yards in a season. For several of the league's elite passers, anything shy of 4,000 yards is considered a fantasy football let-down, and 30 passing touchdowns is quickly becoming the expectation rather than the ideal-world scenario.
So, it should surprise no one that one of the most recent headlines from the Milwaukee Journal-Sentinel read, "Packers' Priorities Do Not Include Running Game."
Sounds about right, give or take some room for nuance.
After all, Aaron Rodgers passed for 45 touchdowns last season without breaking a sweat, and Green Bay rolled to a 15-win regular season, marred by an early playoff exit handed out by the Super Bowl champion New York Giants.
And the running game finished the season ranked 26th in attempts and 27th in yards, a number that may be deceptively better than reality when one considers Aaron Rodgers contributed 60 scrambles of his own for 257 yards, accounting for approximately 15 and 16 percent of the team's attempts and yards, respectively.
Of course, these statistics are all well and good, but do they tell a complete story?
In the past twelve NFL seasons, dating back to 2000, the Green Bay Packers have fielded two running backs able to break the 1,000 yard barrier a combined eight times.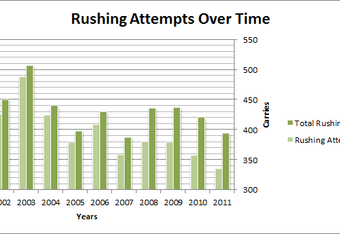 Ahman Green did it six times, including a stretch from 2000-2004 in which he rushed for nearly 7,000 yards and 48 touchdowns, chalking up 282 receptions in the same period as a sign of his versatility.
Green's successor, Ryan Grant, also broke the millennium mark twice, in 2008 and 2009, but has since rushed for a hair more than 600 yards in 16 games.
His anticipated successor is James Starks, and recent reports from camp suggest he has taken nearly full control of the offense, thanks in part to Ryan Grant's still-departed status and Alex Green's in-progress recovery from ACL surgery. Starks carried the ball 133 times last season, averaging a respectable, if not terribly impressive, 4.3 yards per attempt.
If one was to draw a conclusion from this, it might be that the Green Bay has more often than not been led by one "featured" running back. But let's dig deeper. If the benchmark for this featured back is arbitrarily set at 60 percent of the team's total rush attempts, that number has been broken eight of the past twelve years, but only three of the past seven.
Furthermore, while Green Bay's total rushing attempts haven't varied much (between 388-451 in 11 of the past 12 seasons), the number of attempts handled by players other than the starting quarterback has been on a steady decline the past three seasons, falling from 380 in 2009 to 357 two seasons ago to 335 in 2011.
The last statistic examined is yards per carry for the team as a whole. Like the other numbers, it was strongest in the early half of the 2000s decade, followed by less predictability since. An analysis of the data revealed that is has been trending towards decline by about .06 yards per attempt per season.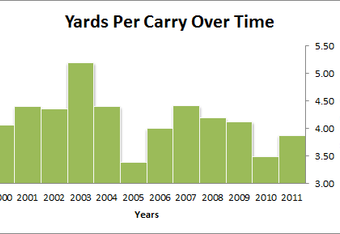 Assuming you haven't dozed off and are merely confused by the onslaught of statistics, let's put it all together.
First, the data suggests Green Bay has been passing the ball more frequently in recent years, but this trend has only been significant the past two seasons. This was likely because Ryan Grant has been either sidelined or splitting carries with another back, most recently James Starks.
Second, Green Bay hasn't abandoned the running game, but the lack of a feature back has stifled that facet of the offense. In Ahman Green's heyday, the Packers attempted a relatively similar number of attempts (400-450) most seasons. The difference was the team's yards per carry, which did not dip below 4.0 for the team as a whole in seasons in which Green was the featured back.
That's not a coincidence. But does it mean Ted Thompson is making a mistake by not prioritizing the running back position?
Probably not. I would posit Thompson hasn't prioritized the position because, one, defense was a much more significant issue this offseason and, two, there were no elite running backs Green Bay could have pursued this offseason without breaking the bank. And at the end of the day, a team doesn't need to fix a broken element if it can find a suitable substitute, in this case passing for 45 touchdowns.
This doesn't suggest Green Bay shouldn't pursue someone capable of being an every-down back; no doubt it's a significant contributor to the team's success on offense.
But they have time to find another Ahman Green or Ryan Grant. And if Packers fans have learned anything from Ted Thompson, or the fact both of those running backs were given up by other franchises before landing in Green Bay, it's that he picks his moments to find value players.
In the meantime, enjoy the aerial display.