UFC 146: Urijah Faber Q&A Live Updates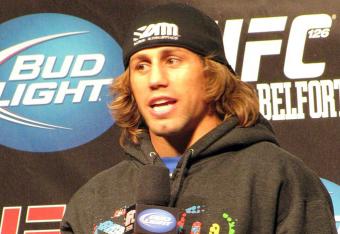 Urijah Faber (Rob Tatum/The MMA Corner)

Current UFC bantamweight No. 1 contender Urijah Faber has been selected to host a live question and answer session prior to the UFC 146 weigh-ins.
Faber will battle Renan Barao for the interim championship at UFC 148 on July 7. The fight is a result of a knee injury to current champion Dominick Cruz, Faber's opposing coach of the current season of The Ultimate Fighter: Live.
The Californian will take questions from the media as well as members of the UFC's Fight Club.
The hour-long Q&A will take place from the MGM Grand Garden Arena in Las Vegas at 2 p.m. PT/5 p.m. ET on Friday, May 25. We'll be posting updates below.
Rob Tatum is a featured columnist for Bleacher Report MMA. You can also find Rob's work at The MMA Corner. For anything related to MMA, follow him on Twitter.
That concludes the Faber Q&A. Thanks for following along.
Faber goes through all of the details of his former brand, Form Athletics. He sold it to K-Swiss, but it was used as a tax write off and closed by the company. Says he'll come out with something else soon.
Faber states that if he could fight anyone, it would be Brock Lesnar. Says he's a big name but he's only good at one thing (laughing).
Faber talks about another bantamweight contender, Michael McDonald. Doesn't feel he's as well-rounded, but feels that he has a lot of time to improve and grow.
A fan asks if Faber has had any unique experiences with fans on Twitter, etc. Says that it has gotten crazy, but he likes to put people on blast when it happens.
Faber states that he's walking around at roughly 155 pounds. Says that his cut to bantamweight is fairly easy now.
Faber discusses the pecking order at Team Alpha Male and says that it will all work itself out if any of the members cross paths in the UFC.
Faber predicts Cain Velasquez will defeat Antonio "Bigfoot" Silva in the UFC 146 co-main event.
Faber feels comparing him to Scott Jorgensen is not valid. Feels he is bigger and more elusive.
A fan asks about testosterone replacement theory. Faber says that he doesn't know enough about it. Says that if the commission is okay with it, he won't argue it.
Faber is disappointed in not fighting Cruz for a third time. But he knows that Barao is going to push him.
Faber's upcoming interim title fight with Renan Barao is discussed. He doesn't believe the fight will go to decision. Faber takes a shot at current champion Dominick Cruz, stating he's not dangerous. Thinks Barao will help him put on an exciting fight.
The subject of what makes the best fighter is mentioned. Faber discusses wrestling, so long as you can get used to striking. He brings up Brock Lesnar and his trouble with striking and says that the former champion should have trained his striking like he drank beer (with a laugh).
Faber predicts that Junior Dos Santos will keep his title against Frank Mir.
A fan brings up Faber's teammate Chad Mendes' fight with Jose Aldo. Aldo was famously warned for grabbing the fence. Faber says they're not dwelling on it, especially because Aldo finished Mendes.
The coaches challenge of TUF is brought up. Faber really enjoyed the grenade launcher. Refers to the quote, "Almost only counts in horseshoes and hand grenades."
On the topic of The Ultimate Fighter, Faber feels that Al Iaquinta is the more well-rounded fighter and should defeat Vinc Pichel. The matchup between Mike Chiesa and James Vick he feels will be a very close fight.
Faber talks about the adjustment to coaching and training at the same time. Says he has been able to avoid all of the "bad" stuff in Vegas and focus on making his team better.
Faber recently completed a book. Describes it as a little bit Van Wilder, a little bit Rambo.
Bit of a late start to the Q&A due to a lengthy intro video on the former WEC champ and current coach on The Ultimate Fighter: Live.
This article is
What is the duplicate article?
Why is this article offensive?
Where is this article plagiarized from?
Why is this article poorly edited?