Manny Pacquiao: Why This Will Be Pac-Man's Last Fight
June 8, 2012

Stephen Dunn/Getty Images
Regardless of the final outcome, Manny Pacquiao's best option is to retire after boxing Timothy Bradley.
Ahead we'll look at some reasons why, such as his age, because if Pac-Man wants to finish as the best ever he must know when to put 'em down. So before we hit that area, let's check out other reasons why this will be Pacquaio's final bout.
Nothing More to Prove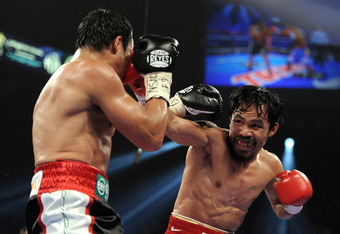 Harry How/Getty Images
Entering this fight Manny Pacquiao is 54-3-2 and has six major world titles to his credit.
The man hasn't lost a fight since 2005 and rides a 15-match win streak coming in. He's already arguably the best pound-for-pound fighter to step in the ring and can make a stronger case as the greatest ever by closing with a win.
We also have to think about his opponent Timothy Bradley. Bradley comes into this fight 28-0 and is in the prime of his career. There's few, if anyone else, that's on Bradley's level for the next wave of boxers and a win would simply enhance Pacquiao's already impressive resume.
And if he loses, Pacquiao's overall career will not be tarnished as he has achieved so much. At its core, this fight is a win-win for both boxers because a victory would be huge while a loss doesn't discount anything.
Extracurriculars
Outside of boxing Manny Pacquiao has worn other hats as an actor, politician and musician.
Given his fighting career and having nothing else to really prove, Pacquiao needs to retire after this match so we can see him get even more involved with acting, politics and music.
The man clearly has the creative mindset to make an impact in any of those areas, and his reputation as an athlete only solidifies that potential influence. Think about other athletes who have gone into acting, politics or music.
Regardless of the type of impact made, it's—at the very least—interesting to see athletes in the pop culture scene. 
Age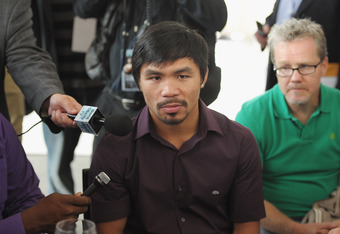 Michael Loccisano/Getty Images
Pac-Man is 33 years old right now and regardless of how the outcome against Bradley, Pacquiao won't be fighting for the next five-plus years.
This will already be his 60th career fight and if Manny wants to end on a strong note, putting down the gloves is the correct move. Too many times have we seen legends like Muhammed Ali, Joe Frazier and Sugar Ray Leonard end with multiple senseless losses tagged on to their records.
Pacquiao has one more opportunity to significantly boost the vitality of his career in this fight. Even if Manny wins, retirement is the best option because it removes the chance of any doubt thereafter.