The Boston Celtics Can't Score, and Kevin Garnett May Be the Reason
May 24, 2012

Drew Hallowell/Getty Images
This season has brought a healthy dose of reality to the doorstep of the aging Boston Celtics. No matter how fearsome their defense, the gradual toll taken on Boston's offense has mired the Celtics in crippling inconsistency. Gradual roster changes, injuries, and natural decline have ground a triumphant era to a halt. And while there's no use in shaming a team that can only manage to be elite on one side of the ball, Boston's ineffective offense is reason for major concern in Beantown.
Paul Pierce and Ray Allen are so thoroughly limited that Kevin Garnett's moments of self-generated offense have become imperative. Although Garnett's style hardly lends itself to carrying the offensive workload, Boston's offense can no longer sustain while KG systematically finds and exploits mismatches.
This kind of offensive desperation doesn't exactly create an ideal climate for such a versatile and selfless player to operate. Garnett's nuanced approach still makes him an incredibly valuable offensive player in the right setting. But with a banged-up roster, Boston's primary offensive facilitator is asked to serve in a very different capacity. 
That's not altogether fair to Garnett, but it's what the current state of the Celtics' offense demands. It also makes it fairly easy to find a scapegoat when things in Boston go south. Although Pierce, Allen, and Rajon Rondo are all somewhat culpable when Boston's offense fails to reach an acceptable level (as was the case when the Celtics scored at a rate of just 84.3 points per 100 possessions in Game 6), Garnett's pattern of long jumpers makes him a convenient target. After all, just look at Garnett's shot chart for a game in which he attempted a team-high 20 field goals, all of which came beyond 10 feet: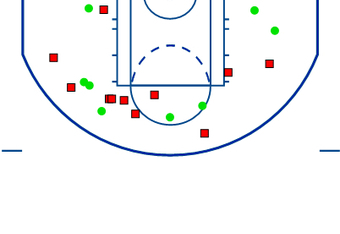 Garnett really didn't get much of anything going toward the rim, but that's characteristic of his game at this stage in his career. Gone is the athletic finisher who rolled down the lane for lobs. In his place is a pick-and-pop option capable of re-establishing the offense from the high post. Garnett managed a few shots at the rim per game during the regular season, but he and his teammates also weren't regularly working against a defense as staunch as that of the 76ers every night.
Garnett's shooting numbers and shot chart may hold some of the truth as to why and how the Celtics struggled to score, but it's not as if Boston's otherwise exemplary efforts were derailed by their big man's inability to get down to the block. Garnett floated on the perimeter plenty, but considering KG's function in Boston's play-to-play offense and the necessity of his presence as a half-court outlet, Garnett really can't be faulted of anything aside from not being the player he once was.
For one, the notion that Garnett didn't make his way down to the post should be discarded immediately. Garnett's post-up opportunities don't often register on a shot chart the way that those of other big men do, in part because his default finish is a fadeaway jumper. Even then, insisting that Garnett didn't attempt to post up disregards the tremendous defensive work done by Elton Brand and Lavoy Allen; the Sixers' big men may not be tremendously athletic, but both are strong, clever, and understand how to deny Garnett early interior position:
Much of Garnett's in-game shooting profile was colored by Philadelphia's defense. Not only did the Sixers do a tremendous job of denying Garnett on the block, but in many cases Philadelphia walled off Boston's sets in their entirety -- from initial screen to final read. Then, as the shot clock approached zero without anything in the way of possessional momentum, the Celtics chose to swing the ball back to a point of natural reset. Garnett merely had the misfortune of being Boston's offensive release.
As the Sixers' defense improved over the course of the game, KG was more frequently left to hoist up an attempt at the shot-clock buzzer. Most star players see their shooting percentages sink because of similar attempts, but due to his positioning, his team's overall struggles, and the persistence of Philly's D, Garnett was forced into even more bail-out attempts than can be expected from a player of his stature.
The aim here isn't to excuse Garnett completely, but merely to paint his 20 mid/long-range shot attempts in Game 6 in the appropriate context. If Boston's overall offense were in anything resembling its 2008 form, Garnett wouldn't be forced into such an uncomfortable situation. The very nature of this series has fostered Boston's desperation, and with no more palatable alternatives down the rest of the injury-riddled lineup, the Celtics' offense -- built to benefit from Garnett's contributions, but not rely on them -- has been stretched well beyond its breaking point.
Support for this post was provided by NBA.com.