Will Kendrys Morales Ever Power the Los Angeles Angels Again?
May 24, 2012

Jeff Gross/Getty Images
I think we can rule out the hitting coach.
Whatever is causing the Angels' bats to continue exercising their collective right to remain silent, it's safe to say it wasn't Mickey Hatcher's fault.
The team has scored two runs or less in four of the nine games since they let go of Hatcher earlier this month.  Not surprisingly, they went 0-4 in those contests.
While the starting pitching has improved across the board, on offense, the Halos continue to offer up a steady diet of weak ground balls and lazy fly balls, most often on those rare occasions when they manage to get runners in scoring position.
On the plus side, at least they haven't been shut out since they brought in Jim Eppard as the new hitting coach.  Hey, we'll take any progress we can get at this point, right?
Most of the focus is on Albert Pujols and his well-documented seven-week "slump" (out of respect to the organization, I will continue to refer to his performance as a slump for now, as if to suggest it's going to dramatically improve when he snaps out of it, despite my eyes clearly telling me otherwise).
But there are others on the team struggling as well.  Put it this way: The next time I read the words "Howie Kendrick" and "future batting champion" in the same sentence, my head might literally explode.  With his .256 average, Kendrick is about as close to a batting title as I am to a Double-Double, Animal Style (roughly 2,500 miles, in case you were wondering.)
And with Bobby Abreu gone, Vernon Wells hurt and Torii Hunter away from the team, Peter Bourjos was given a golden opportunity to reclaim center field as his own.  Instead, the defensive stalwart is once again in danger of swinging his way out of a job, going 3-for-15 in limited action over the past 10 games.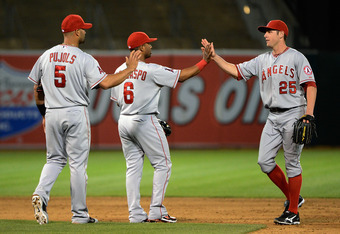 Thearon W. Henderson/Getty Images
Mind you, this is a guy who hit .271 last year with 49 extra base hits.  With slightly more than a quarter of the 2012 season in the books, he has a grand total of three.
But perhaps most puzzling to me—other than Pujols, of course—is the performance so far of Kendrys Morales.
Back and healthy again after missing two years, Morales spent spring training getting the rust off. By the time the team broke camp, he seemed ready to mount his Comeback Player of the Year campaign and become a permanent fixture in the lineup.  Instead, he's gone into a prolonged funk, hitting .157 since May 5th, when he had three hits to raise his average to .321.  In those 13 games, he's had one extra base hit, a ninth-inning home run in a blowout loss to the Rangers on Mothers Day.
Don't get me wrong, compared to most everyone else on this year's team, Morales is a team offensive MVP candidate behind Mark Trumbo and Mike Trout.  It's just that, unlike some of the other players on the team, it's hard to figure out why Morales is struggling.
He's not flailing at pitches like Pujols, or chasing pitches out of the strike zone like Kendrick.  He doesn't appear overmatched like Bourjos.  He has a good tempo to his swing and, to the naked eye watching on television anyway, his bat speed appears fine. When he hits the ball he makes solid contact yet the results simply aren't there.
That got me wondering: Will Kendrys Morales ever be an offensive force again?
He'll be 29 next month, which, historically speaking, is still considered a prime year for an offensive player.  But we are in uncharted territory with this type of injury.  And two years is a long, long time to be away from the game, particularly when those two years come at the peak of your powers.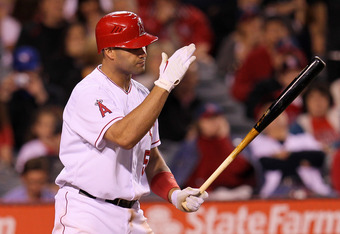 Stephen Dunn/Getty Images
And who's to say it's a physical problem, anyway?  Maybe he's perfectly fine but still holding a little something back out of fear, like a running back afraid to make a hard cut on a surgically repaired knee. 
Maybe he's still relearning how to hit Major League pitching. 
Think about it.  In limited action from 2006 to 2008, he wasn't exactly knocking the cover off the ball.  He had 12 home runs and 37 RBI in 127 games during that span, putting up a respectable .276 average.  Then, in 2009, he seemed to put it all together for a breakout season and rode that momentum into 2010 before he got hurt. 
Of course, there's always the possibility that 2009 was a fluke or some sort of anomaly.  We've seen that before—a guy has a "career-year" only to come back down to earth the next year.  Usually it's during a contract year, but it can happen anytime, really.  Was 2009 a fluke?
Maybe he's just caught up in the same "Pujols funk" as everyone else, trying to do too much to keep up with all the hype the team got and the lofty expectations that came with it. 
Remember, for all the success the Angels have had these past 10 years, 2012 was the first year that I can remember that they entered the season favored by many in the national media to win the World Series.  And with writers (myself included) predicting another .300/30 HR/100 RBI season from Morales, it could potentially lead to a lot of undue pressure.
Or maybe, just maybe, it's my fault.
I stink at fantasy baseball—not because I draft bad players, but because they perform badly when they are on my team.  It's like a curse or something.  I'm not even kidding.  There have been several instances over the years where a player on my team is stinking up the joint, I get rid of him and then he breaks out.  Or vice-versa on those I acquire. 
So when I tell you I have Morales, Pujols (traded up to get him too), and Ervin Santana on my team, that might explain a lot (I also have Jered Weaver.  I never said the curse was infallible).
In any case, it all comes back to my earlier statement about how I am truly puzzled why Morales is not producing at the level everyone expected this year.  My guess is it's probably a combination of all of the above.  I guess we'll never know for sure what the reason is.  As for his future prospects, the optimist in me hopes he can regain some of his 2009 form by next season.  But I don't think we'll ever see another season from him like we did that year. 
Still, he deserves every chance to succeed we can give him, so just to be safe, I'm putting him on the trading block in my fantasy league.