8 Contenders Who Desperately Need Adam Dunn's Power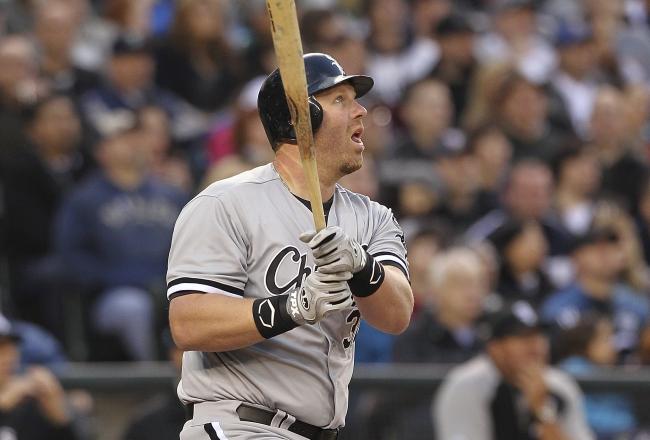 Adam Dunn could watch his home runs go out for several other teams around the majors.
Otto Greule Jr/Getty Images
With a .500 record and second-place standing in the AL Central, the season could obviously go either way for the Chicago White Sox from this point.
But what if the team falters and slips further behind the Tribe and below the Detroit Tigers by midseason? Could that compel general manager Kenny Williams to trade off designated hitter Adam Dunn, as ESPN's Rumor Central speculates?
Getting a team to take the $44 million left on Dunn's contract would be a tough sell. But if the White Sox agree to eat some of that salary, maybe that could get a deal done and get better prospects in return.
However, several teams are desperate enough for a slugger like Dunn that they might make such a trade, regardless of the financials. Here are eight clubs with which Dunn's power bat would be a great fit.
Only the San Diego Padres have hit fewer home runs as a team than the Mets, with 25. Ike Davis has been a black hole at first base all season, with a slash average of .159/.213/.290. Even worse, he has a stunningly low .215 OPS at home.
If and when the Mets do decide to send him to the minors (they won't do so for now, according to the New York Post's Brian Lewis), the contingency plan is likely Lucas Duda. Duda isn't hitting for much power, knocking only four home runs with a .382 slugging percentage.
The assumption is that Mets general manager Sandy Alderson wouldn't want to add Dunn's contract. But Alderson seems more averse to long-term deals. Three years for Dunn might be palatable.
The thought of hitting between Jose Bautista and Edwin Encarnacion might make Adam Dunn smile.
Thearon W. Henderson/Getty Images
The Blue Jays aren't hurting for power with 61 team home runs, the fourth-highest total in the majors.
But they do have a crying need at first base or DH. Edwin Encarnacion is playing capably at either position, providing 14 homers, 37 RBI and a .910 OPS. But he can't play both spots, and Dunn could take the other.
Dunn's bat could do even bigger things at Rogers Centre, where the Jays hit the long ball frequently. Putting his left-handed stick between Jose Bautista and Encarnacion would make an already formidable lineup even stronger and give AL East pitching staffs more to worry about.
The Giants aren't far behind the Mets in team homers, hitting 29. Most believe Brandon Belt deserves a chance to be the regular first baseman, but he hasn't hit any homers this year and is batting .226/.350/.333.
The other options at the position are Aubrey Huff, with a .163 batting average and Brett Pill, with a .672 OPS. Dunn would immediately be the best first baseman and power hitter the Giants have. With his left-handed power swing, baseballs would be regularly dropping into McCovey Cove once again.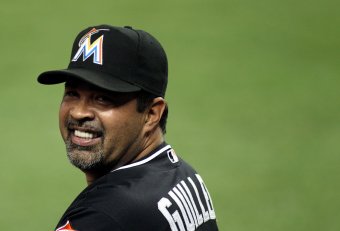 Would Ozzie Guillen like to reunite with Adam Dunn in Miami?
Marc Serota/Getty Images
The Marlins pursued Albert Pujols and Prince Fielder to be their big power-hitting first baseman. More than 40 games into the season, it's become very apparent why the team felt it needed an upgrade at that position.
Gaby Sanchez was sent to the minors after hitting .197/.244/.295 with only one home run. Logan Morrison will replace him at first base, but he's not hitting much better, compiling a .659 OPS and two home runs. Greg Dobbs (.658 OPS) isn't a full-time option.
Ozzie Guillen might not want anything to do with Dunn after watching his awful 2011 season up close. But even he has to like the idea of batting Dunn between Hanley Ramirez and Giancarlo Stanton.
The Dodgers also chased Fielder in the offseason, tipping their desire for a power bat at first base. With Dunn, the team could finally stop kidding itself about James Loney being a run producer.
As with the Indians, the Dodgers are already playing fine baseball without a slugging corner infielder. But imagine Dunn hitting third, with Matt Kemp and Andre Ethier behind him in the order. That's a deeper, far more potent lineup. The thought would surely make Don Mattingly smile.
Dunn to the Phillies might be a stretch with Ryan Howard expected to eventually come back. Would manager Charlie Manuel be able to live with Dunn playing left field instead? He'd certainly be an improvement over Juan Pierre or John Mayberry.
Without Howard and Chase Utley, the Phillies are lacking some left-handed power. But again, if both players are expected to come back, where would Dunn play? He's far too expensive to be a bench bat. Besides, the Phillies already have an older version of Dunn for that with Jim Thome.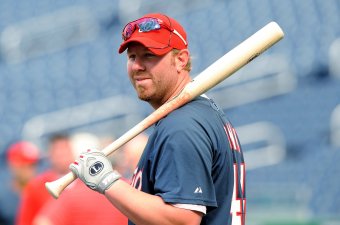 The Nationals would love to have Adam Dunn slugging home runs for them again.
Greg Fiume/Getty Images
What a reunion this would be! Dunn hit 76 homers for the Nats from 2009-10. GM Mike Rizzo and manager Davey Johnson would probably commit a federal crime to get that kind of power bat in their lineup right now.
Of course, the Nationals could have kept Dunn in the first place if they'd offered the four-year contract he wanted. From all accounts, Dunn wanted to stay in D.C., but the fourth year was a sticking point, and when the White Sox offered it, that sealed the deal.
The only problem is that the Nats might really have a place for Dunn. First baseman Adam LaRoche isn't hitting for as much power, but he's been the team's best hitter this season. Dunn did play 62 games in left field during the 2009 season, so he could conceivably play there. But what about when Michael Morse, the Nationals' best power hitter last season, comes back?
The Indians are playing well enough without the benefit of a power hitter like Dunn. But they're an average club when it comes to hitting for power. Putting Dunn's big stick in the middle of the order would tie the lineup together.
Dunn would be an upgrade over Casey Kotchman (.333 slugging percentage) at first base or Shelley Duncan (.202 batting average) in left field. He would even be an improvement over Travis Hafner at designated hitter, though the Tribe probably wouldn't make a change there.
But is there any way the White Sox make this trade within the division, to the team ahead of them in the standings? Dealing Dunn to Cleveland would be the ultimate white flag, and they'd conceivably face him for another two years.
Follow @iancass on Twitter
This article is
What is the duplicate article?
Why is this article offensive?
Where is this article plagiarized from?
Why is this article poorly edited?