76ers vs. Celtics: Game 7 TV Schedule, Live Stream, Spread Info and More
May 24, 2012

Drew Hallowell/Getty Images
The Philadelphia 76ers pushed the Boston Celtics to an unlikely Game 7 on Wednesday night thanks in large part to the young squad's tenacious second-half defense.
Doc Rivers' fourth-seeded team scored just 39 points in that half, ultimately falling 82-75 in yet another contest that didn't exactly qualify as an offensive masterpiece.
Celtics point guard Rajon Rondo had his worst game of the playoffs, and the club got just five points off the bench.
Meanwhile, Philadelphia had five players score in double-figures, out-shooting the 76ers 46 percent to 33 percent.
Boston will have home-court advantage in the winner-take-all Game 7, but Doug Collins and his men are not prepared to concede anything in this series. Expect a closely-contested contest with plenty of tough, physical play on both sides.
Where: TD Bank Garden; Boston
When: Saturday, May 26  8:00 pm EDT
Watch: ABC
Live Stream: None
Listen: WEEI 850 AM (Boston) and WPEN 97.5 FM (Philadelphia)
Betting Line: Boston Celtics (-5.5), according to Top Bet
76ers' Key Injuries (according to Yahoo! Sports):
None reported.

Celtics' Key Injuries (according to Yahoo! Sports):
Day-to-Day but Possibly Out for Postseason: Avery Bradley (dislocated shoulder)
Out: Chris Wilcox (aortic abnormality)
Out: Jeff Green (aortic aneurysm)
What They're Saying: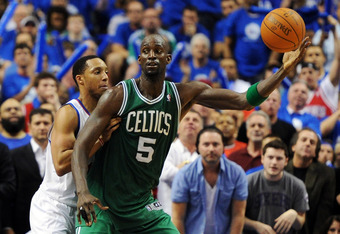 Drew Hallowell/Getty Images
The Boston Celtics' Kevin Garnett is making an impact—just not quite in the way his team needs him to. He scored 20 points and grabbed 11 rebounds in Game 6, but was just 9-20 from the field thanks to the 76ers limiting his touches deep in the post.

Head coach Doc Rivers may be making some adjustments so that it doesn't happen again, according to Comcast Sportnet's A. Sherrod Blakely:
"We never really established Kevin Garnett," Rivers said following the 82-75 loss.

"Even though Kevin had points, it wasn't the points we needed, the type of points. So we have to do a better job there (going into Game 7)."
Philly hasn't had much luck containing Garnett for most of the series, but Doug Collins' team has attacked the Celtics' 36-year-old more aggressively. Power forward Elton Brand has also improved his approach (via A. Sherrod Blakely):
"He's been playing so great in this series, just try to limit his easy shots," Brand said of Garnett.

"Twenty field goal attempts, 20 points, shot-per-point for any guy that shoots a lot during the game, that's what you want."
Brand and his teammates will continue to do their best to make KG a jump shooter, but expect Rivers to plan accordingly.
If Garnett isn't able to catch the ball in his preferred spots, he may need to move more without the ball or otherwise find a way to the basket without relying exclusively on the low-post.
Most Important Player to Watch: Jrue Holiday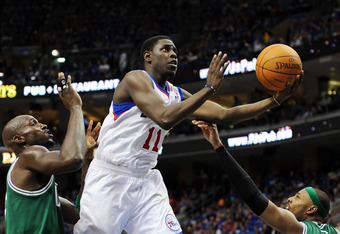 Drew Hallowell/Getty Images
The 76ers haven't had an especially high-octane offense all year long. If they have any chance of surviving Game 7 (and this series along with it), Holiday has to have another strong game.
He had his best outing of the series in Game 6, with an efficient 20 points and six assists. In two of Philadelphia's three wins this series, Holiday has been instrumental to the 76ers' effort—in Game 2, he made seven of his 15 shot attempts for 18 points.
The common denominator in both games is that Holiday was aggressive, but also smart about his shot selection.
Even more importantly, Holiday's defensive edge helped limit Rajon Rondo's impact.
In Game 2, he had 13 assists but just eight points on 4-12 shooting. In Game 6, he had just nine points and six assists, easily his worst game of the postseason.
Key Matchup: Andre Iguodala vs. Paul Pierce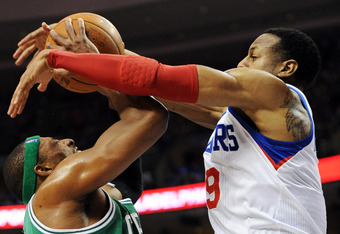 Drew Hallowell/Getty Images
Pierce got off to a slow start in this series, but he's rebounded well by scoring 24 points in three of his last four games. Boston may have lost two of those three games, but they can ill-afford to win Game 7 without similar contributions.
Meanwhile, Iguodala hasn't made a significant offensive impact in this series, but he's continued to play a solid all-around game throughout. His first order of business will be bothering Pierce with his defense and helping out against Rajon Rondo and Kevin Garnett.
Iggy's quickness and strength make him the perfect candidate to bother Boston's go-to guys.
Game 7 Prediction: Boston 95, Philadelphia 93