Thunder vs. Spurs: Grading the Head-to-Head Matchups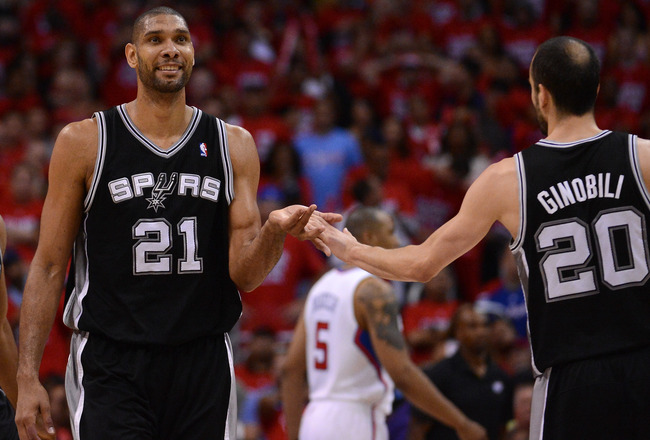 Harry How/Getty Images
The Thunder and Spurs open up the Western Conference finals on Sunday in a matchup that many are calling the de facto NBA Finals.
Yes, Miami is guaranteed to pose a formidable threat to whoever the victor may be. LeBron and Wade could make a team of pigmies competitive. But this is the showdown NBA fans have been itching to see all season––the inevitable denouement of the league's superior conference.
The Spurs and Thunder rank second and third in the NBA in points per game, which should give us a welcome reprieve from the doldrums of this low-scoring postseason. And although they each boast a trio of superstars, they also play legitimate team basketball—relying on 10 guys to do their respective parts, rather than sitting back and watching two egomaniacs bathe in their own vanity.
Here's how the Spurs and Thunder match up from 1-10.
Starting PG: Tony Parker vs. Russell Westbrook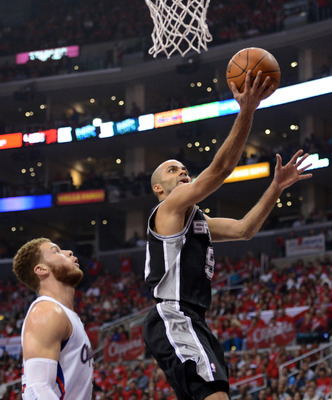 Harry How/Getty Images
Postseason Stats:
Parker: 19.1 PPG, 3.4 RPG, 7.1 APG, 1.0 SPG, 43.0% FG, 28.6% 3FG
Westbrook: 24.1 PPG, 4.7 RPG, 4.4 APG, 1.9 SPG, 47.2% FG, 30.4% 3FG
A difficult one to call since both players are so similar. They both get to the rim with reckless abandon; they both have a propensity for taking over games in spurts; and yesterday, they were both named to the All-NBA Second Team—the only two guards to receive that honor.
A quick survey of the stats above reveals that Westbrook has actually been the far more efficient scorer this postseason—a nine-game stretch where he has shown marked improvement over last year.
This amelioration can be quantified simply by looking at his turnover numbers. Last spring, he turned the ball over an obscene 78 times in 17 playoff games—good for a staggering 4.6 times per game. This year, he's cut that down to a microscopic 1.6 turnovers per playoff game.
A lot of that may have to do with matchups. Westbrook has gone up against the geriatric Jason Kidd (who proved no use against RW's young legs), the under-skilled but overwhelmed Ramon Sessions, and Steve Blake—who trotted out onto the court looking like a stick figure rendering of Marshal Mathers.
Now Westbrook gets to face his stiffest test: the wily Tony Parker and one of the league's best interior defenses—a unit that is coming off a fantastically stout performance against Chris Paul.
Unlike his mercurial counterpart, Parker is a model of consistency, experience and professionalism. His stats may be a little deflated next to Westbrook's, but the Spurs having been blowing teams out of the water, allowing Parker to take his foot off the gas—if he's even still on the court—down the stretch of games. Westbrook has had to go full throttle almost every second he's been out there.
Westbrook is the better physical specimen with the higher ceiling, but the safe bet is for Tony to slightly outplay him in this series. Either way, it'll be a fun one to watch.
Advantage: Spurs
Starting SG: Danny Green vs. Thabo Sefolosha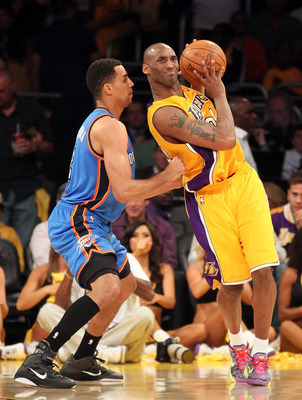 Stephen Dunn/Getty Images
Postseason Stats:
Green: 10.0 PPG, 4.0 RPG, 1.2 APG, 0.9 BPG, 50.0% FG, 45.7% 3FG
Sefolosha: 3.9 PPG, 1.9 RPG, 1.7 APG, 1.0 SPG, 59.4% FG, 38.9% 3FG
Ty Lawson. Ed Davis. Tyler Hansbrough. Who would have guessed that Danny Green would be the 2009 Tar Heel making the biggest impact in the 2012 playoffs? I guess that's the advantage of getting picked up by the Spurs.
Yes, the numbers above are slightly inflated since Green plays 24 minutes per game to Sefolosha's 18. But even so, it's clear as day that Green fills up a box score more efficiently than his counterpart.
Sefolosha's contribution to the team has never been to put up numbers, though. He has a clearly defined role within the Thunder's game plan: Guard the other team's best wing player (allowing Durant to conserve energy), and knock down the open three.
Unfortunately, Thabo only shoots 39 percent from beyond the arc, which is putrid since—as a result of defenses locking in on Westbrook and Durant—almost every three he takes is an open one.
Green's role on the Spurs is almost identical to Sefolosha's; he just appears to do it better. The 45.7 percent clip from beyond the arc is vital in the Spurs' precise, well-executed offense, where good looks are plentiful. He was also impressive defensively when asked to step up against Chris Paul.
Advantage: Spurs
Starting SF: Kawhi Leonard vs. Kevin Durant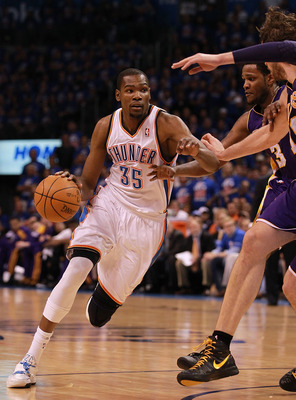 Ronald Martinez/Getty Images
Postseason Stats:
Leonard: 8.5 PPG, 4.9 RPG 0.6 APG, 1.5 SPG, 51.0% FG, 45.5% 3FG
Durant: 26.7 PPG, 8.1 RPG, 3.4 APG, 1.3 SPG, 1.1 BPG, 48.8% FG, 36.7% 3FG
Leonard is a fine player and one of the true stand-outs in an up-and-down rookie class, but let's get real here.
The Spurs are counting on Leonard—a physical specimen in his own right—to shut down the game's premier scorer.
Leonard has three things going for him: (1) He's genuinely a good defender, with the type of length and physical willingness that has given Durant trouble in the past; (2) as a rookie, his blood is sure to be coursing with adrenaline, which is a plague on the offensive end, but always a plus on the defensive end; and (3) he has one of the league's best interior defenses lurking behind him should he get beat.
But once again...let's get real here.
After being harassed by Shawn Marion in last year's installment of the Western Conference finals, Durant is coming in with a chip on his shoulder, and it's doubtful that a rookie (or Stephen Jackson coming off the bench, for that matter) will be able to stand in his way. He has too many ways to score. Now in his third playoff stint, he's starting to learn how to make in-game adjustments, which Leonard will be hard-pressed to keep up with.
KD only scored 22.7 per game against the Spurs this year, but he shot a respectable 47 percent in the process. His shot attempts are sure to go up in a tight playoff series—where he's more concerned with winning than getting teammates involved—so expect that average to inflate.
Advantage: Thunder
Starting PF: Boris Diaw vs. Serge Ibaka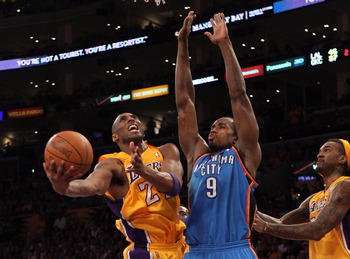 Stephen Dunn/Getty Images
Postseason Stats:
Diaw: 6.5 PPG, 5.5 RPG, 2.5 APG, 0.8 SPG, 52.5% FG, 50.0% 3FG
Ibaka: 9.8 PPG, 6.1 RPG, 0.7 APG, 3.7 BPG, 53.8% FG
An interesting clash of styles here.
Ibaka is a media darling thanks to his highlight-reel blocks, but he's gotten to the point where his pseudo-fame might be making him an overrated commodity*. Diaw, on the other hand likes to keep his game—but certainly not his frame—relatively anonymous. Even so, the Spurs still rely on his underrated, versatile skill-set to do a lot of the little things that help them win.
Serge will certainly be counted on to play stellar defense on Duncan, Parker and Ginobili in this series and make a few game-changing fast-break rejections, but his most important contribution may come on the offensive end. San Antonio is all but guaranteed to sag off on pick-and-rolls, which will give Ibaka plenty of opportunities from mid-range. He's shown the ability—in fleeting spurts—to knock that shot down, but he's yet to do it consistently.
If he can make that shot, the Thunder have a good chance of stealing this series.
Advantage: Thunder
(*) Ibaka came within 17 points of winning the Defensive Player of the Year Award, and was unanimously elected to the NBA All-Defensive team. This all in spite of the fact that the Thunder give up fewer points when he's off the court than when he's on the court. (ESPN's John Hollinger had this to say about Ibaka potentially winning the DPOY). A lot of that may have to do with the defensive presence that his backup, Nick Collison, provides, but still...
Starting C: Tim Duncan vs. Kendrick Perkins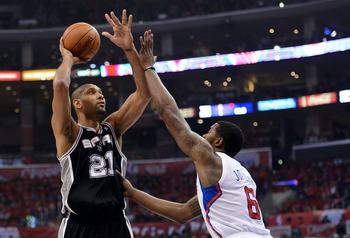 Harry How/Getty Images
Postseason Stats:
Duncan: 17.6 PPG, 9.0 RPG, 2.9 APG, 1.0 SPG, 1.9 BPG, 54.0% FG
Perkins: 3.9 PPG, 5.9 RPG, 0.9 APG, 1.6 BPG, 39.2% FG
The way Tim Duncan has been able to turn back the clock in the playoffs has been miraculous to watch. It almost makes you wonder if he got a surprise gift from Albus Dumbledore after the Spurs' last regular season contest.
The Big Fundamental—seemingly left for dead in the regular season—has morphed back into his own, un-guardable self this past month, posting an effortless 17-9-3 line and drawing double-teams in the post. It's almost like he never left us.
While the Spurs have the obvious advantage here, the matchup with Perkins is an interesting one. Perk made his name as a dominant post defender with the Celtics, proving very capable against the likes of Pau Gasol in the NBA Finals. This matchup is exactly what the Thunder envisioned when they swapped Jeff Green for Perkins at the trade deadline last season.
While Perkins hasn't exactly lit it up in Oklahoma City, this is a very good chance for redemption. The Spurs can't win if Duncan shoots around a 45 percent clip.
Advantage: Spurs
Sixth Man: Manu Ginobili vs. James Harden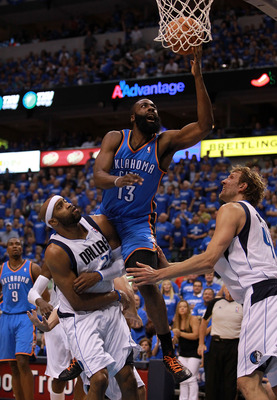 Ronald Martinez/Getty Images
Postseason Stats:
Ginobili: 11.2 PPG, 3.2 RPG, 4.5 APG, 0.8 SPG, 40.0% FG, 25.7% 3FG
Harden: 17.0 PPG, 5.0 RPG, 3.1 APG, 2.0 SPG, 41.9% FG, 33.3% 3FG
Easily the most intriguing matchup of the series, and, quite possibly, the one that could decide who wins the West.
Harden and Ginobili are cut from nearly-identical cloths. They're both clunky, intrepid lefties, who possess a recherche ability to get anywhere on the court at any time—completely impervious to any defenders who have the nerve to get in their way.
Their games are so similar, in fact, that if it weren't for the swarthy complexion of Harden's skin and the yamaka-shaped bald spot on Manu's head, they'd be almost indistinguishable.
Manu spent a long time reigning atop the Best Sixth Man rankings, but his title was stolen this season by Harden, who ran away with the 2012 award.
Harden wasn't as dominant against the Lakers as he was against Dallas (save Game 2), but the Thunder will be counting on his penetration when they hit an inevitable scoring slump (as they're one to do) against the stingy San Antonio defense. Manu has been in a small funk all postseason, that he may be able to break out of, but he can't outplay Harden.
Fear the beard.
Advantage: Thunder
Backup PG: Gary Neal vs. Derek Fisher
Stephen Dunn/Getty Images
Postseason Stats:
Neal: 8.2 PPG, 1.8 RPG, 1.4 APG, 56.8% FG, 50.0% 3FG
Fisher: 6.0 PPG, 1.6 RPG, 0.9 APG, 0.9 SPG, 44.9% FG, 53.3% 3FG
Almost a direct inverse of the starting point guard matchup. Here, San Antonio has the young, exciting prospect in sharp-shooting Gary Neal, while the Thunder trot out the grizzled vet and five-time NBA Champion, Derek Fisher.
Neal has been on a tear this postseason, adding to the illustrious list of should-have-been-jobless players the Spurs picked up and turned into serviceable—if not valuable—NBA players. His 50 percent shooting from beyond the arc is no fluke, and he's already proven himself capable in clutch spots during the postseason.
Fisher, on the other hand, has looked lost at times in his transition from Hollywood to Oklahoma City. I don't usually buy into the hype of a guy "providing leadership and toughness off the bench," but this is the rare case where the guy is so much older and so much more experienced than his teammates.
They won't give Fisher major minutes, but he proved that he could still hit an open three last round against his former team, and he's shooting 53 percent from deep in the playoffs. Not to be outdone, he's definitely proven that he can hit a clutch playoff three as well.
If Eric Maynor were available, this would be a runaway for the Thunder. Without him? The experience still gives them the slight nod.
Advantage: Thunder
Backup SF: Stephen Jackson vs. Daequan Cook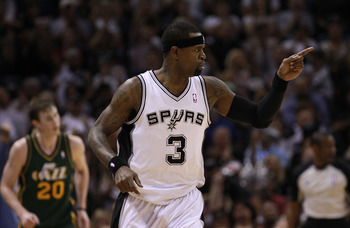 Ronald Martinez/Getty Images
Postseason Stats:
Jackson: 5.6 PPG, 2.0 RPG, 2.0 APG, 41.7% FG, 50.0% 3FG
Cook: 2.7 PPG, 0.9 RPG, 0.3 APG, 33.3% FG, 30.0% 3FG
Stephen Jackson isn't the player he once was, but even if that were the case, the Spurs wouldn't need him to be.
Jackson provides the Spurs with a legitimate weapon off the bench, which is a role that he, surprisingly, has had no problem accepting*. He can still shoot, and he's wily enough that you still have to respect him a little bit off the bounce.
Cook is purely a three-point shooter for the Thunder. He's struggled in the postseason (as he did last year), and he has played sparing minutes off the bench. When he's in the game, the Thunder usually try to run the shot clock, play defense and wait for Durant to sub back in. What does that say about a guy?
Advantage: Spurs
(*) And why would he? The Spurs backup unit (Neal, Ginobili, Jackson, Blair, Splitter) would obliterate the Bobcats team he was forced to play with last season. This must be heaven to him.
Backup PF: DeJuan Blair vs. Nick Collison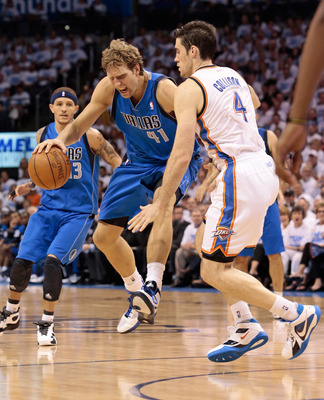 Brett Deering/Getty Images
Postseason Stats:
Blair: 3.8 PPG, 2.3 RPG, 0.3 APG, 58.8% FG
Collison: 2.9 PPG, 2.7 RPG, 1.4 APG, 63.2% FG
A matchup of two guys who play the game the right way.
Both Collison and Blair have the attitude and skill set to be starters in this league, but they each have an Achilles Heel that has held them back. For Collison it's his athleticism, while Blair suffers from being severely undersized.
Either way they both like to get down and dirty, providing both of their teams with timely offensive rebounds, solid defense and contagious energy. Blair may look like a bowling ball, but he can really move*.
Collison is one of the best help defenders in the league—consistently ranking among the league's leaders in charges drawn, even though he his playing time is sparing. He seems like a player that Gregg Popovich would have loved to coach.
His intangibles give him the edge.
Advantage: Thunder
(*) For now, that is. The Spurs have been wisely cautious with Blair's minutes, as a pre-draft examination revealed that he has no ACLs in his knees. He's great to watch, but savor the moments you get to see him—he might not be long for this league.
Backup C: Tiago Splitter vs. Nazr Mohammed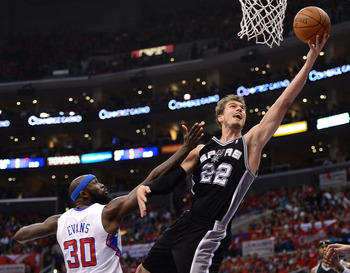 Harry How/Getty Images
Postseason Stats:
Splitter: 7.6 PPG, 3.6 RPG, 0.3 APG, 60.5% FG
Mohammed: 2.6 PPG, 2.3 RPG, 0.1 APG, 50.0% FG
Say it with me everybody: Where the hell do the Spurs keep finding these guys?

Actually, Splitter was highly regarded as an international prospect when he declared, prompting the Spurs to take him in the first round, then stash him in Spain for two years. The success he's enjoyed this year—albeit coming off the bench—makes the situation feel eerily similar to Luis Scola.
Splitter is a unique talent who can score in a variety of ways around the rim. Nazr Mohammed won't be tasked with much to do except keep him in check when he's on the floor. If Nazr can play him to a near-draw, the Thunder will be ecstatic.
Fun side note: Seven years ago, Mohammed started alongside Duncan, Parker and Co. in Game 7 of the NBA Finals, pulling down eight rebounds in the process. Maybe he'll have some valuable insight on how to attack San Antonio.
Advantage: Spurs
FINAL TALLY:
Spurs: 5
Thunder: 5
Keep Reading

Oklahoma City Thunder: Like this team?