Fantasy Baseball Waiver Wire: Red-Hot Pickups You Must Make
May 24, 2012

Jason O. Watson/Getty Images
Its almost nine weeks into fantasy baseball season, and now is the time where leaders start to distance themselves from the pack.
A well-placed move can either keep your team on top, or give your squad enough juice to make an early summer run.
The dog days of summer are here, so here are some fantasy pickups that are sure to help your team heat up.
Ryan Vogelsong
With four consecutive quality starts under his belt, Ryan Vogelsong has been lights out during the month of May.
His resume also included a one-hit gem over the weekend against Oakland, and Vogelsong has been a pretty consistent starter thus far in 2012.
Vogelsong is a guy you could roll with until he falters, and it never hurts to stockpile pitchers in your league.
Alfonso Soriano
Here is a name that fantasy owners should remember well and now that is on the mend, Alfonso Soriano could add some pop to your lineup.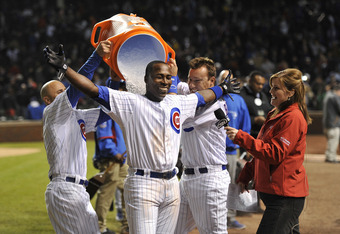 Brian Kersey/Getty Images
Soriano returned in grand fashion, hitting three home runs last week and even though his sore knee is somewhat worrisome, he is a player you should consider adding to your squad.
Mike Trout
How a guy like Mike Trout is available in roughly 33 percent of fantasy leagues is incomprehensible.
The speedy outfielder has been rock steady since his call up this season. Trout is hitting .315 and has cranked four home runs.
Trout also brings great base-stealing ability to your team and he will fill out your categories nicely.
Trevor Bauer
Trevor Bauer is an elite prospect that has amazing stuff and his recent promotion to Triple- A Reno means that he is that much closer to a spot in the show.
Bauer had a dazzling debut for Reno last week, when he pitched eight innings and only allowed one run, while striking out 11 batters.
Arizona tends to wait to call up their  hottest prospects, but don't be surprised to see Bauer in the coming months.
He would be a welcome depth pitcher for your fantasy  team upon his arrival to the big leagues, and it would be wise to get Bauer before his name starts to gain momentum.