Bellator 70: Main Card Predictions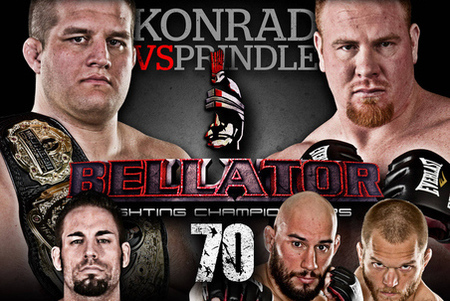 Bellator's sixth season comes to an end Friday on MTV2, bellator.com and spike.com, with two tournament bouts, as well as a world title bout.
Headlining will be season five-time heavyweight tournament winner Eric Prindle taking on champion Cole Konrad. Prindle clinched the tournament this season after a no contest in Season 5 and a failed attempt at a rematch when Thiago Santos did not make weight.
Also on the card is the lightweight tournament final, as well as the second bantamweight semifinal. Let's take a look at the breakdown of each main card fight.
Begin Slideshow

»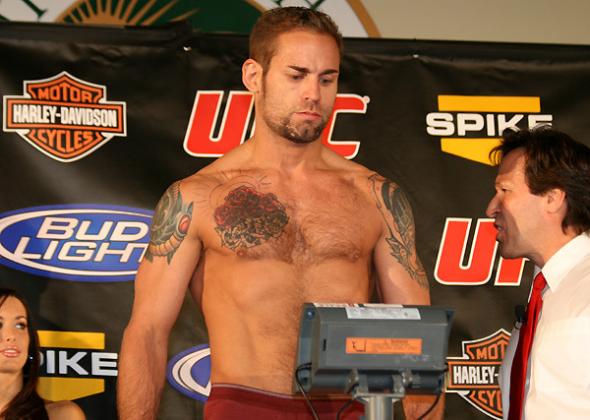 mmajunkie.com
Opening the main card will be veterans Rich Clementi and Derek Campos, who will showcase their skills for a potential spot in a future Bellator tournament.
Derek Campos will be making his Bellator debut on this card. The Shark Fights veteran is 9-2 in his career, finishing four opponents by submission and two by knockout. Expect for him to attempt to get the fight to the ground, as top control is his best chance of putting Clementi away.
Rich Clementi is a long-time veteran of MMA, holding a record of 42-21-1. He has fallen on hard times as of late, going 2-4 since 2011.
Clementi is a dangerous submission artist, especially from the top position. He has submitted 25 opponents in his career, but will probably be the better striker in this fight.
Prediction: Rich Clementi def. Derek Campos via decision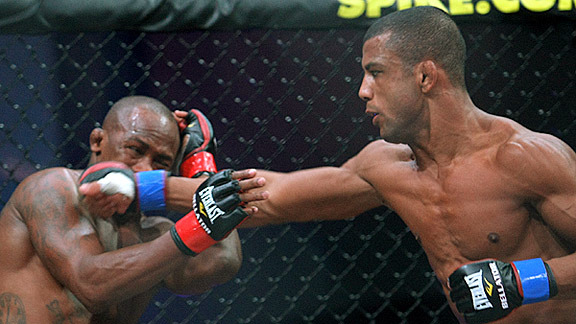 espn.com
The next fight is the second bantamweight semifinal of the season, as Luis Nogueira meets Hiroshi Nakamura for a spot in the finals against Marcos Galvao.
Nakamura is one of the top Japanese exports in MMA, holding a 15-5 record in his professional career. 13 of his wins have come by submission, but it hasn't been because the Japanese grappler isn't trying to finish fights.
Holding notable wins over Masakazu Imanari and Yoshiro Maeda, Nakamura looks to carry the Japanese flag as countryman Masakatsu Ueda has already been eliminated from the tournament. In the first round, Nakamura defeated Rodrigo Lima via unanimous decision.
Meeting Nakamura will be Luis Nogueira, a four-fight veteran of Bellator. Nogueira is 13-2 in his career, winning the majority of his fights by decision as well. In the first round, he knocked off one of the tournament favorites in Alexis Vila.
In this fight, Nogueira will use his superior striking to earn takedowns and control the fight. He may submit Nakamura, but I don't expect it.
Prediction: Luis Nogueira def. Hiroshi Nakamura via decision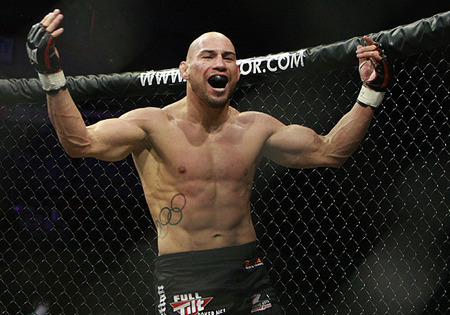 mmamania.com
In the lightweight final of Season 6, former welterweight competitors collide, as Rick Hawn meets Brent Weedman for the $100,000 prize and a title shot at Michael Chandler.
Rick Hawn has been nothing short of spectacular since he began his MMA career, running to a record of 13-1. His only loss came in a Bellator welterweight finals fight against Jay Hieron.
Hawn is a knockout machine, using his powerful hands to put nine opponents unconscious. So far in this season, Hawn has knocked out Ricardo Tirloni and Lloyd Woodard, earning him his spot in the finals.
Meanwhile, Brent Weedman has similarly looked great at lightweight. His career has seen him establish a 20-7-1 record thus far, finishing 18 opponents by knockout or submission.
This season, Weedman submitted J.J. Ambrose in the quarterfinals with a rarely seen Von Flue choke. Then, in the semifinals, he toughed out a close win over Thiago Michel to make it to the finals.
Look for this fight to be slow in the beginning, with both men looking for the range. Somewhere in the middle of the fight, Hawn will find Weedman's chin with one of his bombs and win the tournament.
Prediction: Rick Hawn def. Brent Weedman via knockout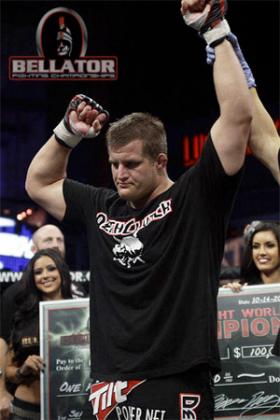 mmajunkie.com
In the main event of the night, Cole Konrad puts his gold on the line as he meets Season 5 tournament champion Eric Prindle.
This will be Konrad's first defense of the title since winning it in season three. In that season, Konrad beat Rogent Lloret, Damian Grabowski and Neil Grove to earn the title. Since then, he had a non-title bout where he easily defeated Paul Buentello.
Eric Prindle, like Konrad, is part of Team DeathClutch, which will make this fight interesting. Prindle is a good boxer, having knocked out four in his seven victories. So far in this season, he has beaten Abe Wagner by decision and knocked out Ron Sparks.
This fight will happen one of two ways. The first way is that Prindle will stuff Konrad's takedowns and batter him with power punches. The other is that Konrad will take him down on demand and hold him there for the duration of the fight.
Option number two sounds about right.
Prediction: Cole Konrad def. Eric Prindle via decision