UFC 146: American Fighters Will Be Dominated in Las Vegas
May 26, 2012

Victor Decolongon/Getty Images
UFC 146 in Las Vegas, Nevada has 12 fights, three of which will be featured on Facebook, four of which will be on FX and the five that will be on pay-per-view.
Each fight features at least one American and in some cases two. Five Brazilians are also in action as well as two Englishmen, one Dutchman and one Croatian-American.
It goes without saying that the Americans have a chance to dominate this event on their own home turf.
The odds don't give them much of a chance, though. 
According to Sportsbook.com, of the nine fights not featuring two Americans, only two Americans are favored—Cain Velasquez and Jacob Volkmann.
It isn't expected to be close either.
UFC Heavyweight champion Junior dos Santos is going off at -500. To put that in perspective, the Americans' best chance for success, Velasquez, is going off at -400, but in case you don't know, Junior dos Santos knocked out Velasquez in the first minute of the first round in November.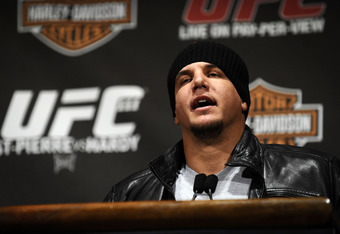 Jeff Zelevansky/Getty Images
That's not a very a promising outlook for 33-year-old challenger Frank Mir.
The other American favorite, Volkmann, is 14-2 in his career. The 31-year-old is battling 23-year-old Englishman Paul Sass, a Liverpudlian who has never lost and is fighting only his third UFC bout. So far in his UFC career, he's forced both of his opponents to tap out via submission.
There are other potentially close bouts the Americans could win—Duane Ludwig, Lavar Johnson and Shane del Rosario stand out—but it won't be easy.
The American stars in UFC 146 are going to have a tough time finding success in Las Vegas.