NFL Holdouts: When To Side with the Team and When To Side with the Player
May 25, 2012

Jonathan Daniel/Getty Images
For the first time since last season, NFL teams have reassembled. Rookies and veterans alike are lifting weights, running drills and playing football. Whole rosters, 90 players strong, are assembled across all 32 teams.
Well, except for the Chicago Bears. Running back Matt Forte has decided to hold out. 
All he would have to do is sign his name on his franchise tag tender offer, and Forte would be paid $7.7 million for his efforts this season. One stroke of the pen, and he would be guaranteed to make more than 153 times the national median household income of $50,022.
So why doesn't he sign?
The average NFL career lasts about three-and-a-half years, according to the NFLPA. Coincidentally, Forte has played almost exactly that long. He completed his first three seasons, but tore an ACL 12 games into this past season, his fourth.
Running backs, more than any other position, have to make money as soon as they can. The position carries a high risk of injury, and modern offenses tend to feature multiple backs used situationally. The days of a feature back carrying a team are almost over.
Forte—who, per the Chicago Sun-Times, was playing on a four-year, $3.7 million rookie deal—was an integral part of the Bears' run to the 2010 NFC Championship Game. He was even better in 2011, gaining 4.9 yards per carry and racking up 1,487 all-purpose yards in the 12 games he was available.
In fact, the former 2008 second-round pick out-rushed and out-received four of the five running backs taken ahead of him in the draft—both in 2011 and over their careers. The Tennessee Titans' Chris Johnson, with 5,645 career rushing yards and 1,047 in 2011, was the only one who topped Forte's 4,233 and 997. 
Johnson, coincidentally, is the reason the Bears don't want to pony up.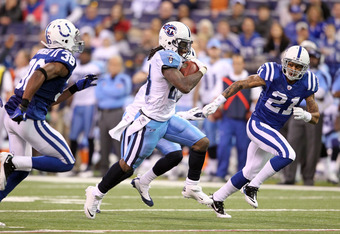 Andy Lyons/Getty Images
After averaging 1,532 yards and 11 touchdowns over his first three seasons, Johnson held out until late August of last season. The Titans opened up the vault and paid Johnson a $10 million signing bonus for their superstar tailback, part of a six-year, $56 million extension.
In return for that massive investment, Johnson rushed for just 50 yards more in 16 games than Forte did in 12.
During Johnson's holdout, former Titans great Eddie George came out in public support of Johnson. His interview with the Tennessean is no longer online, but ProFootballTalk quoted it:
"Does he deserve a new contract? Absolutely he does. He has outperformed his other one. It's now time to stop messing around and get the deal done."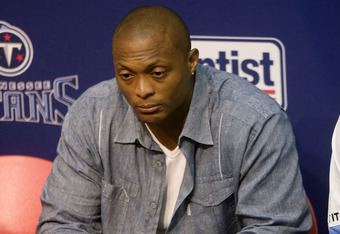 Rusty Russell/Getty Images
Of course, George isn't unbiased. At the end of his long, productive career with the Titans, George's per-carry production slipped. Owner Bud Adams demanded George take a pay cut. When George refused, he was released.
In the salary cap era, NFL teams are under tremendous pressure to get maximum production for players for minimum outlay. Guaranteeing multimillion dollar amounts to players means taking a huge gamble: betting the franchise's future ability to compete on that player beating the odds and staying productive.
For the same reason, players are under tremendous pressure to earn as much as they possibly can in the time they have to earn it. Players who never sign a second contract will be lucky to have a nice house to show for their time in the league.
Meanwhile, players at the top of the NFL salary pyramid, like the Detroit Lions' Calvin Johnson, have set their great-grandchildren up for life.
The importance of a player like Forte signing a multi-year deal loaded with guaranteed money is hard to overstate. If Forte signs his tender, taxes will take a huge chunk of it. And if he blows another ACL or can't recover fully from this one, he may never get another payday.
NFL franchises face difficult decisions in situations like these. The Titans had to fairly compensate Chris Johnson for delivering three years of extraordinary production, but their gamble that he would deliver six more is coming up snake eyes. It's hard to root for a player to cash in to the point where it hamstrings his team for years to come.
Ultimately, that's a great test to determine which side is in the right: would the player's demands set the team back? In Forte's case, the Bears have the cap space, he's a running back who knows the offense well and his new backup Michael Bush could probably use the extra training camp reps to get up to speed. For Forte, the answer is no.
As rich as $7.7 million would make Matt Forte, as much as any of us would do to grab that pen and sign, he would be doing himself a great disservice to sell himself short—especially when his employer has little reason not to pay him what he's worth.