Floyd Mayweather vs Manny Pacquiao: How Money Has Ruined SuperFight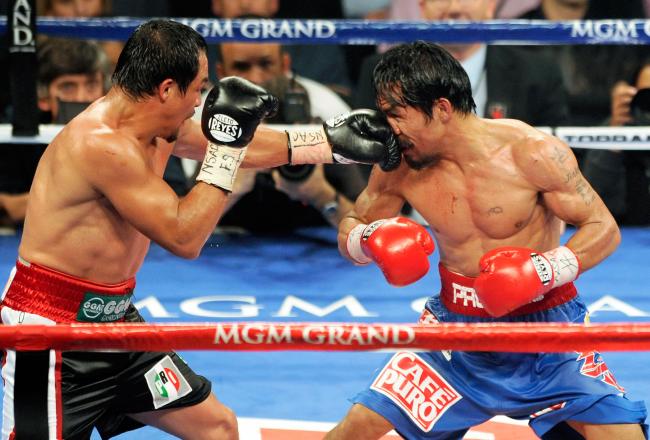 Ethan Miller/Getty Images
For years boxing fans have been clamoring for the fight to end all fights, a duel between who many consider the two best pound-for-pound fighters on the planet in Floyd Mayweather and Manny Pacquiao.
Any number of reasons have been given for why the fight hasn't happened yet, but the real reason why is the same force that guides 99 percent of the decisions made on the planet Earth.
Money.
Sure, there's been the flap over whether Pacquiao will agree to random blood and urine testing going all the way back to 2009. If this ESPN report from the time is to be believed, he either has or hasn't depending on who you ask. The situation hasn't really become any clearer since then.
Then there's the rather contentious relationship between Floyd Mayweather and promoter Bob Arum. Arum used to represent Mayweather but is now in "Pac-Man's" camp.
To say that the two men dislike one another would be a bit of an understatement, and their unending sniping back and forth in the media recently hit a new low when USA Today reported that Arum compared Mayweather's propaganda to Joseph Goebbels.
Yes, that Joseph Goebbels.
All the grousing, preening and bickering aside, the real root of the holdup in getting this megafight done likely lies in how the huge pile of money the fight would generate would be divided by the fighters.
Mayweather has balked at the idea of a 50-50 split between the two fighters, and as the 35-year-old eight—time champion recently told Bob Velin of USA Today after his victory over Miguel Cotto, "Money's" stance on the division of revenue hasn't changed.
"I'm just really tired of the media and the people being fooled," he said. "The truth is, (Pacquiao's promoter) Bob Arum is not going to let the fight happen. It's not on me. I went to Pacquiao and offered him $40 million, and told him I would wire him $20 million within 48 hours. He turned me down and said he wanted a 50-50 split. I'm like, how can you ask for 50-50 and you're not doing the same numbers that I'm doing."
Mayweather's argument that he's been a bigger draw on pay-per-view recently carries some merit, as according to Sports Illustrated the Mayweather vs. Cotto fight brought in 1.5 million PPV views and $94 million in revenue, making it the second-highest grossing non-heavyweight pay-per-view event in boxing history.
However, SI scribe Chris Mannix disputes the notion that Mayweather is a significantly bigger draw than Pacquiao. Mannix believes that Pacquiao would be a fool to take Mayweather's offer of a flat $40 million.
Mayweather and Pacquiao are comparable draws. Mayweather-Cotto did 1.5 million buys; according to a source, Pacquiao's November win over Juan Manuel Marquez did 1.25 million. Mayweather's promoter, Golden Boy, reported that Mayweather's win over Victor Ortiz last September generated 1.25 million buys. Top Rank reported Pacquiao's win over Shane Mosley last May did 1.2 million buys.

In a fight that could generate north of $150 million in revenue, Pacquiao would be foolish to accept Mayweather's offer of a flat fee of $40 million.
Pacquiao and Arum have reportedly countered with an offer that would split the purse three ways. Each fighter would receive 45 percent, with the remaining 10 percent going to the winner of the fight. That split not only seems equitable but also would certainly seem to motivate each fighter to give it 120 percent, both in training for the fight and in the ring, as $15 million is one heck of an incentive.
Will a Mayweather Vs. Pacquiao Fight Ever Happen?
That said, you can bet your last five bucks that this proposal will be met with the same resistance that the other 147 have to this point, and you might as well, because you're not going to be able to bet that money on a Pacquiao vs. Mayweather fight.
It used to be that the idea of "Money vs. Pac-Man" was a glimmering light of hope, a superfight that would rake in untold millions and return boxing to the forefront of sports relevance, if only for a short time.
That glimmering light turned out to be a mirage (pardon the pun), and instead of witnessing potentially one of the greatest fights of the past decade we get to watch Manny Pacquiao beat up Timothy Bradley while Floyd Mayweather gets ready to serve 90 days in jail stemming from a 2010 domestic violence arrest.
All because two very rich men with hordes of advisers and attorneys can't come to an agreement on how to divvy up $150 million.
And people wonder why boxing is a dying sport.
This article is
What is the duplicate article?
Why is this article offensive?
Where is this article plagiarized from?
Why is this article poorly edited?