Devils vs. Rangers: Players Who Must Step Up for New York to Make Comeback
May 24, 2012

Jim McIsaac/Getty Images
The New York Rangers lost Game 5 of their Eastern Conference Finals on home ice, putting them just one loss away from being eliminated from the 2012 NHL playoffs by the New Jersey Devils.
Let's take a look at three players who are under the most pressure to step up in order for New York to have any shot at the Stanley Cup Final. The Rangers face an uphill battle, but if everyone plays up to their potential, they have enough talent to pull it off.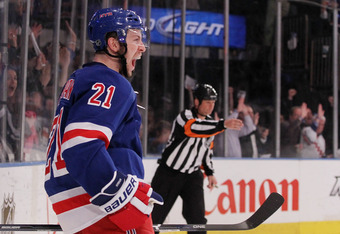 Bruce Bennett/Getty Images
Derek Stepan
Stepan scored 17 goals during the regular season but has only found the net once during the team's playoff run. He's only tallied a single assist against the Devils and has a minus-two rating, further illustrating his struggles.
The main reason the Rangers were able to secure the top seed was a balanced offensive attack. With Stepan struggling to provide that in the playoffs, there has been more pressure on the stars to produce. And against a strong defensive team like New Jersey, that leads to trouble.
The young 21-year-old center must find a way to produce more scoring chances, whether they be for himself or teammates, in Game 6. Otherwise, the Rangers' promising season will come to a premature end.
Henrik Lundqvist
No player has a bigger impact on the Rangers than Lundqvist, who is regularly tasked with carrying the team on his back. He's given up seven goals over the past two games, however, which has allowed the Devils to turn a series deficit into a lead.
For the Rangers to mount a comeback, King Henrik needs to be the brick wall he is capable of being between the pipes, especially in the early goings. If New Jersey grabs a lead, it can fall back into a defensive shell and make things even more difficult for the Rangers.
His counterpart, Martin Brodeur, has been playing like he found the fountain of youth. Lundqvist needs to outplay him for New York to have a chance.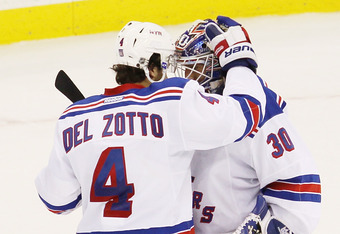 Jim McIsaac/Getty Images
Michael Del Zotto
Del Zotto was one the Rangers' most reliable defensemen in the 2011-12 season, but he hasn't been able to recapture that magic in the postseason. While his offensive production has been fine, the same can't be said for his play in the defensive zone.
The only player on the team with a worse plus-minus rating is rookie Chris Kreider. That's not good for a player that averages more than 20 minutes per game, especially in a series where scoring chances are like gold.
John Tortorella will be looking for more consistency from Del Zotto in Game 6. If the third-year player can provide Lundqvist with more support, the Rangers will be on the path to success.