Inside Ohio State Football with Brent Williams
May 24, 2012

Brent Williams is a 13-year veteran of the NFL, playing for teams like the New England Patriots and New York Jets.  What sets him apart is that he has three boys playing major college football.  His oldest son Brennan is an offensive lineman for the North Carolina Tar Heels, while his younger son Camren and his godson Armani Reeves will be Buckeyes in the fall.  This is Brent's second interview with me (here is his first, another insightful interview).  In light of the recent media coverage on the topics of parents, safety and recruiting, and realizing he has an older son who lived through the scandals at North Carolina, I thought Brent would offer unique insight others could not provide. 
With the recent media coverage of concerned parents and OSU recruiting (note: Dr. Sal Anzalone was misquoted by Reading Eagle), what would you tell parents of prospective recruits?
BW: There are so many factors in the decisions.  Having gone through it three times as a parent, you want what is best.  From all we have experienced at Ohio State, they do a tremendous job of educating young men due to the previous issues with their program.  OSU was very upfront with the boys about their celebrity status once they became Buckeyes.  Columbus is a city that is primarily an Ohio State football town so the boys become instant luminaries.  Urban wanted to recruit young men who are mature enough to handle this status and responsibility.  The coaches know that people want to be as near to the program as possible and young men have to be able to handle themselves.  I think OSU has done a great job addressing potential concerns.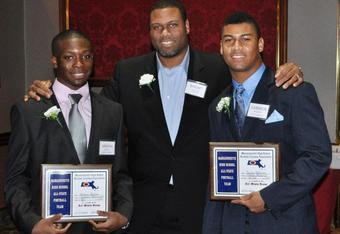 Your oldest son is in his senior season at North Carolina and has endured a lot of "scandal" during his time.  Compare UNC's football troubles with OSU's?
BW: There are issues in every program, no one is perfect.  There are rules broken both intentionally and unintentionally.  It is how the schools address the issues that matter the most.  When you have young men, and some are from challenging backgrounds, everything will not go perfect.  Fans need to be careful about pointing fingers at other schools because every school will have issues. 
You knew Everett Withers before OSU.  Compare the UNC team under Butch Davis vs. the one-year Everett Withers was head coach?
BW: I am a Butch Davis fan and felt the circumstances of his dismissal were very unfortunate.  What I really respected about Everett Withers is that he stated at his first press conference that he always wanted to be a head coach but did not want to become one this way.  Being a head coach eight days prior to camp beginning is not ideal but he did not flinch.  It really resonated with me.  He did a phenomenal job of rallying young men despite losing people so close to the start of the season.  He is the type of coach Urban Meyer was looking for.  He has developed many young men who have gone on to great NFL careers. 
Compare Urban Meyer to Butch Davis?
BW: They both want the best coaches.  Urban Meyer has an amazing staff at OSU.  I know of coaches who do not want to bring in coaches who will move on but Urban is not that way.  Urban wants the best and he knows that the best will move on to head coaching positions. 
Both Meyer and Davis have an aura about them.  In 2 minutes, they can communicate their vision for the football program and tell you how your son fits into that vision.  This is why they are such good recruiters.
Being a former NFL player, how have you transferred this knowledge to your boys?
BW: I have talked to my older son, who is an o-lineman, how to block d-lineman and help him understand the perspective of a d-lineman.  I also taught him how to frustrate d-linemen.  I have passed on to Camren and Armani techniques I have learned over the years.  The coaches are great at Ohio State and I have complete confidence they will teach my boys football and push them to be better football players. 
If you had to prognosticate the next four years for Ohio State football, what would you prediction be?  Do you see a National Championship?  Can Cam and Armani beat Michigan for four years?
BW: I grew up in MI so I was a Michigan fan but I have taken off my allegiance for my boys.  I am excited for the rivalry to be "The Game" again.  Both schools are again great programs and now the winner of "The Game" not only has B1G bragging rites but also has a chance to go to the national championship game(s).  It was no fun when Michigan was not good and Ohio State had no competition.
That being said, I am really excited about the direction of Ohio State football!  As a fan, the staff and recruits coming to OSU are top notch.  I am a Lebron James fan and I would not get on a stage like he did and say Ohio State will win one, two or three championships but I wish them the best.  I do believe they will have a legitimate chance at a national championship in the next few years and will be surprised if my boys don't win at least one.  
Thank you so much Brent for doing a second interview with me. I will check in with you again sometime during the season or after or both to get your thoughts for another peek inside Ohio State football.
Michael Chung is a Correspondent for the Bleacher Report, Sports-at-Work and Silver Bullet Unless otherwise noted, all quotes were obtained first-hand or from official interview materials.