Osi Umenyiora Will Be Back for New York Giants, but Only When Necessary...Again
May 24, 2012
Al Bello/Getty Images
He'll be back, eventually.
Who's kidding who here? Everyone knows Osi Umenyiora isn't getting a new contract from the New York Giants. You know it, I know it, Jerry Reese knows it, Jeremy Lin knows it and I'm speculating here, but I'm pretty sure even Osi Umenyiora knows it.
As expected, Umenyiora wasn't present at the start of the New York Giants' offseason program Wednesday. And as long as Umenyiora continues to possess a contract that pays him less than $4 million in 2012, he'll continue to pout from afar.
No one really expects to see Umenyiora until July or August.
Due to the lockout, there were no organized team activities last year, thus the disgruntled defensive end played the holdout card during training camp in an effort to land a new deal coming off an All-Pro season. The Giants didn't budge and Umenyiora returned, tail planted firmly between legs.
This year, Umenyiora is not coming off an All-Pro season. Granted, he had nine sacks, but he missed half of 2011 due to injury and is now a year older. Plus, Jason Pierre-Paul was a revelation for the New York pass rush. 
Because he wimped out of his holdout last year, Umenyiora has little leverage this time. And because of the aforementioned details regarding what went down during the 2011 campaign, he has limited value to his team. Not no value, but limited value.
He'll be back, eventually. Right now, his contract gives him a convenient excuse to miss practices that veterans tend to dislike anyway. And remember: These are only voluntary sessions. Why not send a message and play hooky at the same time? Two birds, one stone.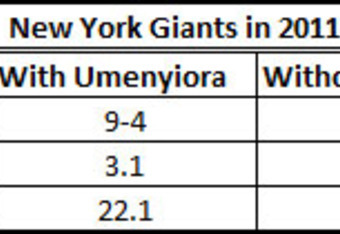 Barring a surprising turn of events, Umemyiora will stay away until at least training camp. But with the new collective bargaining agreement calling for daily $30,000 fines for missed camp days, we all know he'll be back, eventually.
Only a trade would fully remedy this debacle now, but that's probably not in the cards, either. The Giants know that their pass rush is better with Umenyiora in the lineup and won't bother dealing him unless they can get a significant return. Plus, if he holds out long term and/or leaves as a free agent, the team will likely be awarded a high compensatory draft pick from the league.
Essentially, it's hard to imagine the Giants finding a trade partner willing to give a long-term extension to a 30-year-old with a balky knee and a questionable attitude while also surrendering a sizable ransom of picks and/or players to the defending champions.
The Giants might not need Umenyiora, but they can certainly use him. Without him in the lineup last season, they went 4-3 and averaged 2.7 sacks per game. With him, including the postseason, they went 9-4 and averaged 3.1 sacks per outing. Pierre-Paul and Justin Tuck make up one hell of a duo, but Reese and Tom Coughlin know you can't have too many quality pass-rushers.
That's why they'd be smart to let Umenyiora cry it out for the second straight offseason. They know he'll be back this summer and ready to earn his $3.975 million salary, less deductions for missed time and excited to gain his freedom in 2013.
They know—we all know—that right now, he's simply using the notion that he's underpaid as an excuse to miss practice. He's not delusional. There's no way he believes that the team would inexplicably ditch their business-first stance and cave in to his demands this late in the game.
He'll be back, eventually.