11 Most Memorable Manager Tantrums in Baseball History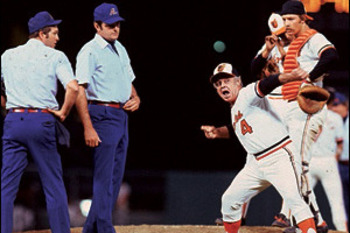 Photo courtesy nationalsarmrace.com
The life of a baseball manager is demanding. They are part coach, mentor, mediator, task-master, tactician, field general and sometimes even father figure.
Each manager brings his own unique style into his job as well. Some are considered player-friendly, others more disciplined in nature. Some work well with veterans, others with youngsters. It's also a job that requires constant communication with ownership, management, players and the media alike.
In the course of baseball history, managers have been known to completely break down their emotions and let it all out, so to speak. Some might vehemently argue a call on the field, others finally get brutally honest about the bad play of their team, and some simply spark an argument simply to motivate their team.
Here are some examples of the worst manager tantrums in baseball history.
Note: Some of the content contained in the attached slides was collected from an article I wrote in July 2011.
Phil Wellman: June 1, 2007
It never gets old watching this.
On June 1, 2007, Atlanta Braves Double-A manager Phil Wellman decided he had had enough with the umpiring crew at one particular game.
Although it's not a major league game, the rant itself was indeed major league-worthy. Braves general manager John Schuerholz didn't think so, levying Wellman with a three-game suspension.
Lou Piniella: June 2007
Lou Piniella will certainly be remembered as a passionate man, both as a player and as manager.
However, in June 2007, Piniella saw that passion manifest itself into a full-blown tirade.
Maybe it was the play of the Cubs that he had witnessed for too long that got his goat?
Take a look at the hats flying down in center field and then Piniella throwing his hat into the mix as well.
Charlie Manuel: September 2008
In September 2008, Philadelphia Phillies manager Charlie Manuel took great exception to a ruling on an allowed appeal of a check swing.
Manuel, 64 years old at the time, had to be physically held back from the home plate umpire by his crew chief at third.
Manuel didn't stop there, however, making a menacing move toward the third base umpire as well before being held back once again.
Earl Weaver: 1980s
Long-time Baltimore Orioles manager Earl Weaver was not just a great manager, but he had a way of knowing when to fire up his players as well.
While small in stature, Weaver stood tall as of the great debating managers in Major League history, and could sometimes take it just a wee bit further than a debate.
Dick Howser: 1984
Apparently, a couple of umpires ticked off Kansas City Royals manager Dick Howser just a little bit.
After having a conversation with umpires Joe Brinkman and Vic Voltaggio, Howser took great exception to comments made by the two in reference to the Royals' standing at the time.
I'd say that Howser clearly made his point.
Hal McRae: 1993
During a postgame press conference in 1993, Kansas City Royals manager Hal McRae was obviously upset at a few things, especially one particular question asked by a reporter questioning a move that McRae had made.
As he said at the end of the rant, put that in your pipe and smoke it.
Jose Offerman: Jan. 16, 2010
Apparently, Jose Offerman the manager didn't learn a thing from Jose Offerman the player.
Already banned from the Independent Atlantic League in 2007 after charging the pitcher's mound with a bat, Offerman got himself banned from another league as a manager.
This time, while managing in the Dominican Republic, Offerman, who came out to argue a call, punched first base umpire Daniel Rayburn in the face.
Offerman was booked on assault charges and taken to jail.
Ozzie Guillen: April 13, 2011
Chicago White Sox manager Ozzie Guillen could have made this particular list several times for different rants and raves over the years, and now, as manager of the Miami Marlins, he has already managed to alienate an entire community.
We chose this particular rant about his relief pitchers in the early part of the 2011 season as just an example of Ozzie's...um...style.
John McLaren: June 4, 2008
The Seattle Mariners have had their share of fiery managers, none more so than Lou Piniella.
However, on June 4, 2008, John McLaren channeled his inner Piniella in this particular rant.
I'm guessing he was just a little tired of losing. I know, I have great powers of perception.
Wally Backman: June 2010
In 2010, a documentary was being filmed based on the South Georgia Peanuts of the South Coast League, so fortunately, we were able to witness one of the great rants in baseball history.
Manager Wally Backman launched into a tirade after his batter was ejected by the home plate umpire for supposedly arguing balls and strikes.
Backman's ensuing argument and tirade is definitely now one of the all-time greats.
Lee Elia: April 29, 1983
Over 29 years later, it still never gets old listening to this rant, one of the absolute greatest tirades in baseball history.
After compiling a record of 73-89 in his first year as manager of the Chicago Cubs in 1982, Lee Elia was used to the idea of losing. What he wasn't get used to was the apparent apathy of the Chicago Cubs fans.
He let the fans know all about it on April 29, 1983.
Doug Mead is a featured columnist with Bleacher Report. His work has been featured on the Seattle Post-Intelligencer, SF Gate, CBS Sports, the Los Angeles Times and the Houston Chronicle. Follow Doug on Twitter, @Sports_A_Holic.
Keep Reading