Devils vs. Rangers: Game 6 TV Schedule, Live Stream, Spread Info and More
May 24, 2012

Bruce Bennett/Getty Images
With the Los Angeles Kings already waiting in the Stanley Cup Finals, the New York Rangers and New Jersey Devils are playing for the right to meet them next week.
The Devils scored a major victory in Game 5, and will now have two chances to close out the series, including Game 6 at home on Friday night.
New Jersey let a 3-0 lead slip away on Wednesday as the Rangers stormed back to tie it early in the third period, but a late goal by Ryan Carter put the Devils back on top and an empty-netter from Zach Parise sealed the road win. The game was a deviation from the defensive battle this series had been previously, and the Devils benefited from it.
The loss was certainly heartbreaking from New York's perspective as it battled hard to get back in the game on home ice. Now the Rangers will be faced with the tall task of coming out on top in a must-win Game 6 on the road, and then winning a decisive Game 7 as well.
Here is your complete guide to Friday's Game 6 between the Rangers and Devils, which will either end with New York forcing a Game 7, or New Jersey moving on to play for the Stanley Cup.
Where: Prudential Center in Newark, N.J.

When: Friday, May 25 at 8 p.m. ET

Watch: NBC Sports Network

Live Stream: CBC.ca/HockeyNightInCanada

Listen: WEPN 1050 AM (New York) and WFAN 660 AM (New Jersey)

Betting Line (Money Line via Vegas Insider): New York (+103) and New Jersey (-117)

Rangers Key Injuries (via TSN.ca)

Out: F Chad Kolarik (knee), F Mats Zuccarello (wrist), D Michael Sauer (concussion)

Probable: F Brandon Dubinsky (foot)

Devils Key Injuries (via TSN.ca)
Out: D Henrik Tallinder (leg)

What They're Saying
It was 18 years ago when the Devils held a 3-2 series lead over the Rangers in the Eastern Conference Finals, as is the case this season. The blue shirts, of course, went on to come back and win that series behind the guarantee of captain Mark Messier.
Messier won't be able to save them this time, but Devils goalie Martin Brodeur was a rookie with the Devils in 1994, so he fully understands how much closing out this series means, according to Mark Everson of the New York Post.
"This situation is what creates history," Brodeur said, putting everything in the grand perspective it rightly deserves. "Whatever happens in the next few days is what this rivalry is all about."

"It's a good feeling. We've worked hard to get in that position. But nothing's done yet," said Brodeur, who will attempt to exorcise perhaps the final demon of his best-ever, Hall of Fame career.
Most Important Player to Watch: Henrik Lundqvist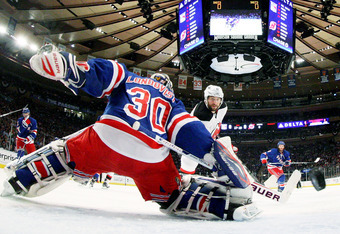 Bruce Bennett/Getty Images
Despite Rangers goaltender Henrik Lundqvist's dominant playoff statistics this season, he has been made to look ordinary by the Devils as of late.
King Henrik has a sparkling 1.77 goals against average and .933 save percentage to go along with three shutouts, but New Jersey seems to have figured out how to beat him. Although Lundqvist has shutout the Devils twice, he has also been scored on at least three times in a game thrice.
New Jersey put on its best offensive display of the postseason in Game 5 as it beat Lundqvist four times on just 16 shots. It's obvious that Lundqvist's supreme confidence is a bit rattled at the moment, but the blue shirts desperately need him to regain it. Lundqvist is the biggest reason why the Rangers have gotten this far, and if he isn't on top of his game Friday, then the Devils are likely to be moving one.
Key Matchup: Peter DeBoer vs. John Tortorella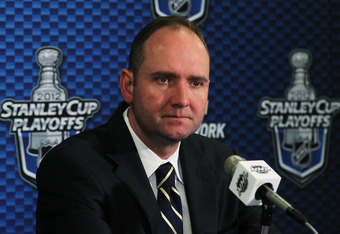 Bruce Bennett/Getty Images
Rangers head coach John Tortorella has a wealth of experience, and guided the Tampa Bay Lightning to a Stanley Cup victory in 2004, while Devils head coach Peter DeBoer is only in his fourth NHL season after being fired by the Florida Panthers.
Despite that resume gap, DeBoer is the coach who has looked more polished and more in tune during this series. DeBoer's squad has obviously frustrated Tortorella as he has come off looking more like a blowhard than a former champion. 
Not only has Tortorella had a short fuse during his post-game press conferences, but he lost it in Game 4 when he sent his goons out to rough up the Devils and goalie Martin Brodeur.
That led to a shouting match between DeBoer and Tortorella, making Torts look silly. DeBoer pulled the right strings yet again in Game 5, as he called a timeout midway through the third period to rally his troops, eventually leading to a late game winner. Coaching should have a huge bearing on Game 6.

Prediction
Rangers 2, Devils 1 
Follow @MikeChiari on Twitter