Chelsea Transfer Rumors: Blues Would Be Foolish Not to Extend Veteran Stars
May 24, 2012

Alex Livesey/Getty Images
Chelsea cannot afford to see Frank Lampard off just yet. The 34-year-old midfielder is too important.
The recently-crowned Champions League winners are saying goodbye to West London legend Didier Drogba this summer, and they're also saying goodbye to Salomon Kalou and Jose Bosingwa according to the Daily Mail.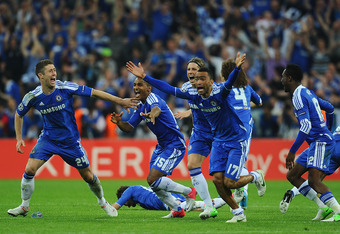 Mike Hewitt/Getty Images
Neither Kalou or Bosingwa is on Drogba's level, but both players started in the UEFA Champions League final and have been at Stamford Bridge for a number of years—Kalou is actually only 26 years old and has appeared in nearly 250 games for Chelsea since 2006.
But the Blues are keen on a change going into their Champions League and FA Cup title defenses and a number of new faces will be wearing blue shirts next year.
A few familiar faces have only one year remaining on their deals—Lampard, Michael Essien and Florent Malouda—and the Blues cannot afford to let them leave now.
The Daily Mirror reports Chelsea is "expected" to offer him a new deal while the Mail says it's a certainty he'll get a new deal.
The Mail also says Chelsea want to extend offers to Michael Essien and Florent Malouda.
If any squad saw the importance of veteran leadership this year, it was Chelsea.
Last summer, the Blues dealt with transfer talk around Drogba before finally clearing the air and announcing the Ivorian star wasn't going anywhere. It was only a matter of time, as their new manager Andre Villas-Boas faltered, that the talismanic striker became the most important player on the pitch.
Chelsea couldn't count on Daniel Sturridge or Fernando Torres.
It had to be Drogba.
Now that he's officially leaving, the Blues must maintain some form of veteran leadership outside of John Terry and Petr Cech. Terry will retain his spot in the back line (although he better clean up his act quick) but if Lampard, Malouda and Essien were forced out or not extended, it would be leave this club woefully short of trustworthy stars.
There will be a youth movement at the Bridge—it's already started with the signing of Marko Marin—but they cannot discount the importance of veteran leadership and timely play.
Extending Lampard is a no-brainer, and bringing back Malouda and Essien long term is a smart decision, too.
The Blues must not fail to show their long-time stars the love they deserve.