Jered Weaver: Dominating Despite Decreasing Fastball Velocity
May 24, 2012
Hannah Foslien/Getty Images
Jered Weaver is one of the best pitchers in baseball right now. However, it is interesting how he is maturing.
Weaver is only 29 years old, so he is in what would typically be his prime. However, when you head over to FanGraphs and look at his fastball velocity, it has actually decreased the past two seasons.
As you would probably expect, his average strikeouts per nine innings has decreased over the past two seasons as well.
Normally, it is not a good thing when these numbers start to drop off. Some people are attributing Roy Halladay's struggles this season to his velocity loss. Weaver is also decreasing, but is 6-1 this season with a 2.80 ERA.
One possible explanation for his success despite this decreasing velocity is probably because of his improved control.
His WHIP is a blistering 0.934. It is pretty simple that when you don't allow runners on base, it is very hard to score.
When you think about it, if runners aren't on base very often then the only other way to score is through a home run. Weaver is currently surrendering 0.65 home runs per nine innings. That is the lowest mark of his career.
There are a few conclusions that we can draw from this information.
First of all, he has learned how to pitch and not just throw. I know that this is a bit of a cliché, but that is really what is happening.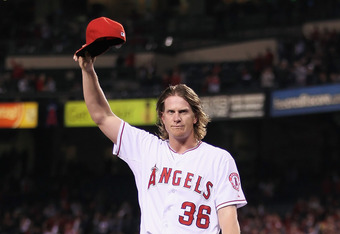 Jeff Gross/Getty Images
If he were simply throwing, losing some of his velocity would lead to a worse performance, but his performance has actually improved.
Also, if he were simply throwing, he probably wouldn't be improving on his control numbers and his WHIP and home runs per nine innings would not be dropping. He is obviously doing something differently this season to keep those numbers on the decline.
However he's doing it, Jered Weaver has been putting up numbers that will place him squarely in the middle of Cy Young discussions at the end of the season as long as he continues to dominate.
Whether you think I know everything or nothing about Major League Baseball, you should follow me on Twitter or become a fan on Facebook and keep in touch. I love hearing what you all have to say!