NHL Playoffs 2012: Devils Have Rangers on the Ropes Heading into Game 6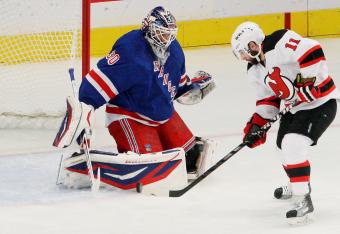 Bruce Bennett/Getty Images
The ever-important Game 5 has come and gone, and the New Jersey Devils now find themselves just one win from the Stanley Cup Finals. Their win came against a New York Rangers team looking to rebound from Game 4's 4-1 drubbing.
Instead, the Rangers started dreadfully slowly, and the Devils managed two goals in the first five minutes and another before the halfway mark of the period. However, the Rangers were able to quickly end the Devils' dominating start with a goal in the last five minutes of the first. New York scored their second goal 32 seconds into the second period, and the equalizer came 17 seconds into the third.
Realistically, the Devils were outplayed for the vast majority of this game. For the first 10 minutes, it was like they were practicing against a minor league team, and then the Rangers awoke and began to dominate the game.
Dominate really is the right word, also. They led the Devils in virtually every stat: They out-shot the Devils 28-17, out-hit them 40-26 and won 37 of 62 faceoffs (59.7 percent). They blocked more shots and had more than twice as many takeaways as the Devils, and both teams went 0-for-2 on the power play.
So with all of that Rangers domination, it came as a bit of a shock when Ryan Carter blew one past Henrik Lundqvist on a beautiful feed from Stephen Gionta with 4:24 remaining in the third.
Every playoff loss is demoralizing, but it's especially rough when it's a game that should have been won, and there's no doubt that's how the Rangers feel right now. They fought back, tied it up and almost took the lead a few times, before one pass took it all away.
Will the Rangers be able to recover from back-to-back losses and take Game 6?
To be fair, these are professional athletes, but it would still be tough mentally, and especially so for rookies like Chris Kreider and Carl Hagelin.
Meanwhile, the Devils know they may have stolen a game, but they were also able to come back and re-take the lead after squandering an early 3-0 start. As importantly, they also just beat a team that outplayed them, and that's got to be a huge boost as well.
There were a lot of different aspects of this game that might give Devils players hope, but among them were:
Henrik Lundqvist finally appears to be slowing down a bit. The Devils have nine goals in the last two games (two empty-netters), and more than a few were stoppable pucks.
Ilya Kovalchuk, David Clarkson and Dainius Zubrus were among Devils without a shot tonight. Additionally, no Devil had more than two shots. However, they were able to find scoring from all across the board.
Things seem to be falling into place, at least to some extent: Kovy and Parise have eight points combined in the last two games. Meanwhile, Patrik Elias scored his first point since Game 3 against Philly on May 3. An awakening from one of their best offensive players might give the Devils the push they need in Game 6.
Most importantly, this game gave a message to the Devils: The Rangers might play their best game out there, but that doesn't mean they have to win that game. The Devils now know that they are capable of snatching the occasional unlikely victory.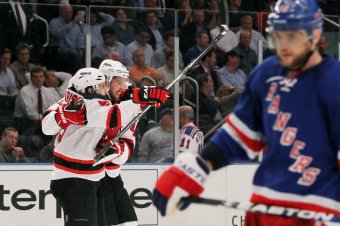 Bruce Bennett/Getty Images
Headed into Game 6, the Rangers will be prepared to fight for their lives and to continue their season. They will have put this loss behind them and will just focus on playing well. Lundqvist will try to remain composed and start strong.
But the Devils have the undeniable edge. In each of the first four games, there were periods of sheer Devils domination. Sometimes the Rangers survived the flurries and outlasted the Devils, and the rest of the time the Devils would manage to break through on their opportunities.
But now they have confidence in their resilience as well. They scored a goal in a game where the opponent had the benefit of a three-goal comeback behind them, with all the momentum and confidence that comes with it.
And that's the problem for New York: The Devils aren't going to crack at any point in Game 6. They can start strong; we've seen that before and again in Game 5. And they can set the tempo and really control much of the play for much of the game.
If it's a game where the Rangers are controlling play, that's okay too. They'll just weather the storm and try to capitalize on what chances they can create. Either way, though, the Devils know that they can win in any climate during this series.
The Rangers know they're capable of beating and even shutting out the Devils, but they also know they are capable of losing any type of game, and at this point in the season, that's a lot of pressure.
Elimination games always come with extra stress, but the Rangers will need to have everyone playing perfectly to get the win in Game 6, and yesterday's loss will have likely dealt a serious blow to their confidence.
It's entirely possible for the Rangers to win, but unless the Devils ease off a bit or the Rangers find great play in every zone, the Rangers are in for a tiring, disheartening game.
This article is
What is the duplicate article?
Why is this article offensive?
Where is this article plagiarized from?
Why is this article poorly edited?

New Jersey Devils: Like this team?