5 Reasons Why Patrick Kane Should Be Trade Bait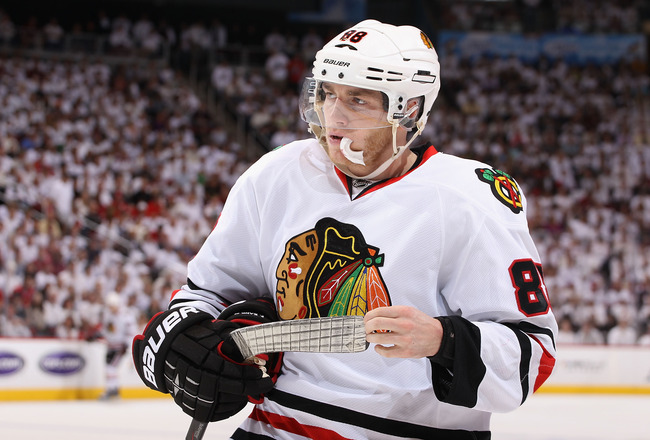 Christian Petersen/Getty Images
Patrick Kane may be on thin ice with the Chicago Blackhawks organization.
His recent antics and less then stellar play last season may trigger a trade this offseason for the elite winger.
The Blackhawks lack depth at center surely showed during the season and GM Stan Bowman will look to bolster the roster through the draft and trades.
Are Kane's days in Chicago just about up?
These are the five reasons why Patrick Kane should be trade bait over the summer.
Not That Versatile of a Player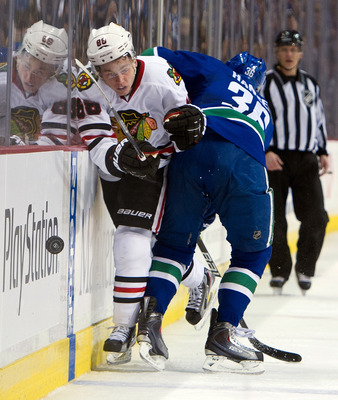 Rich Lam/Getty Images
Kane was expected to make the switch to center this season; a change that hasn't come easy for the winger.
With the Blackhawks lack of depth at center, many in the organization have looked to Kane to fill the second-line center role.
When captain Jonathan Toews went down with an injury late in the season, Kane was asked to fill the role of top-line center. He was able to step up to the task and lead the Blackhawks to the postseason although his faceoff percentage was well below average.
When it comes down to it, Kane is only fit to play one role on this team; a speedy winger who will open himself up to scoring chances and cheat on the defense's side.
Kane may never adapt at center because of his size, skill and lack of defensive ability. Though he's a natural winger and the Blackhawks shouldn't expect any more than an offensively minded speedy player.
Point Production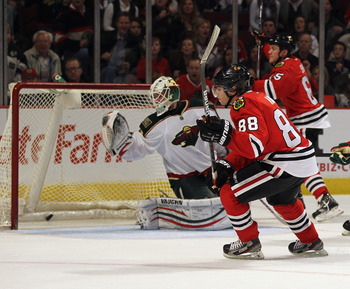 Jonathan Daniel/Getty Images
Patrick Kane needs to get on the score sheet each and every game he plays for the Blackhawks. If he doesn't there is no need to have him on the ice.
The problem is that in the last two seasons since winning the Stanley Cup, Kane's point production has been slowly declining.
This doesn't bode well for both Kane and the Blackhawks as they need the offensive output in order to win close hockey games.
Kane may need a change of scenery in order to up his offensive production or possibly a change in teammates.
Whatever might happen Kane needs to make more of an impact otherwise he will become more expendable.
He's Elite but Just How Elite?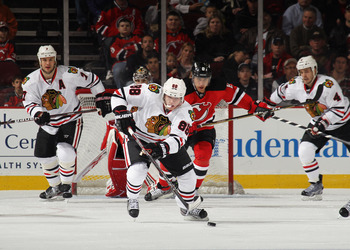 Bruce Bennett/Getty Images
All Blackhawks fans know that Patrick Kane is a special player.
From his dekes on the ice to his super accurate sniping ability, Kane is a very rare player in the NHL.
But just how elite is Patrick Kane?
He has yet to reach the 90-point mark in the NHL and has never scored more than 30 goals in a season. Whenever Kane seems to be on the right track in having a high point season, he falls off into a slump and becomes ice cold.
Expectations are sky high for the winger as he has the potential the reach the 100-point plateau.
It is still unclear whether Kane will get better as his career moves on.
Only time will tell.
Too Much of a Distraction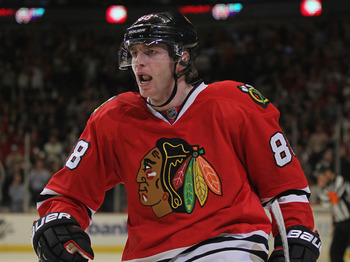 Jonathan Daniel/Getty Images
Kane has been the story of the offseason so far with his wild drunken party crashing in Madison, Wisconsin.
Just how much will the Blackhawks organization take until they say no more?
Kane has become a major distraction not just for the organization but for his teammates as well. His off-ice antics demonstrate his lack of dedication to the game and ultimately could mean it's time for a change.
Until Kane tones down his excessive partying and drinking, the Blackhawks might have to look at other viable options via a trade.
Lack of Leadership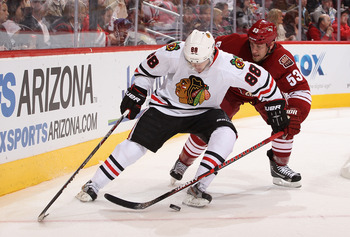 Christian Petersen/Getty Images
Patrick Kane has been with the Blackhawks for five seasons, which makes him one of the "veterans" on the team.
This automatically puts Kane into a position of leadership on the team along with Jonathan Toews and Duncan Keith. It is expected that he help the rookies out and lead the team by example both on and off the ice.
Kane is failing to do this. Simply put, his lack of leadership may be hurting the Blackhawks.
Sure, Kane is still a kid and likes the occasional party, but the time has come for him to move to the next level. Complete focus on the game may not the best idea, but he needs to act more like a leader and less like a kid that just made it into the NHL.
His ability to do this may dictate whether or not he will be with the Blackhawks for the rest of his career or just one more season.
Follow Featured Columnist James Maahs on Twitter for all the latest Blackhawks' news and updates.
Keep Reading

Chicago Blackhawks: Like this team?