Stanley Cup Playoffs 2012: Stephen Gionta Gets Job Done for Devils in Game 5
May 25, 2012

Bruce Bennett/Getty Images
On a night when goaltender Martin Brodeur wasn't very good, the New Jersey Devils still managed to escape Madison Square Garden with a 5-3 victory and a three-games-to-two lead in the Eastern Conference final.
They can thank their smallest player for that.
That's smallest in terms of stature, not in play. Stephen Gionta made like his higher-scoring older brother, Brian, in tallying the Devils first goal early Wednesday night off a rebound. Then, after New Jersey blew a three-goal cushion, he set up Ryan Carter for the game-winner with less than five minutes remaining in regulation.
''You have to (keep it together) this time of year,'' Gionta told the Associated Press afterwards. ''You have to have a short memory. Fortunately we did and came out with the victory.''
Did they ever.
After Ilya Kovalchuk forechecked deep in the Rangers' end with the game tied, it was Gionta who swooped in, beat Dan Girardi to a loose puck in the corner to Henrik Lundqvist's left and sent a perfect pass in front to Carter. Carter then one-timed it home on Lundqvist's stick side to give the Devils back the lead for good.
And to think Gionta wasn't even named one of the three stars of the game.
The captain of the Devils' American Hockey League affiliate in Albany this season, Gionta and New Jersey's fourth line has been on a roll ever since he was called up for the regular season finale against Ottawa. He scored his first NHL goal in that same game as well. That followed a scoreless 12-game NHL audition in 2010-11, when he played in the league for the first time in his professional career.
Fast forward to the 2012 Stanley Cup playoffs, where Gionta has appeared in all 17 games for the Devils and collected three goals and three assists. More importantly, he has combined with Carter and Steve Bernier to form a truly effective checking trio that has also been able to chip it with big goals at key times.
"You need contributions from the entire team," Devils captain Zach Parise said to The Record. We probably wouldn't be here now without them [on the fourth line]. They've been scoring goals, big goals. They're reliable. They're ready to play."
Gionta, 28, was a decent player for his hometown Rochester Americans at the Junior A level in 1999-2000 before joining the U.S. National Team Development Program in Ann Arbor, Mich. Undrafted after four solid but unspectacular seasons at Boston College, he has spent time honing his game in the minors since 2006, where he has appeared in more than 350 AHL outings and scored over 50 goals at that level.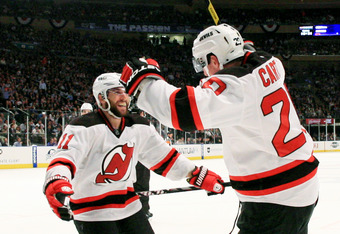 Bruce Bennett/Getty Images
He only has four goals at the NHL level so far, but they've all been significant. Though he's not the scorer his brother is/was, Gionta still shares some attributes with his older sibling, who won the Stanley Cup with New Jersey nine years ago.
Besides a common tenacity and work ethic, their biggest mutual trait is speed—speed that allows them to get in the play, get on opposing players and make something happen, as evidenced by Carter's game-winning goal on Wednesday night.
"He's been playing well," said Brodeur of Gionta. "He's giving us a lot of speed down the middle. He's not afraid to go into dirty areas. He scored in front and made the pass from deep in the corner."
Expect more of the same in Game 6 tonight in Newark when the Devils attempt to make their first Stanley Cup Final since 2003. And if they make it to the Stanley Cup Final, there'll be someone who stands at 5'7" but who plays much bigger than his size leading the way.