Pittsburgh Steelers: Reviewing Their 2012 NFL Draft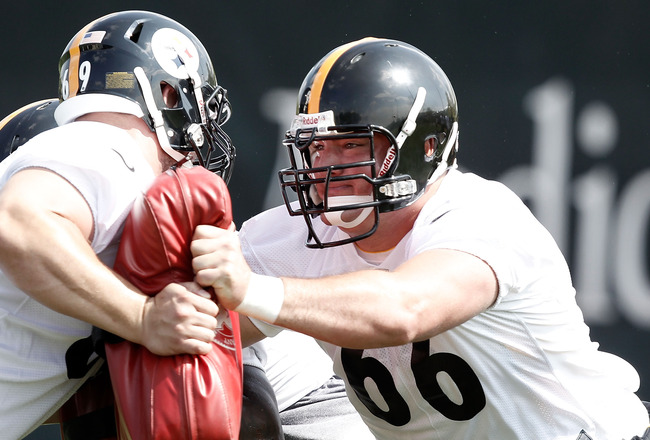 David DeCastro (right)
Jared Wickerham/Getty Images
The Pittsburgh Steelers have made three Super Bowl appearances in the past seven seasons and have won two of them, but in recent years, their biggest Achilles' heel has been poor offensive line play. (In the 2010 season, it was obvious, with starting offensive tackle Willie Colon missing the entire year with a torn Achilles.)

Injuries and poor play have plagued the Steelers' offensive line year in and year out, and as a result, quarterback Ben Roethlisberger has subjected to consistent hits, which has often left him battling injuries of his own.

The Steelers made strides in fixing their offensive line in the 2010 and 2011 NFL draft, with the 2010 first-round selection of center Maurkice Pouncey and the 2011 second-round selection of offensive tackle Marcus Gilbert.
In the 2012 NFL draft, the Steelers needed to fill in the missing pieces to finally have a functional offensive line that could efficiently protect Roethlisberger and establish a rushing offense that could be without injured running back Rashard Mendenhall for some or all of the 2012 season.

Did the Steelers do what they needed to do to fix the offensive line, and subsequently, address their other needs with sufficient value?
Read through the following slides to find out.
Evaluating the Picks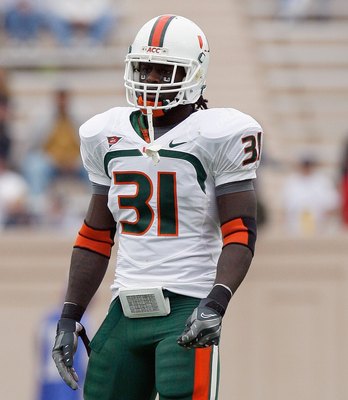 Sean Spence
Kevin C. Cox/Getty Images
Round 1, Pick 24: David DeCastro, G, Stanford

Overall Prospect Rank: No. 10

DeCastro was an absolutely ideal selection for the Steelers, as he is the best offensive line prospect from this draft class outside of USC's elite left tackle prospect Matt Kalil.

DeCastro is a complete guard prospect who would have been ranked higher if he played a more premier position than guard. He is very effective as both a pass- and run-blocker, and he has terrific technique, power and footwork. DeCastro has the talent to be the Steelers' new version of Alan Faneca, who won a nine-time consecutive All-Pro from 2001-2009.


Round 2, Pick 56: Mike Adams, OT, Ohio State

Overall Prospect Rank: No. 32

Adams's stock was hurt considerably by numerous red flags: he was suspended five games as a senior for his role the Ohio State tattoo scandal, he tested positive for marijuana at the combine and he performed poorly in combine drills. That said, Adams is a very talented offensive tackle with big upside.

He has a tremendous combination of size (6'7'', 323 pounds) and athletic ability, he has good feet for an offensive tackle and is both a skilled pass-protector and powerful run-blocker. Adams has the potential to play left tackle but could also be a very good fit at right tackle.


Round 3, Pick 86: Sean Spence, LB, Miami

Overall Prospect Rank: No. 64

Spence is undersized for an inside linebacker, but he is an athletic, instinctive playmaker who should be a good fit for the Steelers' 3-4 scheme. Spence is a solid tackler and hard hitter who is known for coming up with big plays, is good at stripping the football and is effective at dropping back into coverage. His lack of size could prevent him from being an every-down linebacker, but he should make an impact.


Round 4, Pick 109: Alameda Ta'amu, NT, Washington

Overall Prospect Rank: No. 128

Ta'amu may not be a pure nose tackle, but he is a good developmental prospect at the position who was solid fourth-round value in a thin class of nose tackles. He has the potential to be a solid backup nose tackle for the Steelers.

Ta'amu has nose tackle size, but he needs to improve upon his core strength. He has displayed the ability to be quite disruptive at the line of scrimmage, but his production was not consistent at Washington.


Round 5, Pick 159: Chris Rainey, RB/WR, Florida

Overall Prospect Rank: No. 91

Rainey is a dynamic athlete who can be a dangerous player and could end up being a fifth-round steal. He has very good straight-line speed but also cuts very well and is elusive. Rainey has the potential to contribute in numerous ways: he can be a situational third-down speed back, line up as a slot receiver and be a kick returner.


Round 7, Pick 231: Toney Clemons, WR, Colorado

Overall Prospect Rank: Not in Top 400

Clemons has a very intriguing combination of size and speed for a wide receiver, but he is a raw project who was not particularly productive at Colorado.


Round 7, Pick 240 (compensatory selection): David Paulson, TE, Oregon

Overall Prospect Rank: No. 281

Paulson is an undersized tight end who is not a spectacular athlete, but he has solid receiving ability. He has some blocking ability and could line up as an H-back, but he needs to develop as an in-line blocker.


Round 7, Pick 246 (compensatory selection): Terrence Frederick, CB, Texas A&M

Overall Prospect Rank: No. 316

While his teammate Coryell Judie received more attention, Frederick was actually the most polished cover corner at Texas A&M. He is small but athletic, instinctive and tackles well. He has potential as a dime cornerback and special teams contributor.


Round 7, Pick 248 (compensatory selection): Kelvin Beachum, G, Southern Methodist

Overall Prospect Rank: No. 324

Beachum was a very solid left tackle for four years at SMU, but he is best suited to kick inside and play guard at the next level. He does not have great feet, but he is a solid pass-blocking guard. He needs to add strength, but he should provide solid depth.
Evaluating the Trades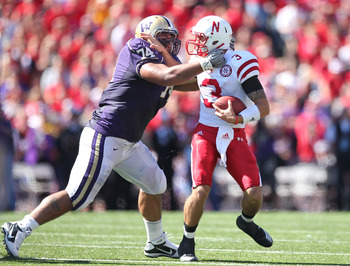 Alameda Ta'amu (left)
Otto Greule Jr/Getty Images
The Steelers traded Round 4, Pick 119 and Round 6, Pick 193 to the Washington Redskins for Round 4, Pick 109.

The Steelers traded up to secure the opportunity to draft Alameda Ta'amu, which made sense. In a weak draft class of nose tackles, chances are good that he would not have lasted 10 more picks.
Assessing Value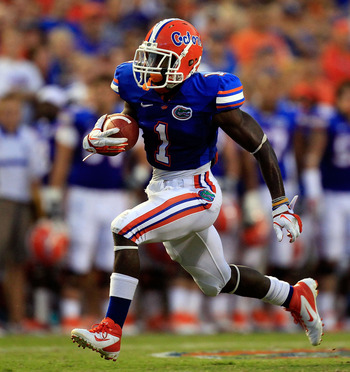 Chris Rainey
Sam Greenwood/Getty Images
David DeCastro falling into the Steelers' lap at the No. 24 overall pick was a situation so ideal that I did not even think it was possible. The player who I originally projected to be their ideal first-round selection, Mike Adams, ended up being their second-round draft choice. The Steelers got absolutely tremendous value with their first two selections.

The Steelers continued to get great value with their next three selections. Spence was great value late in the third round. Ta'amu's value was increased given the importance of nose tackles to 3-4 defenses, so he was also great value. Rainey's upside made him tremendous value and a potential steal in Round 5.

The Steelers got great value on all of their first five picks, something that cannot necessarily be said for any other team. The Steelers have always drafted on value and gotten great players as a result, and this draft should be no exception.
Addressing Needs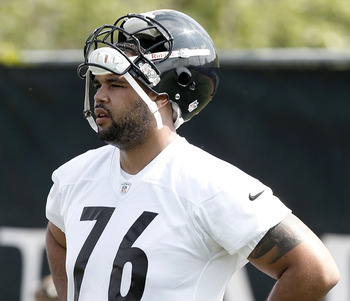 Mike Adams
Jared Wickerham/Getty Images
For years, the fixes that the Steelers needed on the offensive line have evaded them. This value, as the value of DeCastro and Adams fell into their lap, the Steelers may finally have the players they needed to filling the missing pieces of the puzzle up front.

The Steelers addressed their most pressing need with their offensive line selections. Inside linebacker, nose tackle and running back were all also areas where depth was needed, and they addressed those with their next three selections.

One need that the Steelers did fail to address was at cornerback, where the Steelers could really use an upgrade in the starting lineup. They did add Frederick in Round 7, but he is not the solution they needed.
Conclusion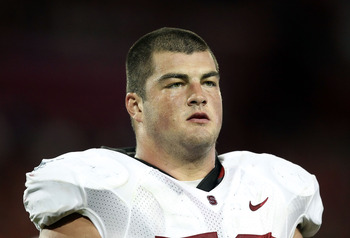 David DeCastro
Christian Petersen/Getty Images
Taking into consideration his tremendous value, how shocking it was that he was still available at No. 24 and that he was an absolutely perfect addition for the Steelers, David DeCastro was the best pick of the entire first round.

The Steelers' draft kept getting better and more complete through Day 2 and Day 3. The Steelers needed to find another offensive tackle to start across from Marcus Gilbert and found great value in Round 2 with Mike Adams.

The Steelers also needed to add another inside linebacker to the rotation following James Farrior's release and filled that need with Sean Spence. Likewise, the Steelers needed a backup nose tackle to replace the retired Chris Hoke and found one in Alameda Ta'amu. Rainey is a raw football player who could end up being a bust, but in Round 5, he is a low-risk, high-reward selection who could be a big steal.

The lone flaw in the Steelers' draft is that they failed to upgrade at cornerback, but there's not one pick that the Steelers made in the first five rounds that I would change. Therefore, they cannot be knocked for not being able to draft a cornerback, because of the quality of talent they added to upgrade their roster.

Of all the teams that drafted well, I think the Steelers had the best draft of any team.

Grade: A+

Thanks for reading!

Throughout the month of May, I am reviewing one team's draft each day, following the original 2012 NFL draft order.

Follow me on Twitter @Dan_Hope.
Keep Reading

Pittsburgh Steelers: Like this team?