San Francisco 49ers: Can the 2012 Team Go Undefeated?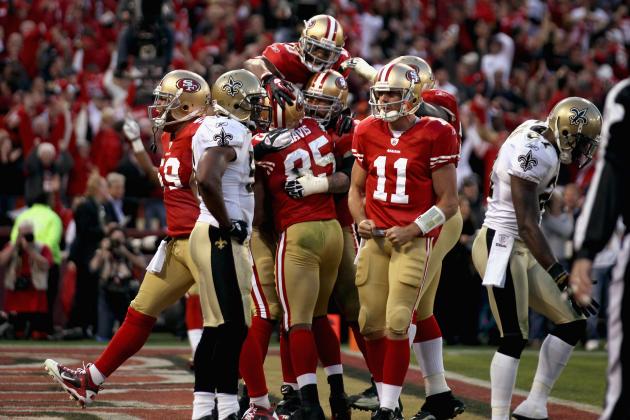 Jed Jacobsohn/Getty Images

In 2012, the 49ers are set to field maybe the best team in the NFL—a team with no weaknesses, offensive firepower and an All-Pro defense. For a team that was nearly in the Super Bowl last year, the 49ers are looking to be that much better this coming season. To suggest that San Francisco will go undefeated is a bold statement for many reasons, but if certain things pan out, it might be possible.
Besides, a team as fundamentally sound as the Niners always has a chance to win a football game. In 2011, they were a 13-3 squad that was only a few total plays away from being undefeated. On top of that, the 49ers staff also made a number of gambles that could yield an astronomical impact if they prove worthy.
Several things would have to work out, but nothing dramatic. The expectation would be that Jim Harbaugh and Trent Baalke would have to be right about a number of little things. In this piece, we'll examine a number of evolving factors that could lead to the 49ers becoming the league's undisputed dominant powerhouse.
And to cap things off, we will take a close look at the 49ers 2012 regular season schedule. After taking into consideration the potential quantum leap from the 49ers, from great to unstoppable, we'll see if this team can really go undefeated in the upcoming season.
Begin Slideshow

»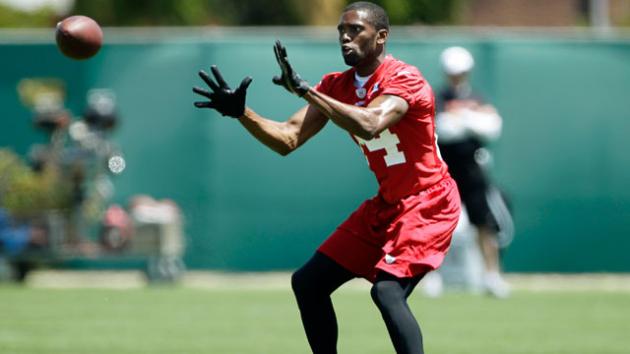 The 49ers' biggest weakness became very apparent by the end of the 2011 season, but with some turnover at the position, the wide receiver group should be booming in 2012. If it were not for a lack of dynamic plays from the team's wide outs, the Niners might have been in and won last year's Super Bowl.
San Francisco decided to roll the dice on a future Hall of Fame receiver when they brought in Randy Moss. Since his arrival in the Bay Area, everything has been positive and indicative of the return of one of the league's greatest receivers. And if Moss is back, big things are in store for the Niners' offense.
On two separate teams a decade apart, Moss helped lead the top-two scoring offenses in NFL history with the 2007 New England Patriots (589 points) and 1998 Minnesota Vikings (586 points).
Moss will also be paired with three great individual factors: (1) a motivational and inspirational coach in Jim Harbaugh, (2) sharing the field with Vernon Davis and (3) the league's No. 1 defense giving him plenty of opportunities.
And with an amazing opportunity to play for a contending team, Moss may have one final chance to catch that Super Bowl dream. If Moss comes back and is dominant like he can be, the league is in a world of hurt. Because you could be potentially pairing the NFL's top defense with an explosive top-five or top-10 offense—most teams aren't equipped to handle such potency in all phases.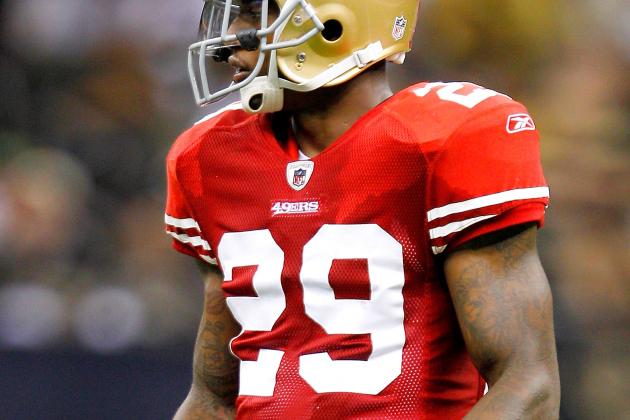 Sean Gardner/Getty Images

Going into the 2012 season, it appears as if Carlos Rogers and Tarell Brown will be the No. 1 and 2 starters on the 49ers depth chart. However, the team has two more capable starters at the No. 3 and 4 corner positions. Chris Culliver and Perrish Cox are two very physically talented cover corners who have started or can start in the NFL.
San Francisco is lucky enough to be in a position to afford to have them for depth. In a passing league, the great teams in the playoffs throw out of multiple wide receiver sets. And many of those teams look took take advantage of talent mismatches.
The 49ers have the corner depth to help them go far in the playoffs and contend with anyone. Their depth will also be key against opponents like Green Bay, Detroit, Chicago, New York, New Orleans and New England during the regular season. The opposing quarterbacks may not know much about Culliver and Cox, so the corners may get tested during the season.
In addition to their talent, they are very well coached by Ed Donatell and play in Vic Fangio's incredibly successful 3-4 scheme. The pressure generated by the front seven provides the secondary with great opportunities to make plays.
Having Culliver and Cox in those roles is a huge advantage for the 49ers that no one is talking about.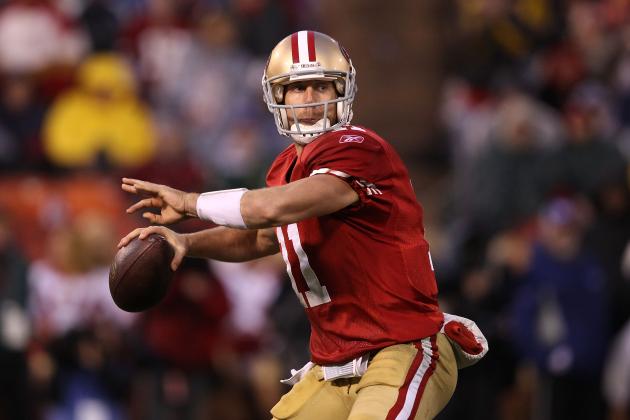 Ezra Shaw/Getty Images

This offseason Alex Smith finally had a chance to step away from the team and work with a specialist on his mechanics. Smith worked with former MLB pitcher and pitching coach Tom House.
The pitching guru was hoping to simply tune up Smith's game, as they worked on an array of things. Instead of it being locked up, Smith is now flexing his left knee, which will keep him lower and hopefully improve his accuracy. House, who has a Masters in Performance Psychology, also addressed the psychological aspect of the game with Smith.
House had worked with New Orleans Saints quarterback Drew Brees on his approach to the game and being a leader. So in terms of mechanics, strength, nutrition and psychosis, Smith was tended to by an experienced delivery coach.
Something else that could be monumental for Smith is that he will finally be continuing in the same system. For the first time in his career, Smith will have had success with a playbook and will be able to grow with that system from year-to-year.
One also cannot put a price on chemistry. Smith will be working with a full offseason to develop and build a rapport with new and returning pass catchers. He will be able to let his game be more instinctual as he finds a rhythm with his receivers.
Smith also won't have to worry about being replaced whenever he has an error. There are a lot of little things that play into Smith having a much better year in 2012.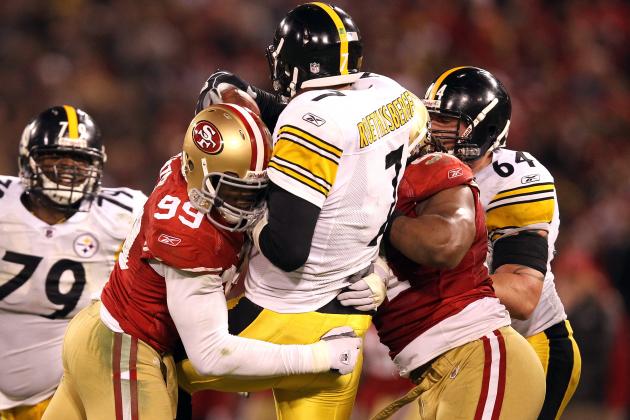 Ezra Shaw/Getty Images

Entering his second season in the NFL, we are likely to see Aldon Smith take over as the starting right outside linebacker. A spot held by Parys Haralson, last year's first-round selection looks ready for more reps in 2012. He was drafted to start and with 14 sacks as a situational player, the coaching staff must be dying to make him a full-time starter.
The big deal will be how Smith is in pass coverage, and whether or not he is a liability. He didn't have many reps in coverage as a rookie but was extremely successful at what he was asked to do. With any luck, he will apply the same hard work and focus that led to his success last season.
Smith was also such a dynamic pass rusher in his first year and he still has so much to learn. Jim Tomsula will be working with Smith on his pass rushing technique, with hopes to improve it. And to have him on the field twice as much as he was last year could be unreal for his stats.
Smith is always a threat to sack the quarterback and his ability to consistently get quarterback pressures is invaluable. How well Smith transitions into that starting role will be indicative of the level of dominance the 49ers can reach in 2012.
Having a full-time outside linebacker with elite pass rushing skills that's athletic enough to play the pass could be game changing for San Francisco. If Smith pans out, and with the surrounding cast he has around him, the 49ers defense could be the next legendary unit in NFL history.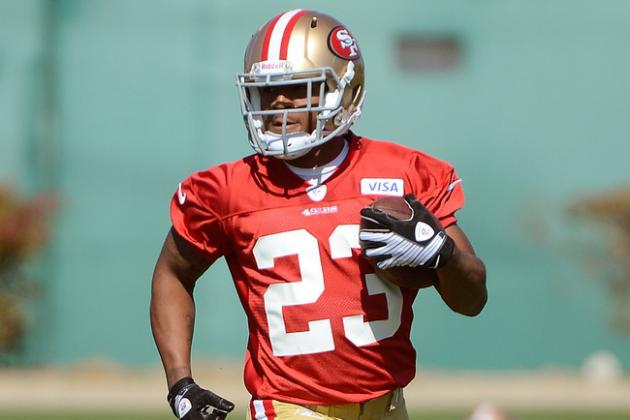 In the 2012 NFL draft, the 49ers added not one, but two X-factors to the San Francisco offense. With their first two draft selections, the Niners brought in Illinois wide receiver A.J. Jenkins and Oregon running back LaMichael James.
Both players have game breaking ability but are not the central focus of the team's offensive attack, which could lead to them stinging defenses by operating under the radar. They are fast, fast players that come from being centerpieces of their respective collegiate offenses and still produced NCAA-leading numbers.
They can be the sort of situational game changers similar to Aldon Smith and Kendall Hunter in 2011.
San Francisco was looking to build on an offense to match their defense, assuming that would make them the undisputed best team in the league. They added homerun hitters to their offense, players who should generate more eye-popping splash plays for chunk yardage and put points on the board. Jenkins and James are two players a part of the "keep David Akers off the field" campaign in which the Niners hope to score more touchdowns rather than settling for field goals.
These two players were drafted high enough and have the potential to be starters for teams, but in San Francisco they will be fighting for time. The competition should light a fire under them and make them eager to prove themselves to an established team of talented players.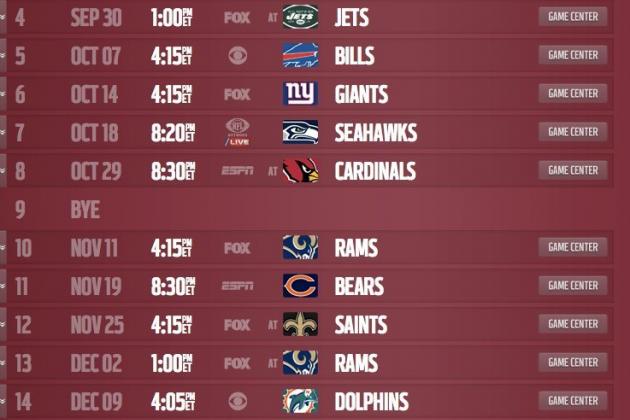 In a nine-week stretch, the 49ers play some relatively easy teams. Their away games in this stretch of time are not very intimidating and the rest of the games are at home. Their away games are at the Vikings, at the Jets and at the Cardinals, while their home games are against the Bills, Giants, Seahawks, Rams and Bears. These won't be easy games—they will likely be hard fought—but they are all winnable.
In a seven-week stretch, the 49ers have five home games and a bye week (Week 5 vs. Bills to Week 11 vs. Bears). This is great for the 49ers, who have this in the middle of their schedule. The comfort of playing several games at home, having a bye week and only one away game in that span of time is fantastic.
The 49ers also go in and out of their bye week against divisional opponents. Jim Harbaugh will absolutely have his team going hard into those games against Arizona and St. Louis. He will no doubt have a potent motivational tactic for that exact situation.
But hey, you can't go undefeated if you don't win your first game.
The 49ers have the Aaron Rodgers led Green Bay Packers staring them in face on the road in Week 1. The Packers spent most of their offseason building up a defense to complement Rodgers' play, so it will likely be a tough match in Wisconsin.
San Francisco's not over their first hump of difficult games either, after they've played Green Bay. The Niners return to the Bay Area in Week 2 to face the Detroit Lions in a rematch of the handshake heard 'round the world.
Lucky for the 49ers, they are a team that got stronger as the year went on because in 2012, they'll be seeing the Saints and Patriots on the road—arguably two of the hardest teams to beat at home, besides the Packers. But if you have faith and believe in the evolution of the 49ers and where this team is headed, you might just buy into this theory.
Follow me on Twitter: @DeSimone80