Vancouver Canucks: 20 Toughest Players in Franchise History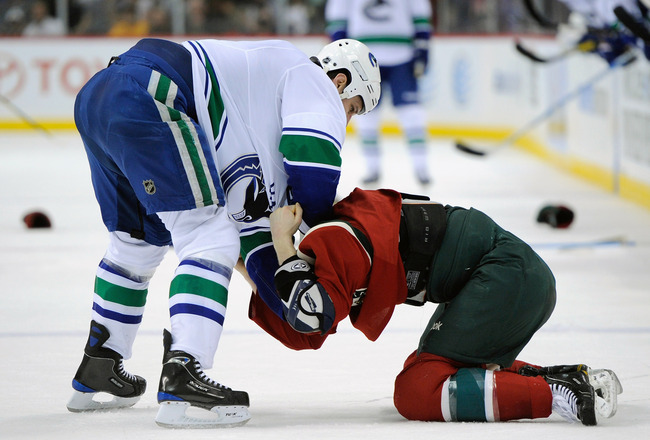 Hannah Foslien/Getty Images
When the Vancouver Canucks got eliminated from the playoffs in the first round, it was clear there were many short-comings that need to be addressed over the summer.
One reason for the early exit (among many), is that the Kings physically out-worked the Canucks. The lack of toughness and grit was noticeable in the Finals against the Boston Bruins as well.
While this is something the Canucks need to work on now, it hasn't always been, as the Canucks have dressed some of the toughest men in the game throughout their 41 years in the NHL.
The following identifies the 20 toughest players in the history of the Vancouver Canucks.
20. Dan Cloutier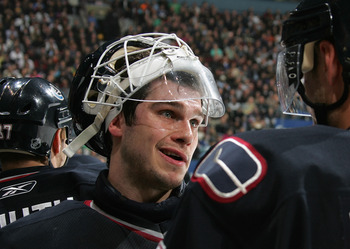 Jeff Vinnick/Getty Images
Position: Goaltender
Height: 6'1"
Weight: 195 lbs
With Canucks: 2000/01-2005/06
It's rare that you'd see a goaltender on a list such as this, but many who have watched Cloutier when someone gets under his skin will understand why he is here.
Although he only had three fights in his career and none were with the Canucks, it's far more than most goaltenders can say. And for that, he deserves recognition.
Surely the most impressive highlight of his career was not the center-ice goal that essentially ended his career, but his fight against fellow goaltender Tommy Salo.
During a line brawl between the Rangers and Islanders in 1998, Salo tried to step in to a fight in progress, which sparked Cloutier. Cloutier pulled Salo away, destroyed him in a fight, and proceeded to challenge the entire Islanders bench.
It was surely one of the best goalie fights in history, and one of the most one-sided as well.
19. Ed Jovanovski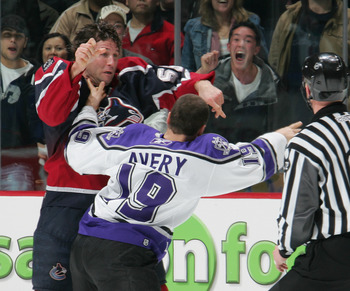 Jeff Vinnick/Getty Images
Position: Defense
Height: 6'3"
Weight: 220 lbs
With Canucks: 1998/99-2005/06
Ed Jovanovski became a fan favorite throughout his seven seasons with the Canucks, and it wasn't just because of his offensive abilities. Jovo was also strong defensively, and made an impact in the physical department as well.
While his 14 fights with the Canucks aren't anything special, you could always count on Jovanovski to punish the opposition with the body.
18. Brad May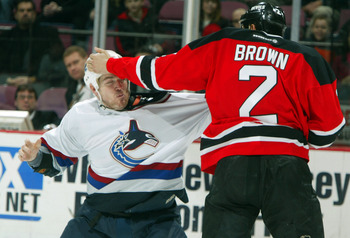 Al Bello/Getty Images
Position: Left Wing
Height: 6'1"
Weight: 213 lbs
With Canucks: 1997/98-1999/00, 2002/03-2003/04
Brad May's most famous highlight is surely the overtime playoff goal that pushed broadcaster Rick Jeanneret over the line to insanity, but he was also known for his physical game.
Throughout his five seasons with the Canucks, Brad May dropped the gloves 30 times, and 153 times in his NHL career. He didn't necessarily win all those fights, but May was well known as a man who wouldn't back down, and for that he deserves recognition on this list.
17. Sergio Momesso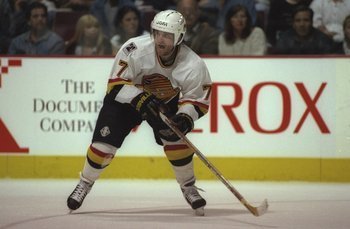 Position: Left Wing
Height: 6'3"
Weight: 215 lbs
With Canucks: 1990/91-1994/95
Sergio Momesso was a fairly talented hockey player, with his share of inconsistencies. No matter how much his point totals fluctuated, you could always count on a lot of penalty minutes, and quite a few fights.
Momesso accumulated 555 penalty minutes in a Canucks jersey, including 13 fighting majors.
16. Cam Neely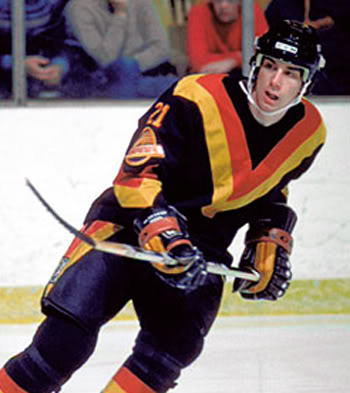 Position: Right Wing
Height: 6'1"
Weight: 218 lbs
With Canucks: 1983/84-1985/86
Cam Neely only played 201 regular season games with the Canucks, but that didn't stop him from accumulating some pretty significant stats.
Not only did he manage a whopping minus-56 rating in that time, but he also picked up 320 penalty minutes—almost half of which stemmed from his 31 fights.
There's no doubt that over Neely's impressive career he was a tough opponent, but the only thing keeping him from a higher placement on this list is his short stint with the 'Nucks.
15. Shawn Antoski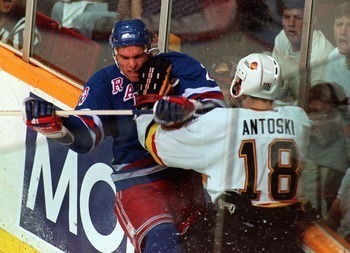 Position: Left Wing
Height: 6'4"
Weight: 235 lbs
With Canucks: 1990/91-1994/95
At 6'4", 235 lbs, Shawn Antoski was a monster for his short time with the Canucks.
Although he played for the team during five separate seasons, Antoski played in just 70 games—less than a full season in length. That said, in that time, Antoski racked in 265 penalty minutes, including 21 fights.
His measly eight points over 10 seasons made for a pretty disappointing career, but there's no arguing how tough he was.
14. Stan Smyl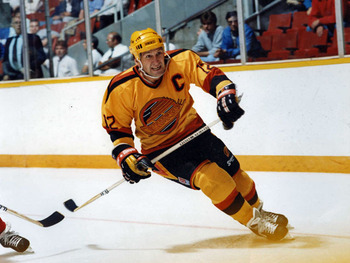 Position: Right Wing
Height: 5'9"
Weight: 190 lbs
With Canucks: 1978/79-1990/91
Stan Smyl is a highly respected name in Vancouver, but it's been earned through his eight years of captaincy and 673 points with the Canucks, rather than his physical play.
What many people don't know is that although just 5'9", Smyl was a very physical and hard-working player.
Throughout his years with the Canucks, Smyl accumulated a total of 52 fights. With his expected disadvantage in size, Smyl didn't necessarily win all of these fights, but it certainly takes character when an undersized team captain is willing to make those sacrifices.
13. Todd Bertuzzi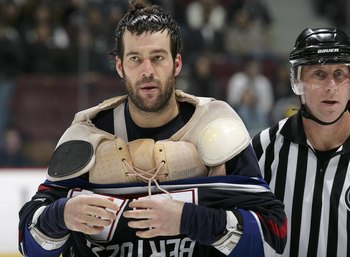 Jeff Vinnick/Getty Images
Position: Right Wing
Height: 6'3"
Weight: 229 lbs
With Canucks: 1997/98-2005/06
Anyone who's watched Todd Bertuzzi play knows full well that he doesn't make fighting routine. But that's not to say he doesn't do it either.
Unlike many on this list, Bertuzzi is not here because of his fighting ability, but his size and the way he utilizes it.
Bertuzzi finishes the body hard, making it a nightmare for the opposition. In addition, when on the offensive, Bertuzzi has mastered the art of using his body to protect the puck and get in front of the net, and it's this skill that helped him pick up 46 goals and 97 points with the Canucks in 2002/03.
12. Gerald Diduck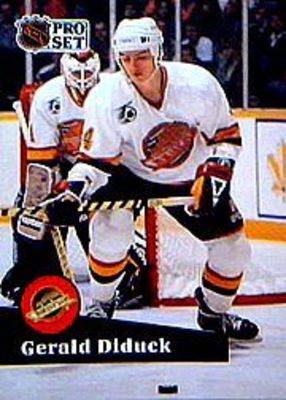 Position: Defense
Height: 6'1"
Weight: 216 lbs
With Canucks: 1990/91-1994/95
Although his NHL career was a long one, Gerald Diduck wasn't a member of the Canucks for very long. While here, though, he picked up 23 fighting majors and was among the leaders in penalty minutes.
He was a force to be reckoned with as a member of the Canucks, but seemed to change his style upon leaving, as his fight totals and penalties decreased significantly.
11. Craig Coxe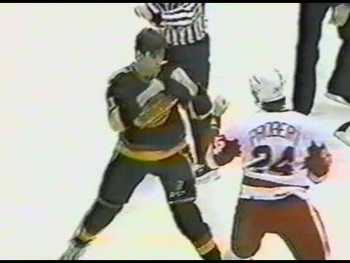 Position: Left Wing
Height: 6'4"
Weight: 210 lbs
With Canucks: 1984/85-1987/88, 1989/90-1990/91
Craig Coxe only played 235 games in the NHL (177 with the Canucks), but that didn't stop him from picking up 42 fights along the way.
If that's not convincing enough, just take a look at the picture for this slide, which shows Coxe squaring up with Bob Probert, who's arguably the toughest guy to ever play the game. In fact, the two went head to head in a fight twice in their careers.
10. Ronald Stern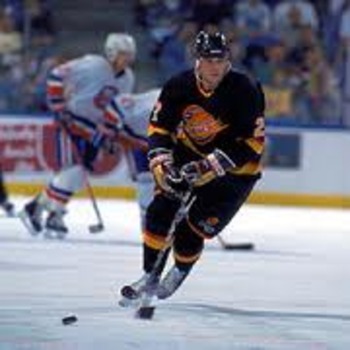 Position: Right Wing
Height: 6'0"
Weight: 200 lbs
With Canucks: 1987/88-1990/91
Ronald Stern played just 97 games in Vancouver, but dropped the gloves an incredible 39 times.
After leaving the Canucks, the gritty enforcer picked up an additional 74 fights. It's no question what kind of role he played.
9. Kevin Bieksa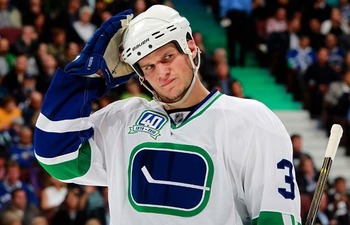 Position: Defense
Height: 6'1"
Weight: 198 lbs
With Canucks: 2005/06-present
Kevin Bieksa is a physical defender for the Canucks.
He doesn't fight often, but believe it or not, that's what makes him so scary.
Any player knows that if Bieksa is going after them, he is truly angry and wants to cause harm—he does not fight just for the sake of it.
A good hint that you've angered the beast is when he gives you a look similar to the one above.
8. James Jr. Sandlak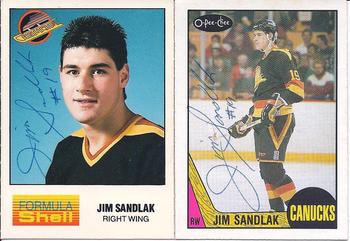 Position: Right Wing
Height: 6'4"
Weight: 219 lbs
With Canucks: 1985/86-1992/93, 1995/96
There's no doubt that Jim Sandlak had a considerable physical advantage over the opponents given his size, and he surely took advantage of that.
While his 32 fights with Vancouver aren't as significant as many of the names on this list, what sets Sandlak apart is that he also used his size and strength to benefit offensively.
In 549 NHL games over his career, Sandlak managed to pick up 110 goals and 229 points—not bad numbers for a giant nicknamed "The House."
7. Dana Murzyn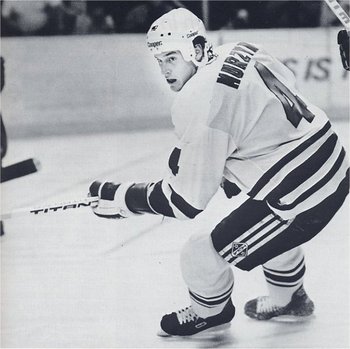 Position: Defense
Height: 6'2"
Weight: 208 lbs
With Canucks: 1990/91-1998/99
Dana Murzyn was drafted fifth overall in 1985 by the Hartford Whalers, and didn't disappoint. Although he was not a particularly offensive defenseman, he could always be counted on for a strong physical game and consistent plus/minus stats.
Throughout his time as a Canuck, Murzyn had 38 fights and contributed in just about every other way possible. At one point he was awarded the Babe Pratt Trophy, which is doled out to the best Vancouver defender.
Although his fights were typically not against heavyweights, Murzyn held his own, and usually came out on top.
6. Harold Snepsts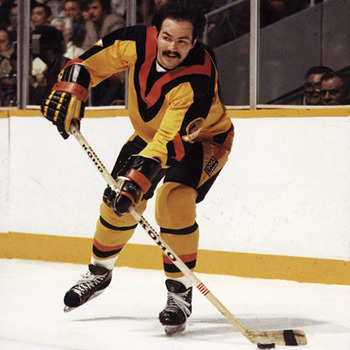 Position: Defense
Height: 6'3"
Weight: 215 lbs
With Canucks: 1974/75-1983/84, 1988/89-1989/90
Harold Snepsts was a highly effective defender for the Canucks shortly after they entered the NHL. You're probably thinking he looks familiar right now. Not only does he look like George Parros, but he was just as physical too (although they played different positions, and Snepsts was much better).
Throughout his career with the Canucks, Snepsts fought 55 times, and repeatedly lead the team in penalty minutes. Unlike many players, however, he didn't let his penalty minutes negatively impact the team.
Although it's difficult to find any videos of his fight history, by looking at Snepsts opponents, it's clear that he was not the type of man to back down to anyone; fighting players of all sizes.
5. Garth Butcher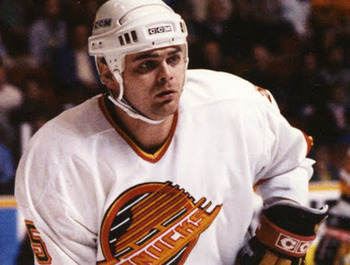 Position: Defense
Height: 6'0"
Weight: 205 lbs
With Canucks: 1981/82-1990/91
Garth Butcher was an effective enforcer with the Canucks for almost 10 seasons.
He made a name for himself by drawing penalties by getting under the opponents' skin, much like the Alex Burrows or Maxim Lapierre of today's Canucks.
Of course, to earn a spot on this list, he dropped the gloves much more than Burrows and Lapierre for a total of 94 times as a Canuck and 108 in the NHL.
With big-name fighters such as Wendel Clark and Marty McSorley on his list of opponents, it's no surprise that Butcher was more than capable.
New Canuck Zack Kassian looks very similar to Butcher. Hopefully Kassian can capitalize on his offensive potential while matching his doppleganger's physical presence.
4. Donald Brashear
Ian Tomlinson/Getty Images
Position: Left Wing
Height: 6'3"
Weight: 237 lbs
With Canucks: 1996/97-2001/02
Finally, we get another player who is a little fresher in our minds.
This one is pretty simple; 6'3, 237 pound giant with 108 fights under his belt, and having played his last NHL season just 2 years ago, most of us remember what kind of presence he brings to the ice.
3. Rick Rypien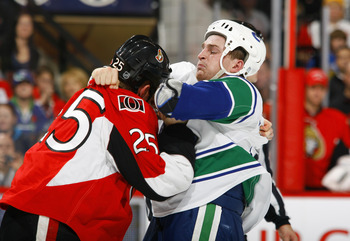 Phillip MacCallum/Getty Images
Position: Center
Height: 5'11"
Weight: 190 lbs
With Canucks: 2005/06-2010/11
Many of you may be surprised to see Rick Rypien's name this high up on the list, but if you're a Canucks fan, you probably understand.
Rypien was not a very big player and didn't play in all that many games, which limited his fight total to just 28 in the NHL.
When he did drop the mitts, however, Rick routinely would dismantle scrappers with 30lbs on him. One of his most impressive tussles came on Dec.10, 2009, when he fought 6'7", 255 lbs Boris Valabik; a fight that Rypien handily won.
2. Gino Odjick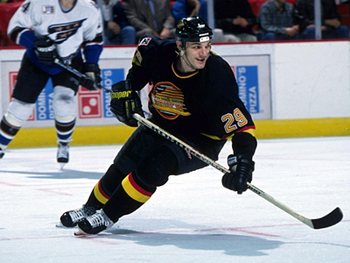 Position: Left Wing
Height: 6'3"
Weight: 224 lbs
With Canucks: 1990/91-1997/98
One of my first steps in compiling this list was taking a look at the Canucks' all-time single-season penalty minute leaders. Gino Odjick falls in the top 10 five times in that category, despite playing over 50 games with the team just five times.
Obviously, for him to be a prominent leader in penalty minutes, a large portion of that would be due to fighting; otherwise he wouldn't have lasted long in the league. In fact, while a member of the Canucks, Odjick dropped the gloves an incredible 127 times.
He didn't contribute much offensively, but any player who will unconditionally step in for a team mate is of great value—especially in the good old days when players were responsible for settling debts.
1. Dave 'Tiger' Williams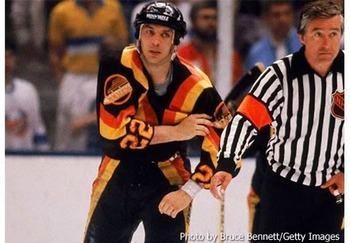 Position: Left Wing
Height: 5'11"
Weight: 190 lbs
With Canucks: 1979/80-1983/84
Tiger Williams is widely considered to be one of the toughest guys in hockey, and he's not a heavyweight.
Going into fights, Williams often had a size disadvantage, but that didn't turn him away, nor did it negatively affect him.
While he didn't make a habit of tearing into people with a 50-lbs weight advantage like Rick Rypien, Williams did make a habit of fighting every chance he got, and for a long, long time.
In fact, throughout his 962 regular season games in the NHL, Williams fought 229 times; which is considerably more than any other player I've come across in my years as a hockey fan/writer.
Keep Reading

Vancouver Canucks: Like this team?