Philadelphia 76ers: Thanks for a Great Run
May 24, 2012

Drew Hallowell/Getty Images
OK, we get a Game 7.
But before we get caught up in that hoopla and dream about 1982, it is time to thank Doug Collins and the Philadelphia 76ers for the great season they have given their fans.
Six home playoff games certainly exceed any expectation that existed for this team before the season started. The young team has shown substantial growth as well as a glimpse of what the future can be if they can acquire a power center.
We saw second-year player Evan Turner go from being totally ineffective to being very good some of the time. We saw rookie Lavoy Allen go from being called the 500th best player in the NBA to a significant contributor in the playoffs. We saw Jrue Holiday become a dominating point guard at times but a puzzling disappointment at others.
We saw Lou Williams come off the bench during the regular season and often quickly turn a four-point lead into a ten-point lead with two quick treys. But we saw the same Williams miss late shots in close games. Next year, Williams will probably move on to a team that will make him a starter.
Inconsistency was the hallmark of this young team—flashes of breathtaking brilliance followed by streaks of missed shots. But that is what you expect of young teams.
We thank Andre Iguodala for usually defending the opponent's top scorer.
We thank him for starting or finishing all those exciting fast breaks and alley-oop plays that made the highlight videos. But we agonized when he struggled at the foul line during the Celtics series.
We thank veteran Elton Brand for doing his best to work through various injuries, keep up with the younger guys and compete against bigger, younger and more athletic front-court opponents.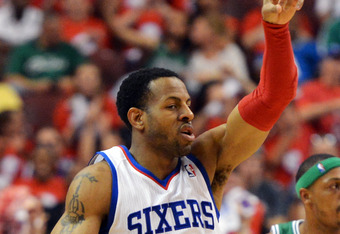 Drew Hallowell/Getty Images
It is not only the youth of the team that has produced such streaky performance. The Sixers'  game of defense and running is a big contributor as well. 
When they get defensive stops and rebounds, they can be off to the races and score a quick eight consecutive points in a flash. But on the flip side, when the opponent scores and makes the Sixers play a half court offense—where they struggle—the opponent can rattle off eight quick points as well.
To keep the momentum going next year, the team must acquire a power center.
Spencer Hawes is a good back-up center and maybe even a starting forward who could create matchup problems, but he pales in comparison to the top-tier power centers. A power center that can play with his back to the basket and block shots could put the Sixers in a position to compete with the elite teams in the league.
This would greatly improve the half-court game and provide some offense when the outside shots start to miss.
So again Sixers, thanks very much for the exciting ride. 
Whether it ends in Boston on Saturday or against the far superior Heat, you already have given us a season to remember.
Hopefully a good power center can produce an even longer playoff run next year.