NBA Rumors: Why Jerry Sloan Is Perfect Head Coach for Dwight Howard-Led Magic
May 24, 2012

Kevin C. Cox/Getty Images
If the Dwight Howard saga weren't enough, the Orlando Magic have a new debacle to sort out: Who will be their next head coach?
Earlier this week, the polarizing Stan Van Gundy was fired from the position, a move that surprised nobody. A few whispers regarding replacements for the longtime coach include current assistant coach Patrick Ewing, Indiana Pacers assistant coach Brian Shaw and former New York Knicks head coach Mike D'Antoni. 
However, the legendary Jerry Sloan, who spoke openly about his interest in joining the Magic franchise during an interview with Fox Sports Florida, is the best option for Orlando to pursue. His coaching style, ability to handle stars and experience will not only help with the brass' unwavering desire to sign Howard to a long-term deal, as the All-NBA talent reportedly lost favor with Van Gundy, but will also strengthen the organization's chances to find postseason success.
Sloan, who coached the Bulls and Jazz after a successful player tenure, possesses a career regular-season win-loss record of 1,221-803, placing him third all-time in NBA wins at the time he retired. In addition, Sloan is the only coach in NBA history to record 1,000 wins with one club (the Utah Jazz).
While his playoff success is often a topic that critics pounce on, as Sloan failed to capture the elusive Larry O'Brien for the Jazz, he did manage to take the franchise to two NBA Finals in 1997-98. Ironically, he lost both of these championship attempts to the Chicago Bulls.
Obviously, Sloan is more than capable of taking over as the Magic's head coach. His resume is undoubtedly one of the most impressive in NBA history. After all, David Stern, the NBA commissioner, labeled Sloan "one of the greatest and most respected coaches in NBA history." If that isn't enough to qualify for the vacant void, the retired Phil Jackson may be the only person on earth suitable for Van Gundy's former spot on the bench.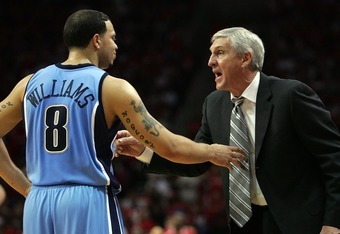 Ronald Martinez/Getty Images
During his time in Utah, Sloan transformed the Jazz into one of the grittiest, toughest teams in the entire Association. His rosters were known for their heart, hustle and discipline. Sure, they never reached eternal glory, but no contender wanted to face the Jazz in a seven-game series.
However, his experience creating a winning formula isn't his only valuable knowledge. He also knows how to deal with superstars. During his time in the league, Sloan coached Hall of Famers Karl Malone, John Stockton, Jeff Hornacek, Antoine Carr, Tom Chambers, Mark Eaton, and Jeff Malone. All of these players found great success under the Hall of Fame coach and held little complaints.
The exception, of course, is Deron Williams. According to numerous sources, feuding between All-Star Williams and Sloan caused the coach to abruptly call for his retirement from the game of basketball last season. This is one of the few consequences for Orlando if they decide to sign Sloan as the next coach. The organization can kiss their chances of landing facilitator Deron Williams to appease Howard goodbye.
However, it is quite unlikely that the Magic can compose a deal that the Brooklyn Nets see worthy of dealing the point guard for. After all, Orlando's roster is composed of a disgruntled superstar and a plethora of overpaid role players.
Plus, even if Howard bolts town for the "greener pastures" of Brooklyn, Sloan has stated that he is willing to join a franchise in the midst of rebuilding. In the end, Sloan is interested in the Charlotte Bobcats' job.
Sloan said he wasn't deterred by the horrid record of the Bobcats, as the team won only seven games. "Obviously, you probably wouldn't win (a title) right off the bat," Sloan told the Salt Lake Tribune. "But sometimes it's not all about starting on top."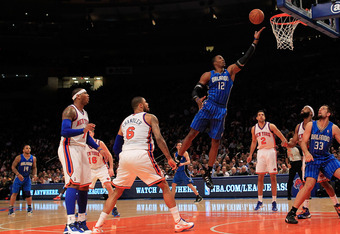 Chris Trotman/Getty Images
So, even if Orlando decides to enter a rebuilding period, which is quite possible with the rumors swirling that Howard still wants out, Sloan will be loyal to the franchise much like he was in Utah for 26 years.
It seems as if Sloan just wants another way into the realm of basketball, as he is searching for a position in two of the most disheveled franchises in the league. 
"I worked (26) years (as a coach). It was time for me to move on and see what was going in the world. That's been kind of interesting. But I still have that void of basketball," Sloan told Fox Sports Florida.
If the Magic were wise, the brass would steal Sloan away from Charlotte in an attempt to make one last run at rings with Howard on board.