Celtics vs. 76ers: Philadelphia Honors Allen 'the Answer' Iverson Before Game 6
May 24, 2012

Ethan Miller/Getty Images
The Philadelphia 76ers did something really cool before their pivotal Game 6 matchup against the Boston Celtics tipped off.
Down 3-2 in their best-of-seven series, the home team decided to call upon the greatest player in franchise history for some good luck.
Team co-owner and CEO Adam Aron asked Allen Iverson to hand the game ball to the referees right before tipoff. The crowd was roaring in approval and Iverson looked to be soaking up every moment of the warm gesture. Here is a snapshot tweeted out by the official Bleacher Report Twitter feed of A.I. sitting by the 76ers bench.
Iverson came out wearing a No. 23 Lou Williams jersey, a moment that had to be absolutely thrilling for the 25-year-old guard.
A.I. played in Philadelphia for 12 seasons, including a 2001 trip to the NBA Finals. In his career, he won an MVP, Rookie of the Year, played in 11 All-Star games and won the scoring title in four different seasons. He was one of the greatest players of the 2000s and deserves to be recognized for his efforts.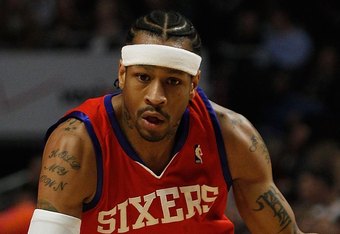 Jonathan Daniel/Getty Images
He will forever be associated with this franchise, and it's a very classy move by the organization to show its support, even at a time when the headlines about him aren't so positive.
The gesture set the fans off into a frenzy, and the crowd noise stayed at a piercing pitch for seemingly the first six minutes of the quarter after Iverson stepped aside.
I think Not Bill Walton speaks for a lot of fans with this tweet after watching the touching pregame festivities:  
David Stern would get infinite cool points if he allowed Allen Iverson to actually play in this game.

— Not Bill Walton (@NotBillWalton) May 24, 2012
Great move by the 76ers, and hopefully the franchise ensures A.I. remains in the organization's good graces for the foreseeable future.