Brandon Phillips and Jay Bruce Lead the National League's Best Defense
May 23, 2012

Jared Wickerham/Getty Images
Scoring errors is the only subjective statistic in baseball.
Yes, there are obvious ones. But it doesn't take into account plays that could not be made by another team's defense, nor plays made that others could not make, which are scored errors.
Thus, skewing stats like the old school fielding percentage and the sabermetric BABIP.
After reading Gerard Martin's, May 14, piece that told fantasy owners to sell high on Reds starting pitcher Johnny Cueto partly due to his high BABIP. It showed that if someone does not have the opportunity to watch a defense night-in-and-night-out, BABIP is not a reliable gauge to judge a pitcher's ability.
Outside of Cueto's May 15 start in Atlanta, the guy has been lights out.
He's worked into the seventh inning in seven of nine starts, allowed two runs or less in seven of nine and one run or less in five of nine.
How?
The Reds outstanding defense.
Before Scott Rolen went down, the team had a combined 12 gold gloves in the infield. The only guy who has not received one is rookie shortstop Zack Cozart, and so far (this season), he is looking like the best defensive shortstop since Hall of Famer Barry Larkin manned the position for three decades donning a Reds uni.
Granted, the Reds took a hit when Rolen went down with his perpetual shoulder injury. His replacement, Todd Frazier, will never be as good in the field as Rolen—but very few will. However, Frazier has an above-average glove and a plus arm.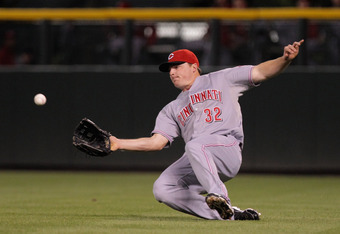 Doug Pensinger/Getty Images
If one is fortunate enough to watch the Reds every night, they will likely be treated to at least one or two highlight reel plays from both second baseman Brandon Phillips and first baseman Joey Votto. 
Besides being one of the best game callers in the league, catcher Ryan Hanigan has allowed only a .647 stolen base percentage.
The Cardinals Yadier Molina, widely considered the best gun behind the plate, is currently sitting on a .640 percentage—when all is said and done this season, Molina will likely be higher than Hanigan.
Still, that's mighty good company.
Even pitcher Bronson Arroyo has a gold glove sitting on his mantel. Mike Leake fields the mound quite well—as does Cueto.
When Reds skipper Dusty Baker is smart enough to play Chris Heisey in left field, the Reds have three former center fielders who can run down more balls than any team in the last three years. Center fielder Drew Stubbs makes what looks like certain gap shots look like pie.
It is truly criminal that the gold glove voters have so far denied right fielder Jay Bruce the award. Both he and Stubbs play balls off the wall to near perfection. Stubbs has a plus-plus arm, and Bruce has an absolute rocket launcher.
In years past, Bruce regularly gunned down runners going from first to third and at the plate. For the last two seasons, forget about it, even the fastest of the fast are afraid to test his arm. Who knows how many runs Bruce has saved the Reds?
Admittedly, watching the Reds play every night doesn't allow the fan a chance to watch other teams for more than two, three or four games a series. But if there is a better defensive team in the National League, we've yet to see them.