NBA Draft 2012: Mid-Major Stars to Watch on Draft Day
May 24, 2012

Ethan Miller/Getty Images
Not everyone who declares for the NBA draft can come out of a powerhouse like North Carolina, Duke, Kentucky or Kansas.
Many years, guys come out of mid-major teams and either contribute right away or work their way up to carve a role out as a solid NBA player. Some recent examples included Gordon Hayward from Butler, Tyreke Evans of Memphis, Stephen Curry of Davidson and Derrick Rose of Memphis.
This year, with the NBA draft looming (the lottery is on May 30 and the draft is almost a month later on June 28), let's take a look at some mid-majors who will look to crack the first round and crack NBA team rotations this upcoming season.  
Damian Lillard - PG - Weber State
Lillard is a 6'3", 195-pound point guard from Oakland, Calif., who just wrapped up his junior season with the Weber State Wildcats.
Lillard is a prolific scorer whose junior season was one of the best in Weber State history. He started all 32 games, averaging 24.5 points per contest (10 more than his closest teammate), dished 4.0 assists a game and finished second on the team by pulling 5.0 rebounds a game.
Lillard is the epitome of a shoot-first point guard—as evidenced by his dearth of assists—who is largely unafraid to pull up from well beyond the three-point line. He managed a field goal percentage of 46.7 percent (40.9 from beyond the arc) while knocking down 88.7 from the charity stripe.
Scouts say he's a good defender on the ball, though there is some worry about how his shoot-first mentality will transfer when he's making such a big jump from the Big Sky to the big show. 
Moe Harkless - SF - St. John's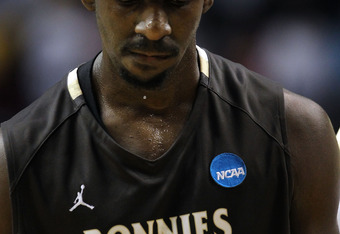 Jamie Squire/Getty Images
Harkless is a 6'8", 208-pound small forward from Queens, NY.
As a freshman in 2011-12, Harkless started all 32 games for a Red Storm squad that scuffled to a 13-19 record, and in the process scored 15.5 points per game, pulled a team-leading 8.6 boards a game and blocked an impressive 1.4 shots per game.
Harkless' short game was good, as he hit 61.5 percent of his two-point shots.
Unfortunately, he jacked up 79 three-point attempts, hitting only 17 (21.5 percent), and he was dismal from the free throw line, connecting on only 67.6 percent from the stripe.
Based on some video study that I did of Harkless, he seems to struggle when he stops and pops for a jumper from a full sprint, but when his feet were set, he seemed to have a more consistent release point.
From everywhere I've looked, Harkless looks like he'll fall just out of the lottery, but a lot can change in the next five weeks.   
Andrew Nicholson - SF - St. Bonaventure
Nicholson is a 6'9", 225 pound small forward from Mississauga, Ontario. This year with the Bonnies, Nicholson was the leading scorer with 18.5 points per contest. He also added 8.4 boards per game and close to two blocks per game this season.
From film study I did on Nicholson, he seems to have a very polished low-post game.
Then again, mid-major bigs will often face vastly inferior opponents, especially post players banging up against guys who aren't as quick or as strong, which can become painfully obvious after just a few trips down the court.
Nicholson seems to move well, and can make the turnaround baseline jumper over a defender rather well.
Again, only time will tell in the NBA against better competition. He also fouled out of five games this year, which was more than the rest of his team combined.