Realistic Expectations for Every NFL Team's Rookie Class
Patrick McDermott/Getty Images

Every NFL fanbase will spend the summer debating the merits of each team's rookie class over the grill and around the campfire.
Andrew Luck and Robert Griffin III will undoubtedly leave an imprint on the 2012 NFL season. The fun part is in guessing how well they can realistically contribute.
Can Morris Claiborne really save the Dallas Cowboys secondary?
Is it possible for Courtney Upshaw to adequately replace Terrell Suggs?
There is only one way to find out.
Begin Slideshow

»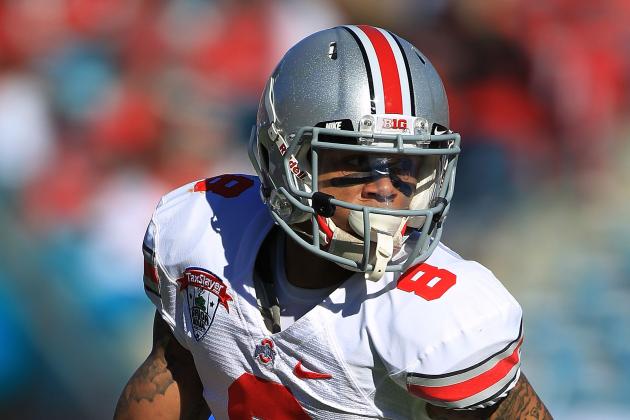 Scott Halleran/Getty Images

The Houston Texans lost quite a few players in free agency but did well to restock their talent pool .
Out of eight picks, defensive end Whitney Mercilus and wide receiver DeVier Posey stand the best chance to make an immediate impact.
Mercilus will see the field from game one and produce high single-digit sacks.
Posey should contribute around 40 receptions and add six touchdowns with the space the explosive former Buckeye will exploit.
The rest of the class builds instant depth and can be counted on to step in for any injuries. However, the future is bright for each of their first six picks.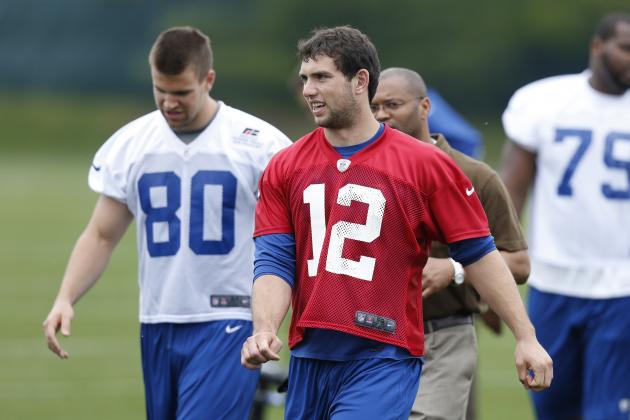 Joe Robbins/Getty Images

The rookie class for the Indianapolis Colts will have the most immediate impact of any throughout the league. Andrew Luck was given plenty of options in the passing game to begin his career.
Luck is a special specimen. While few rookie quarterbacks enjoy an immense amount of success, 28 touchdowns against 18 interceptions is the basement for this kid.
Coby Fleener and Dwayne Allen will immediately form a top-five tight end group, and T.Y. Hilton will provide the fireworks.
The only things that will hold this young offense back are veteran defenses and the offensive line.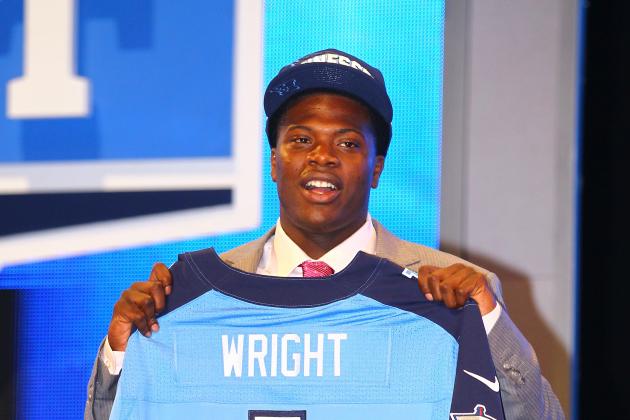 Al Bello/Getty Images

Kendall Wright is the only rookie that the Tennessee Titans can count on. He has the speed and hands, so it will all depend on the development of Jake Locker.
If Wright is given ample opportunities, he could turn in a middling season of 35 catches and five touchdowns.
The rest of the class is full of question marks.
Zach Brown is probably not strong enough to play yet.
Mike Martin is an interesting prospect. He just needs more time to become a consistent presence.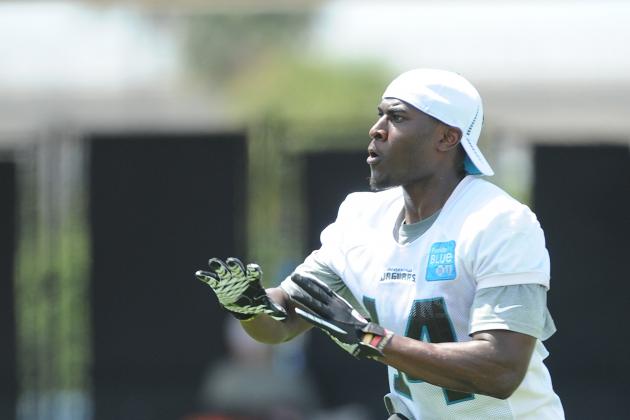 Rick Dole/Getty Images

The Jacksonville Jaguars find themselves in the same spot as the Titans.
Justin Blackmon will add a pair of sure hands. His problem is relying on the unproven Blaine Gabbert.
Another issue for the Jags is the lack of a true No. 1 receiver. Blackmon's production will take a hit, but 45 receptions for 650-plus yards seems fair.
The rest of the class leaves much to be desired.
Besides Blackmon, the Jags shouldn't expect much of anything from the 2012 draft class.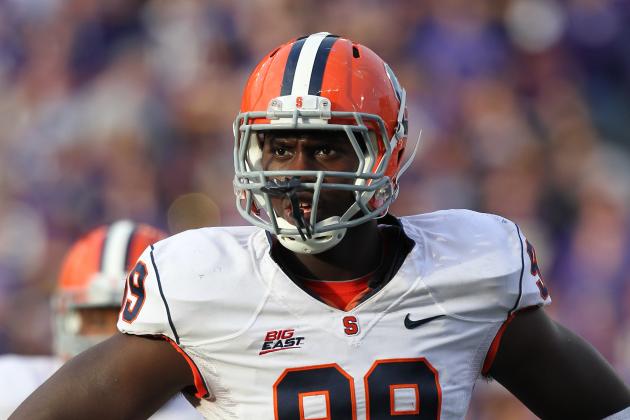 Otto Greule Jr/Getty Images

Chandler Jones and Dont'a Hightower will both make an impression in their rookie campaigns.
The New England Patriots are desperate for a pass rush. These two kids will team up for double-digit sacks as they will both see ample time.
However, the true value of this draft will come from Alfonzo Dennard.
The Pats' secondary was one of the worst in the league and Dennard will be an immediate upgrade. Off-the-field concerns don't matter once they step in between those white lines.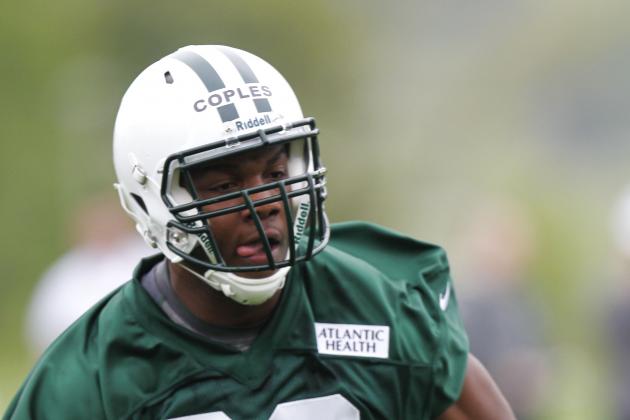 Jeff Zelevansky/Getty Images

There hardly seems to be a rhyme or a reason to what the New York Jets are doing these days.
Quinton Coples does not fit the 3-4 system and will need years to produce, if it is even possible.
Stephen Hill has potential—it just won't be evident for a couple of seasons.
The reality for the Jets' class isn't bright.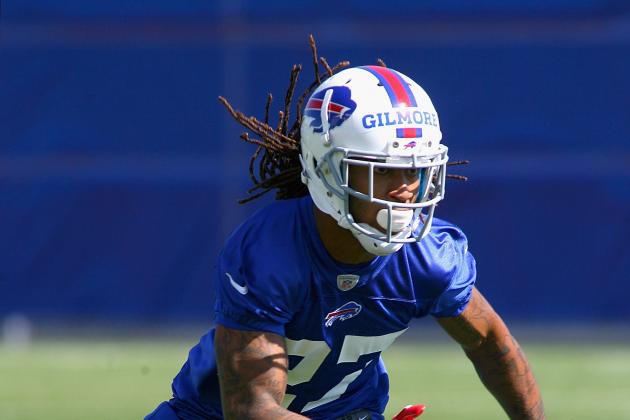 Rick Stewart/Getty Images

The Buffalo Bills are in the midst of a renaissance.
Stephon Gilmore will step in at a corner spot on opening weekend. The passing defense will immediately be better for it.
Cordy Glenn is another player who, at a minimum, will provide quality depth along the interior of the offensive line.
Lastly, Zebrie Sanders is a solid bet to anchor one of the tackle spots in the future.
The Bills were able to grab short- and long-term impact players in the 2012 NFL draft.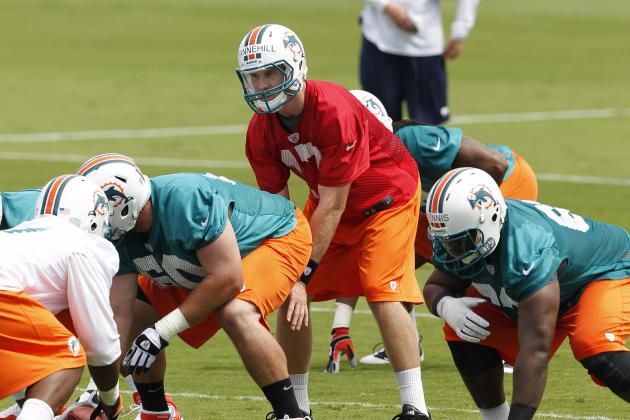 Joel Auerbach/Getty Images

Miami Dolphins fans would be wise not to expect anything from their rookies in 2012.
This class can still be a success. It all depends on how Ryan Tannehill progresses over the next couple years.
Jonathan Martin was at one time considered a first-round prospect. Yet, he still doesn't have the polished tools to do much in the near future.
The best bet for any production this season comes from running back Lamar Miller. The kid has the ability to make plays and should find himself heavily involved in the game plan by the middle of the season.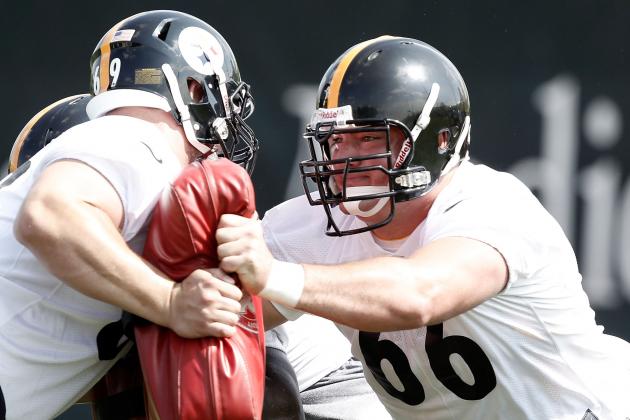 Jared Wickerham/Getty Images

David DeCastro and Mike Adams will start Week 1, barring injury. The Pittsburgh Steelers have been hamstrung by their offensive line, and these two represent an immediate talent boost.
Their play should solidify the line, which will result in fewer hits for Ben Roethlisberger.
The balance of the class are projects and depth builders.
Chris Rainey is explosive, so the Steelers will find a way to get him on the field. Unfortunately, there are at least three running backs better than him on the roster.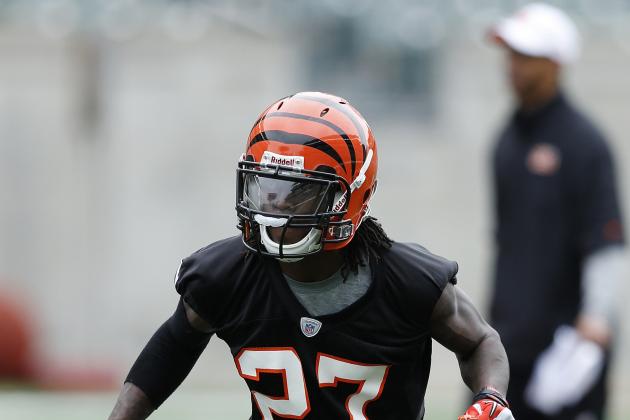 Joe Robbins/Getty Images

Cincinnati Bengals fans might not seem very realistic about their rookies. Yet, sky-high expectations are completely within reason.
Cornerback Dre Kirkpatrick's talent makes him an immediate starter. Defensive tackle Devon Still only makes a stout defense even tougher up the middle.
Andy Dalton is going to love having Mohamed Sanu around. Dalton has never been surrounded with this much talent.
He can run a legitimate five-wide set now. Sanu will end up with a nice rookie campaign racking up 550-plus yards and four touchdowns.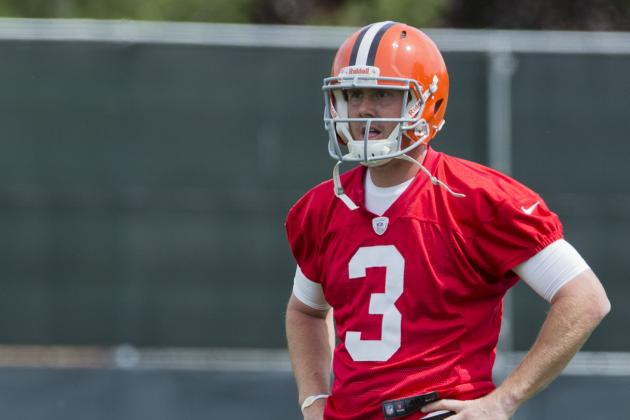 Jason Miller/Getty Images

Teams do not select a 28-year-old quarterback in the first round unless they are planning on starting him. Colt McCoy will have to be perfect throughout the preseason to end up under center in September.
Brandon Weeden will struggle at times with the stingy AFC North defenses. An 18:20 touchdown to interception ratio while he adjusts to NFL speed sounds reasonable.
Weeden will be supported by rookie backfield mate Trent Richardson. The former Alabama running back will bring home rookie of the year honors and prove worthy of his No. 3-overall status.
Nobody else really stands out. Mitchell Schwartz is going to need a couple years to bookend Joe Thomas.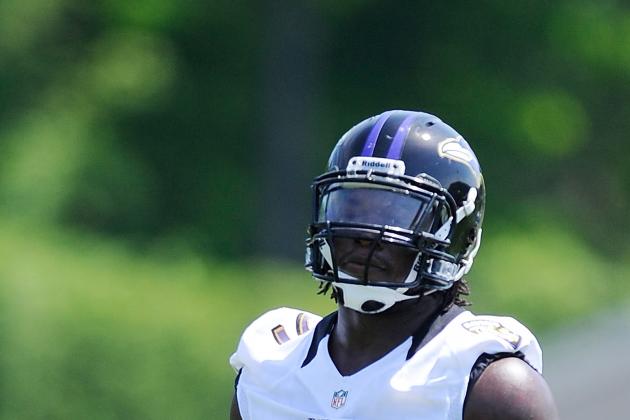 Patrick McDermott/Getty Images

No team needs unrealistic production from a rookie like the Baltimore Ravens.
The loss of Terrell Suggs for at least a chunk of the season puts the pressure squarely on incoming linebacker Courtney Upshaw.
If he starts for half the year and backs up Suggs the rest of the way, Upshaw has the talent to account for six sacks.
There won't be any other rookies stepping up for the Ravens. Kelechi Osemele will only be pressed into action if one or two players go down.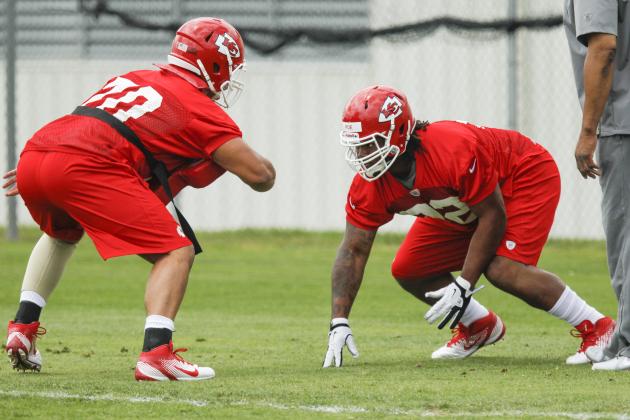 Kyle Rivas/Getty Images

The biggest gamble was taken by the Kansas City Chiefs.
Dontari Poe was an absolute beast at the combine—not so much during his time as a Memphis Tiger.
The rare combination of 4.87 speed to go along with 44 bench-press reps is intriguing. The almost-350-pounder will hold down the interior of the line, but do not expect large sack numbers from the kid.
Offensive lineman Jeff Allen needs to get stronger, and the rest of the class figures to be a non-factor.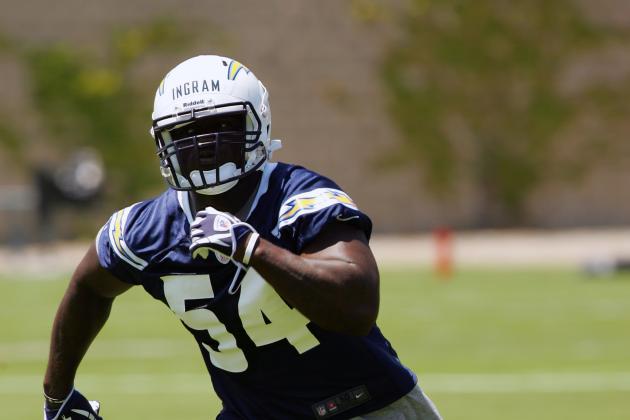 Kent Horner/Getty Images

Melvin Ingram will begin his rookie year as a situational player. He will not be unseating Shaun Phillips or Jarrett Johnson this year.
Ingram has the makings of a stellar pass-rusher. Assuming he is used correctly, he will have an excellent chance to lead all rookies in sacks.
Brandon Taylor is the only remaining kid in the class with a chance at significant playing time.
A lot of San Diego's picks represented great value. They just will not have the opportunities to do much right away.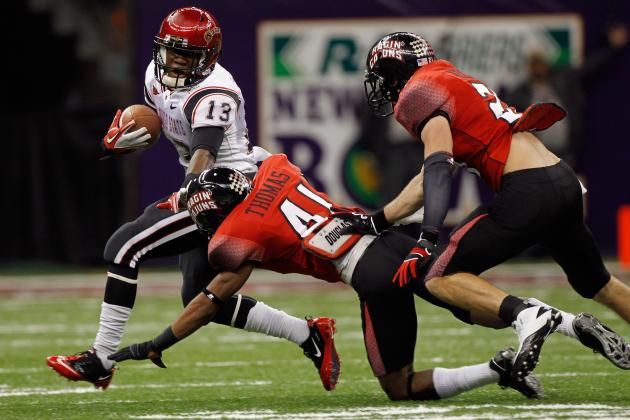 Chris Graythen/Getty Images

Mile-High fans surely do not want their rookies having too much impact unless it is Derek Wolfe or Ronnie Hillman.
Wolfe will bring a different dynamic to the interior of the Denver Broncos' defensive line. He will bring pressure up the middle, allowing Elvis Dumerville to go to work outside.
On the offensive side, Hillman will mirror the type of athleticism that Wolfe brings to the defense. Peyton Manning has been given a nice dump-off option out of the backfield.
For the sake of the Broncos faithful, there will not be any discussion of Brock Osweiler.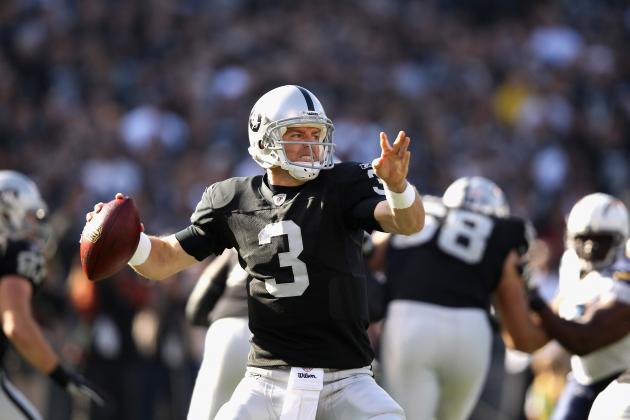 Ezra Shaw/Getty Images

There is not much to weigh when looking at the Oakland Raiders draft class.
The trade for Carson Palmer ensured the Raiders would miss out on any top talent.
Any expectations for this year are completely unrealistic.
As for the future, the best response is a shrug. All of these guys could be out of the league in four years.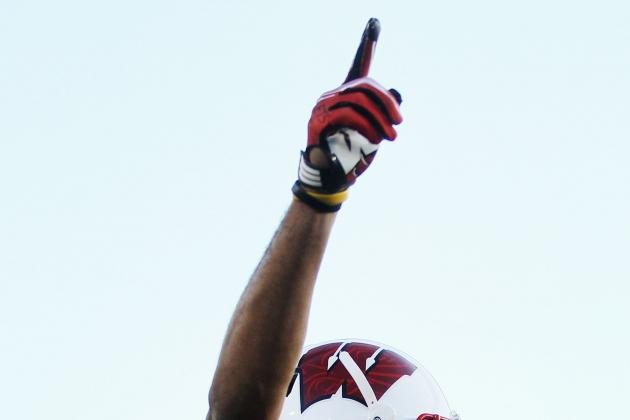 Jeff Gross/Getty Images

Somehow, the New Orleans Saints were able to generate something out of nothing.
Last year's trade to land Mark Ingram and the fallout from Bountygate left the Saints without a pick until 90th overall.
Akiem Hicks will not garner much buzz, but Nick Toon could fit in nicely with the New Orleans' offense.
Drew Brees is great at spreading the ball around. Robert Meachem departed for the San Diego Chargers, so there is plenty of room for Toon to bring in 450-plus yards and four touchdowns.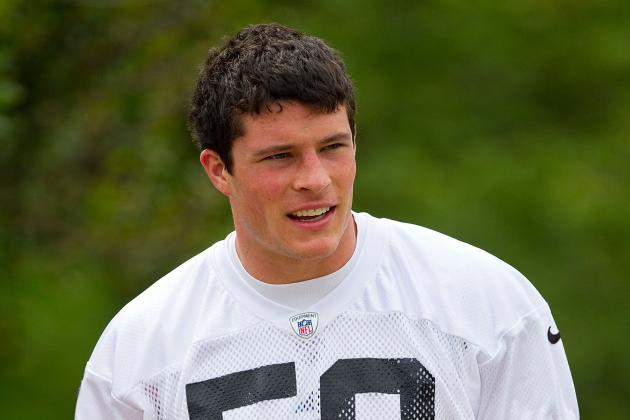 Brian A. Westerholt/Getty Images

The Carolina Panthers continued to ride the momentum from last offseason.
Luke Kuechly will be the second-leading tackler next to Jon Beason. The Panthers defense will also get better over the long haul as Josh Norman develops into a solid starter.
Amini Silatolu is an improvement on the inside of the offensive line. He is going to take a year before he feels comfortable, but he will not be a slouch for the time being.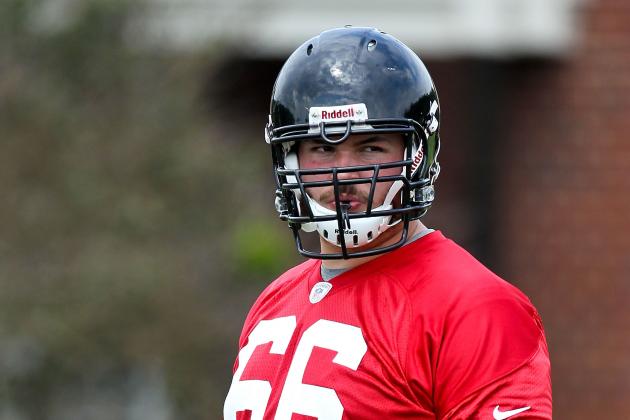 Daniel Shirey/Getty Images

Luckily for the Atlanta Falcons, the rest of the league must not have realized that Peter Konz was still on the board.
Whether he lines up as a guard to start his career is irrelevant. The kid is an animal who will transition to the pros well.
The lack of a first-round pick deprived Atlanta from having anybody else that will have an immediate impact.
They say you cannot judge a draft for three years. The Falcons hope that the rest of the players will still be on the roster then.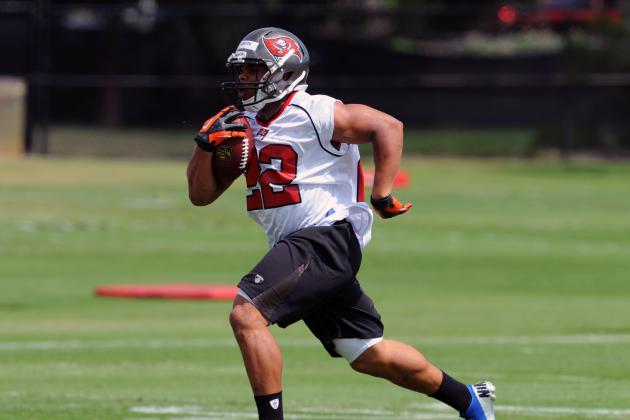 Al Messerschmidt/Getty Images

The Tampa Bay Buccaneers might have pulled the rarest of moves.
They appear to have grabbed three day-one contributors—if not starters.
Safety Mark Barron is too talented not to be on the field during the first series. He will bring a much-needed talent injection to the back of the defense.
Lavonte David needs a bit more weight, but his speed and technique will get him a starting nod. He will be among the team's leading tacklers.
The most exciting player for the fans is Doug Martin. The Boise State product is the perfect complement to LaGarrette Blount.
Martin will end the year with 850-plus total yards and at least seven touchdowns.
Jim McIsaac/Getty Images

David Wilson will have to overcome being a consolation prize.
The New York Giants must have coveted running back Doug Martin but were beaten to the punch by the Tampa Bay Buccaneers.
Thus, Wilson will take over Brandon Jacobs' role and grab 450 yards rushing with three touchdowns.
The loss of Mario Manningham was somewhat offset by the addition of Rueben Randle. The young man will fit in well as the third receiver and should be productive enough with 600 yards and five touchdowns.
Lastly, Jayron Hosley could end up being a contributor in his first season. Hosley certainly has equal or better talent than the departed Aaron Ross.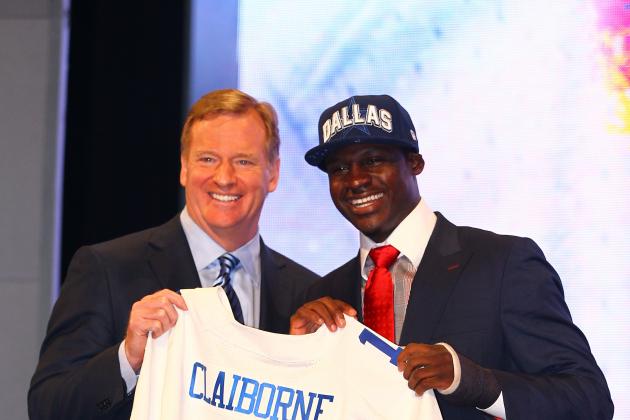 Al Bello/Getty Images

As far as any impact out of this year's rookie class, it will all have to come from Morris Claiborne.
The Dallas Cowboys boldly jumped up to the sixth overall pick to grab the LSU cornerback. He will pair with Brandon Carr to turn a once-weak secondary into a strength.
The rest of the class will not help in 2012.
Former defensive end Tyrone Crawford needs to learn a new position, and the rest of the selections will be camp fodder for now.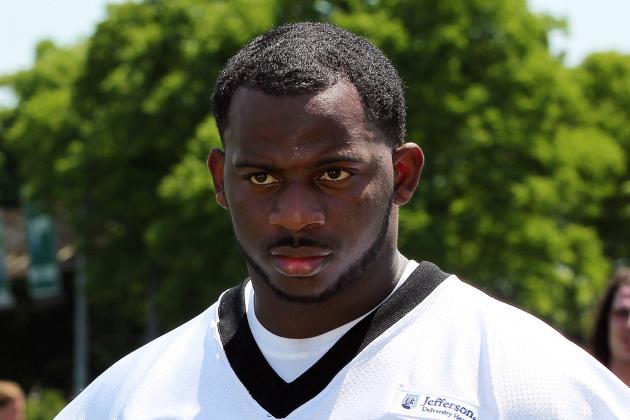 Rich Schultz/Getty Images

Any time a talent-laden team lands two starters, it will be difficult to keep expectations under control.
Fletcher Cox beefs up the middle of the defensive line. His pass-rushing ability will give the defensive ends room to operate.
Mychal Kendricks projects as a starting linebacker on a suddenly improved run defense. He will not be the centerpiece in the back but should have a nice year.
Defensive end Vinny Curry is intriguing as well. He probably will require another year or two before anyone sees tangible results.
Patrick McDermott/Getty Images

Everyone is aware of how much the Washington Redskins gave up to swap spots for Robert Griffin III: two extra first-round selections and a second-round pick.
The cost was unprecedented, but so might be RG3.
He is likely the lone player who will have an impact in his first year. Josh LaRibeus will only be called upon to fill in for injured starters.
At least the bet on Griffin will end nicely: 3,700 total yards and 26 touchdowns.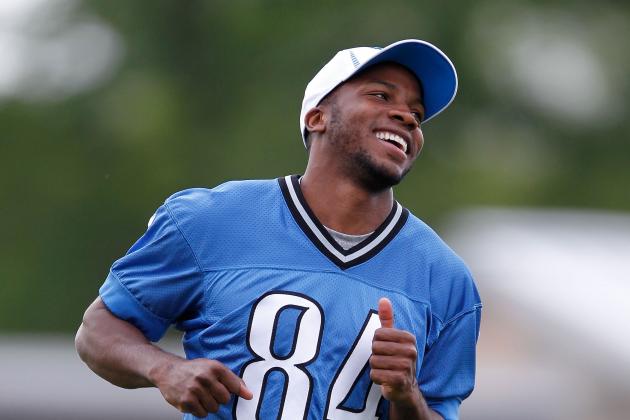 Gregory Shamus/Getty Images

Judging by Ryan Broyles' participation at OTAs, the wide receiver cannot wait to make his presence felt.
Broyles is only six months removed from ACL surgery. He is recovering quickly. and the Detroit Lions may need him to step in soon.
Titus Young's problems open the door for Broyles to grab 35 passes for five touchdowns, similar to what Young did last season.
Riley Reiff will likely start over Gosder Cherilus at some point.
The other players will play special teams and provide depth for now.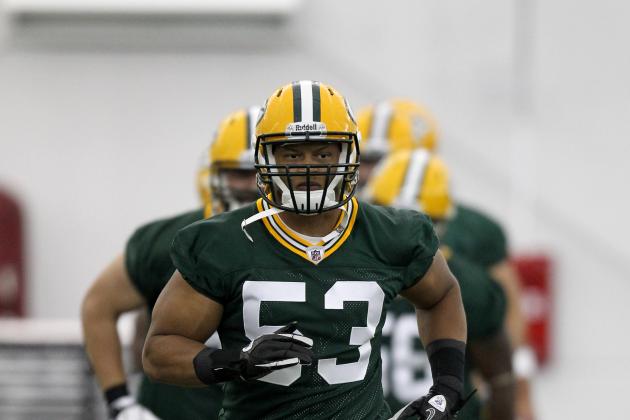 Mike McGinnis/Getty Images

Nick Perry will not be sitting on the bench opening weekend. The Green Bay Packers drafted him to help Clay Matthews and that is exactly what he will do.
Perry is still raw, but the talent is immense. He will have fun moving around and notching seven sacks in his rookie campaign.
Jerel Worthy will be a pain for offensive lines. He will not unseat B.J. Raji, but the level of play will remain somewhat consistent when Worthy spells him.
Nobody else particularly stands out for this year with the lone exception of Casey Hayward. He could see time in a pass-happy NFC North.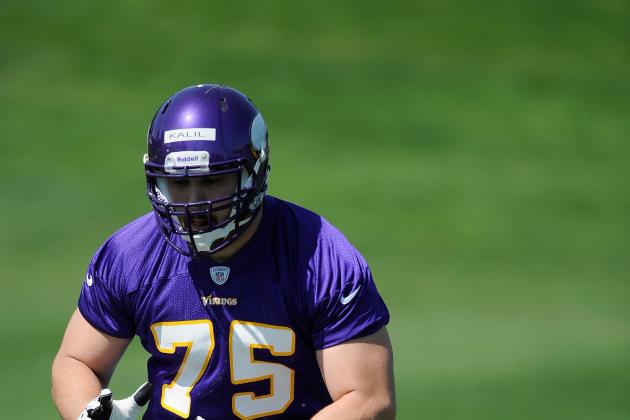 Hannah Foslien/Getty Images

The Minnesota Vikings did a great job of adding talent, which they absolutely had to do.
Matt Kalil will struggle with Julius Peppers and Clay Matthews in the division. Management will forgive him because he will hold his own against other pass-rushers.
The secondary will not receive as much instant help as the Vikings would like. Harrison Smith will have a trial by fire and get burned often to start his career.
In addition, Josh Robinson is a couple years away from a consistent contributor.
The rookie wideout combo of Greg Childs and Jarius Wright will combine for 500 yards and four touchdowns.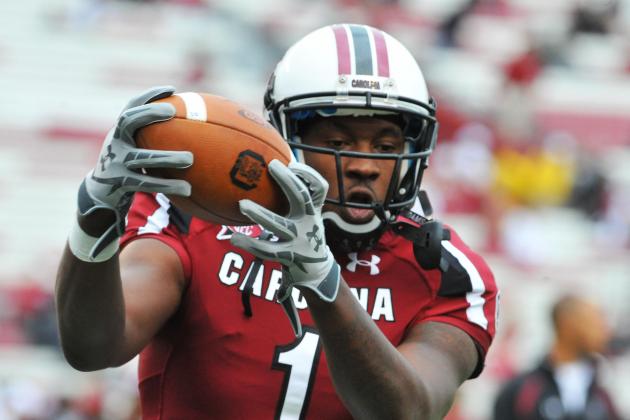 Al Messerschmidt/Getty Images

Alshon Jeffrey will walk into the Chicago Bears' locker room with a chip on his shoulder. The best part for him is that Brandon Marshall will have all the pressure on him, so Jeffrey can fly under the radar.
Jay Cutler must be salivating over his new weapons. The former South Carolina wide receiver will accumulate 750-plus yards and eight touchdowns in 2012.
Shea McClellin is going to disappoint early on. When you are selected in the top 20, fans want production early and often. McClellin will struggle to get five sacks next season.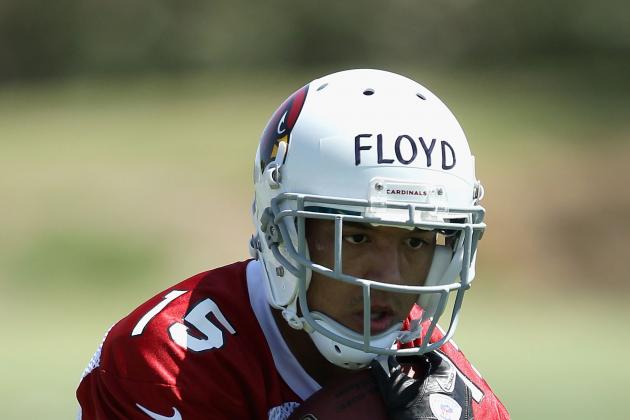 Christian Petersen/Getty Images

Regardless of whether John Skelton or Kevin Kolb start at quarterback, Michael Floyd is going to excel.
Larry Fitzgerald's new sidekick has all the tools to make a serious splash from the outset.
Anything less than 850-plus yards and eight touchdowns will be considered a failure.
Jamell Fleming should develop enough to build a NFL-worthy cornerback combination with Patrick Peterson in two years.
Additionally, tackle Bobby Massie could do the same for the offensive line. It just probably will not be this season.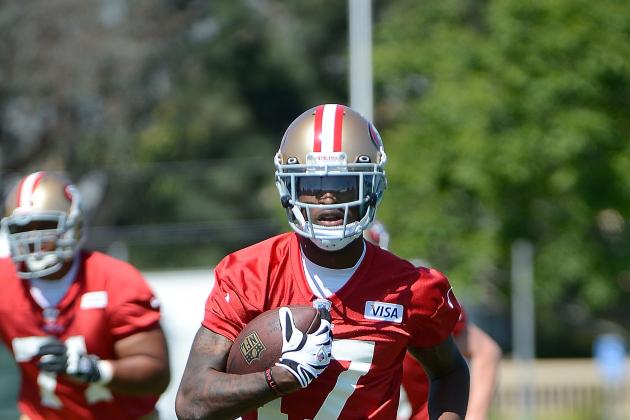 Thearon W. Henderson/Getty Images

A.J. Jenkins will have a difficult time breaking through in his freshman year.
The additions of Randy Moss and Mario Manningham, coupled with holdovers Josh Morgan and Michael Crabtree, mean he will start no better than fourth on the depth chart.
Considering the San Francisco 49ers' power-rushing offense, he will be lucky to end up with 300 yards and three touchdowns. That does not make him a bust—he just is not going to be relied upon yet.
LaMichael James will have a much more immediate impact. His scat-back role suits him, and his rookie year will end with 500-plus total yards and six touchdowns.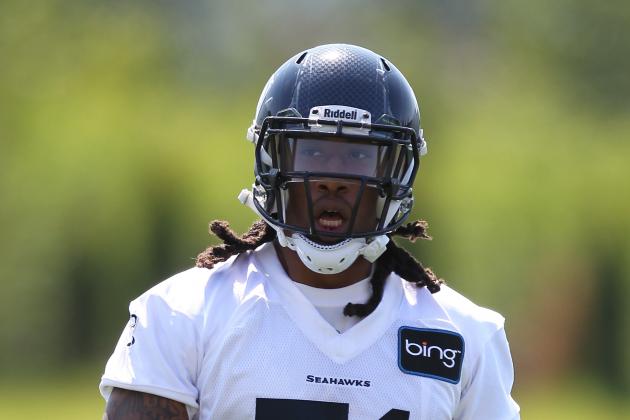 Otto Greule Jr/Getty Images

The Seattle Seahawks stunned draftniks by grabbing Bruce Irvin with the 15th overall pick.
Now it will be Irvin's time to shock the league. His unteachable skills will result in him ending up with eleven sacks while facing off against NFC West offenses.
Additionally, Utah State must have given Pete Carroll some great information.
Linebacker Bobby Wagner is a possible day-one starter, and Robert Turbin will net 300 yards and three touchdowns in a backup role.
Considering the investment in Matt Flynn, Russell Wilson will not have any impact for the next few years.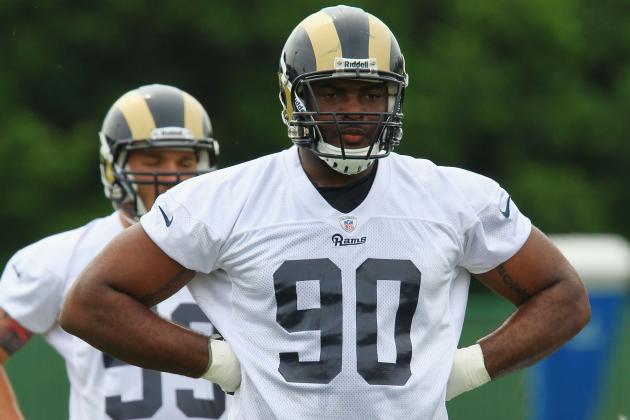 Dilip Vishwanat/Getty Images

First-round selection Michael Brockers has all the potential in the world. That does not mean he will have a heavy statistical impact on the 2012 season.
The numbers will be accumulated by Isaiah Pead and Brian Quick.
Pead is a shifty change-of-pace back who will make Sam Bradford's life easier with his playmaking ability. Anything less than 600 combined yards and five touchdowns should be viewed as a surprise.
Conversely, Quick will not blow people's doors off in his rookie year. All said, he will end up with 400 yards and a few touchdowns if things go well.
Quick's future is bright, though.
Janoris Jenkins will be an immediate starter and has the potential to grab defensive rookie of the year honors. That is, assuming he turns the scrutiny into fuel instead of entering a downward spiral.