NFL Depth Chart Predictions: 10 Backups That Need to Step Up in 2012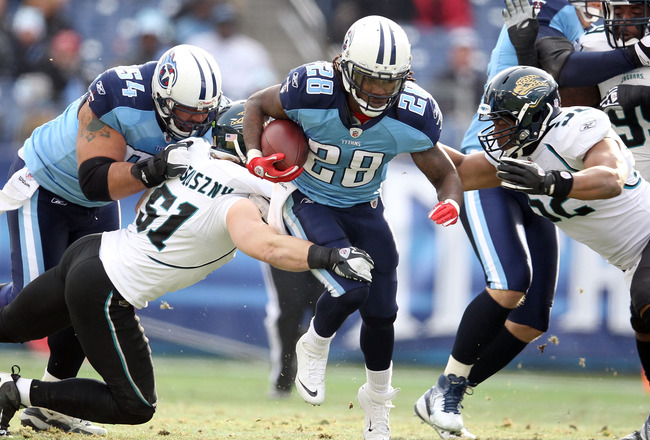 Andy Lyons/Getty Images
NFL training camps will be opening in just over two months.
So now is the time we can start looking at some of the depth chart situations on our favorite NFL teams.
Did your team draft help for your roster?
Did they sign one of the top free agents to fill a glaring need?
If not, then they are going to need to promote someone who is already on the roster.
Let's take a look at ten players that were not starting last year that are going to step up and make a claim to a more predominant role on their teams.
Arizona Cardinals QB Kevin Kolb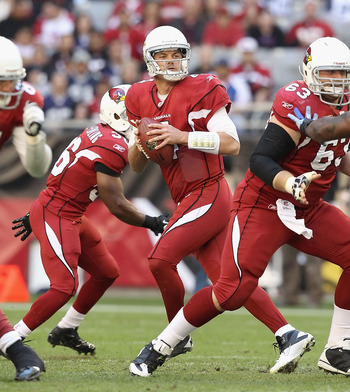 Christian Petersen/Getty Images
Okay, this one is probably unfair.
Kolb started nine games for the Cards last season so he shouldn't be on this list, right?
However, Kolb was relieved by John Skelton late in the season after suffering from multiple injuries.
Here are their statistics at year's end:
Kolb: 3-6 as a starter 1,955 yards, 57.7%, 9 touchdowns, 8 interceptions 81.1 rating.
Skelton: 5-2 as a starter 1,913 yards, 54.9%, 11 touchdowns, 14 interceptions, 68.9 rating
So who is the starter going into training camp?
Head Coach Ken Wisenhunt says that the race is dead even.
Somehow I don't think that is what the Cardinals had in mind when they signed Kolb to a five year $63.5 million dollar contract last year.
Kolb needs to take the reins and make this HIS team.
Atlanta Falcons DE Lawrence Sidbury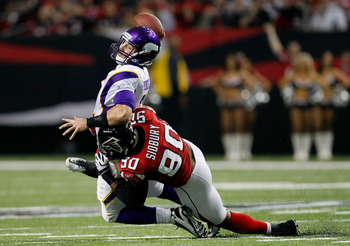 Kevin C. Cox/Getty Images
Atlanta has a very good secret on their roster in Lawrence Sidbury.
As he is behind John Abraham, he may not break the starting lineup, but he can be a dominant force rushing the quarterback and wreaking havoc in the opponent's backfield.
Playing sparingly in 2011, he recorded four sacks in 2011.
The key for Sidbury will be his health and his ability to stop the running game in addition to his pass rushing skills.
This will be a contract year for Sidbury.
2012 will be his chance to take the next step forward in his career.
Baltimore Ravens RB Anthony Allen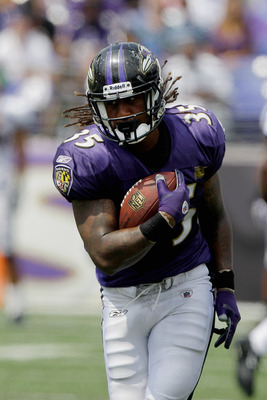 Rob Carr/Getty Images
No, I am definitely not saying that Ray Rice has lost a step by any means.
Rice may be the best running back in the league. Bar none.
But Rice has carried the ball nearly one thousand times over the past four seasons.
That has to take a toll at some point.
With Ricky Williams' retirement, a few carries could go to Allen.
The Ravens did spend a third round pick on Bernard Pierce, a running back out of Temple.
I still give the advantage to Anthony Allen, who will now be in his second season.
His additional role could give the Ravens a big lift.
Buffalo Bills CB Aaron Williams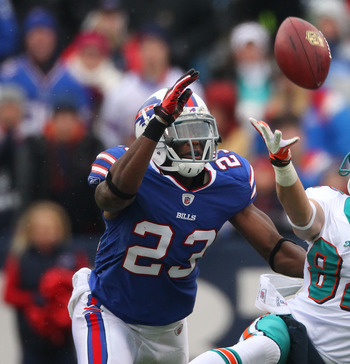 Tom Szczerbowski/Getty Images
The Buffalo Bills are going to be counting heavily on Aaron Williams this season.
The Bills used their first round draft pick to select Stephon Gilmore, a cornerback out of South Carolina.
After losing Drayton Florence through free agency, and with Terrance McGee nearly 32 years of age, Williams must up his game.
Williams will be expected to start and solidify one side of the defensive backfield with the rookie Gilmore on the other side.
Williams has shown flashes of brilliance. Now the Bills will be hoping to see much, much more.
Denver Broncos MLB Nate Irving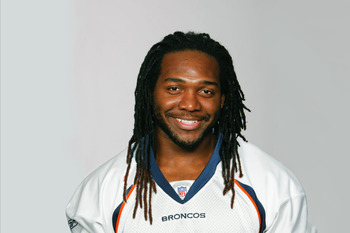 Handout/Getty Images
The Denver Broncos had the opportunity to select Dont'a Hightower, the middle linebacker from Alabama in this years' NFL draft.
Instead, they chose to trade the pick to New England where Bill Belichick promptly grabbed Hightower.
The Broncos need more production from their middle linebacking spot.
So either John Elway and company believe that current starter Joe Mays is the answer, or they believe that Nate Irving is the heir in waiting.
Irving played sparingly in 2011 and it was primarily on special teams.
2012 needs to be the season that we start to see what Irving can really do.
Kansas City Chiefs WR Dexter McCluster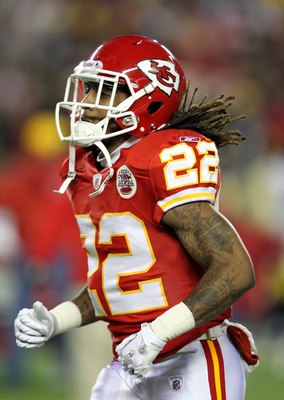 Jamie Squire/Getty Images
No, that isn't a typo. McCluster is now officially a wide receiver.
The Chiefs have decided that they will be more productive with Jamaal Charles starting as usual at the running back position and McCluster moving outside.
The move does make for some interesting prospects. You can now have the explosive McCluster on the field on nearly every offensive play, where he is always a threat.
The Chiefs designated Dwayne Bowe as their franchise player.
With Charles returning to the backfield, Bowe on one side and McCluster on the other, the Chiefs offense does give the defense some things to think about.
Miami Dolphins DE Jared Odrick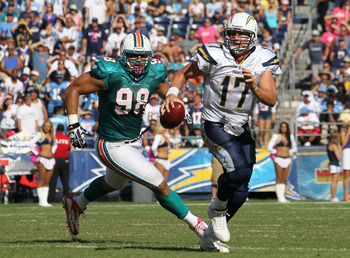 Stephen Dunn/Getty Images
Cameron Wake is the best pass rusher on the Miami defensive line.
But do not be surprised if Odrick takes the other side as his own.
Odrick outperformed Randy Starks, who was the starter, by notching six sacks to Starks' 4.5.
At 6'5" and 305 pounds, Odrick is a load on the outside. In just his third season Odrick is ready to make a big move on the Dolphins depth chart.
Minnesota Vikings DT Letroy Guion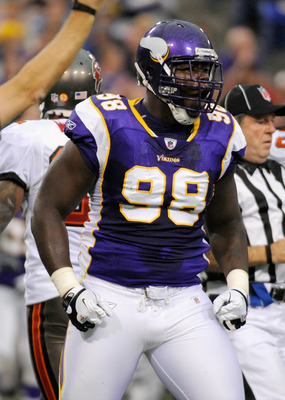 Hannah Foslien/Getty Images
The Minnesota Vikings resigned Letroy Guion to a three year deal because they see a ton of potential.
Backing up Kevin Williams, Guion was able to make 21 tackles in 2011 to Williams 38.
With Williams turning 32 this summer, Guion will be getting more and more reps.
He has the capability to become a force in the league and he can make his presence felt this season.
Oakland Raiders ILB Travis Goethel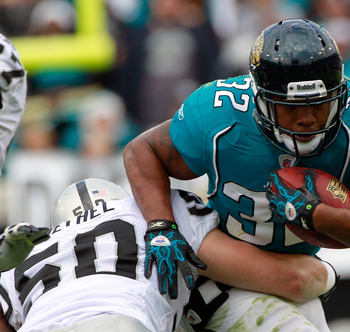 Sam Greenwood/Getty Images
When starting middle linebacker Rolando McClain was found guilty of the charges he faced in Alabama, it brought the reality that Travis Goethel could be the starter in the Monday night opener against San Diego.
Forget the legal ramifications. McClain will be answering to Roger Goodell.
Goethel was the starter in OTA practice.
There really aren't many other possibilities.
Without many draft picks, the Raiders will most likely be forced to go with Goethel.
Goethel missed his entire rookie season in 2011 with a knee injury.
He will be expected not only to start, but he has some pretty big shoes to fill.
Goethel has a unique opportunity in front of him.
What will he do with it?
San Diego Chargers TE Kory Sperry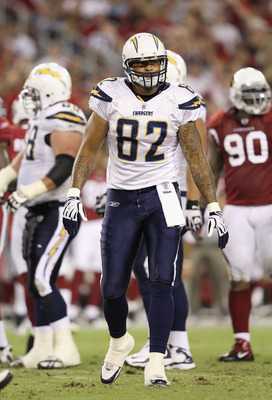 Christian Petersen/Getty Images
Antonio Gates hasn't played in all 16 games of an NFL season since 2009.
He definitely still has some game left but consider this: at the start of the 2012 season Gates and backup tight end Randy McMichael's combined age will be 65 years old.
The Chargers need a young tight end to start catching some passes.
Sperry has all of the tools: size, speed, and hands.
Now he just needs to learn his assignments and make some plays.
If he does, quarterback Phil Rivers will continue to go back to him.
Keep Reading