A Look at Each White Sox Hitter's Start to the 2012 Season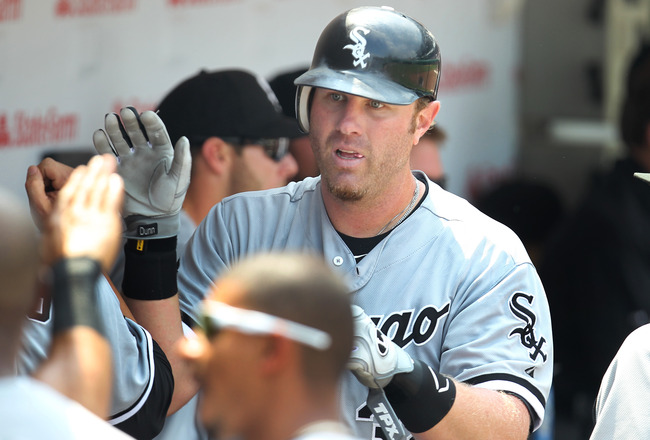 Mike McGinnis/Getty Images
The Chicago White Sox are finally back to .500 after their sweep of the Chicago Cubs this past weekend. Jake Peavy's fifth win of the season on Sunday marked the fourth win in a row for the Sox, and now, they are scheduled to play the Minnesota Twins at home starting Tuesday, May 22.
While the White Sox are looking similar to the way they started last year in the sense that their pitching is good but their offense is struggling to catch up (with some blown saves sprinkled in here and there), there are plenty of positives to look at so far. Many of those positives are in the starting rotation, but this article is going to look at the Sox position players, or basically their lineup.
Their lineup, from top to bottom, is very inconsistent, featuring many nice surprises, but also many huge disappointments (so far). I'm going to go through each hitter on the White Sox and list some pros, cons and what we can expect from them going forward (which includes predictions).
Ajejandro De Aza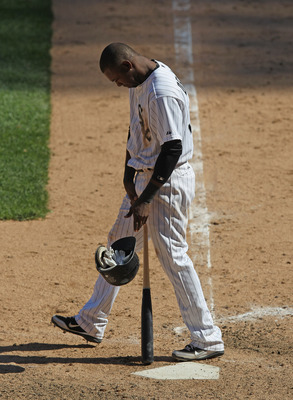 Jonathan Daniel/Getty Images
Stats: .288 AVG, 3 HR, 13 RBI, 8 SB, 4 CS, .368 OBP
Pros
Alejandro De Aza is having a nice start to the season. He is playing very well in center field, and that was to be expected coming into the season. His batting average and on-base percentage are where about where you want them to be for his first season as a starter, and he's already hit nine doubles, three triples and three homers on this young season.
Cons
While he does have eight stolen bases, he is only stealing at a clip of 67 percent. That isn't where you want your lead-off hitter to be, but it isn't necessarily a huge deal, especially at this point in May. Also, he has struck out 36 times up to this point. That really isn't too bad, but it's worth mentioning. Overall, De Aza has looked very good in 2012.
Predictions
I think De Aza can definitely keep his early performances up. He is not an average player having a good start. He is a actually a pretty good hitter and fielder who can improve even more as the season goes on. I think De Aza finishes the season with a batting average over .300 and more than 30 stolen bases.
Gordon Beckham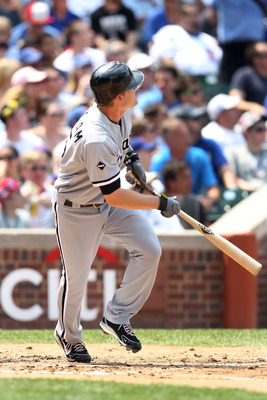 Mike McGinnis/Getty Images
Stats: .207 AVG, 4 HR, 13 RBI, 1 SB, 1 CS, .273 OBP
Pros
Beckham is a good fielder at second base. He also hit that one home run that won us that game one time.
Cons
If Gordon Beckham wasn't actually supposed to be a good player, than he would probably have been traded, cut or moved to the bench a long time ago.
Beckham simply has never been a good hitter since his great rookie season. His .207 average is awful, and his .273 on-base percentage is nearing Alex Rios-type levels, and that's never good.
Overall, he has looked good in the field, but lost at the plate. If this continues, I don't see how Beckham is still on the team next year.
Predictions
I think Gordon will play a little better for the remainder of the season since he can't get much worse. Maybe he can even get his batting average up to .250 by the end of the season, and while I think it can happen, I wouldn't bet on it. Look for .240, 12 homers and hopefully, a .325-plus OBP.
Adam Dunn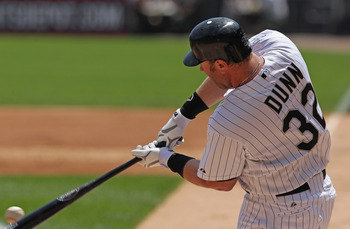 Jonathan Daniel/Getty Images
He's not Dunn yet.
Stats: .247 AVG, 14 HR, 32 RBI, .390 OBP
Pros
Dunn is probably having one of his best seasons of his career. He's on pace for 54 homers and 123 RBIs, and a .247 batting average is basically .350 for Adam Dunn. He's taking a lot of walks and he's playing well at first base when Paul Konerkoneeds a break. If his pace keeps up, I may go as far as to say his signing was a good decision (actually, if he hits 50 homers, I will definitely say that).
Cons
He is still striking out all the time. It's basically a strike out or home run for Dunn. While that has worked out very well for him so far, it may lead him to go into another slump like he did for all of 2011.
Predictions
I think Adam Dunn might go into a slump where his average is unbearable and he doesn't hit many home runs because of his approach at the plate. However, overall, I see Dunn continuing to have a good year and finishing with at least 40 home runs.
Paul Konerko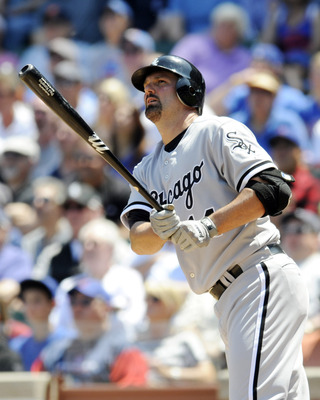 David Banks/Getty Images
Stats: .367 AVG, 8 HR, 23 RBI, .453 OBP
Pros
Paul Konerko is continuing his recent three-year stretch of purely dominant play. His .367 average is simply insane for a 36-year-old who's slower than Adam Dunn. He's still playing well at first base, and over his last seven games, he is batting .625. Is it possible that Konerko is just warming up?
Cons
There really aren't any bad things to say, but his eight homers and 23 RBIs aren't as high as you would expect. For a guy like Konerko to be hitting .367 in late May, I would think he'd be hitting at least 10 homers and have 30-35 RBIs. He and Dunn are probably just Yin and Yang this season, though. Dunn hits the home runs, and Konerko hits all the other ones.
Predictions
I'll say that Konerko finishes with a batting average under .367. Probably. And that he hits at least 30 home runs. Or 35. Or...you know, Konerko will most likely just defy the odds once again and hit .330 with 30 homers and 100 RBIs. There, book it.
AJ Pierzynski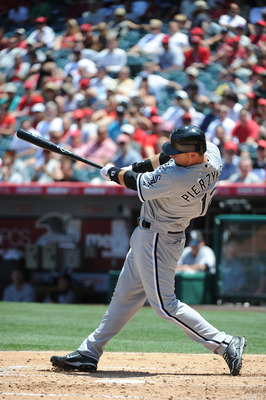 Lisa Blumenfeld/Getty Images
Stats: .301 AVG, 6 HR, 27 RBI, .338 OBP
Pros
AJ is off to a great start. The fact that he has more RBIs than Paul Konerko really surprises me, but that's a very good thing for AJ. His six home runs and .301 batting average are phenomenal for him. This, like Adam Dunn and if kept up, might be AJ's best season so far.
Cons
AJ will never be the best defensive catcher and will never throw out a ton of base stealers, so it's not like his average contributions in those categories are surprising. Also, his average did go down from near .400 to .250 during the middle of this short 2012 season, but overall, there is almost nothing to complain about with AJ.
Predictions
While it is highly unlikely that he keeps his home run pace up, or for that matter, his RBI pace up, I think he can continue to have a great season. I would not hesitate to see him keep a batting average of over .290 and finish with over 12 home runs and over 75 RBIs.
Alex Rios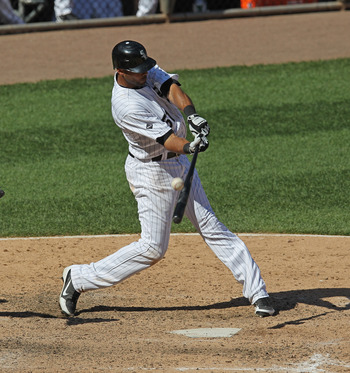 Jonathan Daniel/Getty Images
Stats: .272 AVG, 1 HR, 15 RBI, 4 SB, 3 CS, .331 OBP
Pros
Considering that Alex Rios is hitting above .200 and has not been one of the worst players in baseball, I would say that is a huge pro so far in 2012. Also, his .272 average is pretty solid for the White Sox at sixth in the batting order. His fielding in right field has been good overall as well.
Cons
He has one home run and 15 knocked in. Again, the fact that we are talking about Alex Rios makes these numbers somewhat passable, but these power numbers are still awful for a player with his contract. Also, his four stolen bases out of seven are really bad for what should be a "five-tool player." At this point, Rios probably isn't even a one-tool player.
Prediction
I think it's safe to say that Alex will probably hit another home run this season, but you might not want to bet on it just yet. I think Rios will keep his average around where it is now, maybe see it drop to around .265 by season's end, and he'll also keep his awful stolen-base percentage and home run rate.
Dayan Viciedo
Jonathan Daniel/Getty Images
Stats: .248 AVG, 7 HR, 15 RBI, .271 OBP
Pros
The pros for Viciedo are that he has really turned it on lately, hitting .361 with four homers and 10 RBIs in his last 10 games. His seven homers overall are not too shabby either, and his fielding in left field has been good considering Viciedo is not known for his glove.
Cons
Viciedo had a really tough start to the 2012 season, hitting near .200 for a long time. Also, his 15 RBIs are the same as Alex Rios (on seven homers, no less), so that is definitely a con. His .248 average isn't awful for a first-year starter in the early part of the year, but his .271 OBP needs a lot of work. Dayan has improved his ability to see pitches, but he needs to take more walks still if he wants to become a big star in this league.
Predictions
I think Viciedo will not keep the pace of his recent hot streak up, but I think it is a sign that he has gotten over his slump to start the season. He can probably keep raising his batting average up to around .280 and then hopefully finish the season with an average above .270. Also, Viciedo is known for his power, and I think he can still reach about 25 home runs this year, with around 70 RBIs.
Alexei Ramirez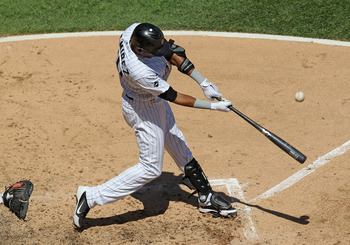 Jonathan Daniel/Getty Images
Stats: .207 AVG, 1 HR, 17 RBI, 3 SB, 1 CS, .231 OBP
Pros
Alexei Ramirez has a pretty good glove at shortstop.
Cons
Ramirez has been absolutely awful at the plate so far this season. A .231 on-base percentage is worse than Alex Rios' on-base percentage from last year, which proves that you have serious problems. I am surprised that Ramirez has only one home run so far this year because that is a really low number for a guy who usually hits around 15-20 a year.
Yes, I know that Ramirez usually has slumps at the start of the year due to cold weather, and he will probably pick it up soon. But, these numbers are simply awful, and the weather has started to get a lot better, so we'll see if this is a "cold-weather slump" or a real slump.
Predictions
I definitely think Ramirez will pick it up sometime in the next few weeks. He'll probably go on a tear in that stretch because I think he'll naturally get his batting average up to at least .260, which would almost require a tear. I think Alexei will finish with at least a .265 average with at most 16 home runs.
Brent Morel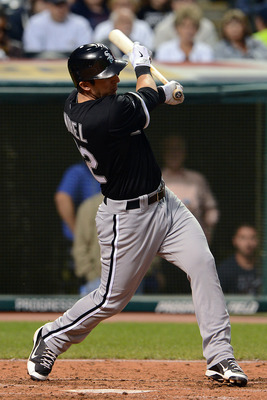 Jason Miller/Getty Images
Stats: .177 AVG, 0 HR, 5 RBI, 4 SB, 1 CS, .225 OBP
Pros
He won't be playing for the foreseeable future.
Cons
Morel has been one of the worst hitters in baseball to start 2012, and part of that makes me mad. Morel had that amazing September last year with a ridiculous amount of home runs, yet he can't even manage one this year? It just gets me angry.
Morel's .177 average is higher than Adam Dunn's 2011 average, so there's a plus. Obviously, there's nothing good to say about his hitting, but at least he's on the DL now and he won't be striking out for the Sox for at least 15 days.
Predictions
Hopefully, Morel finds a way to stay on the DL for the rest of the season, but I don't think that's likely. He'll probably get healed up and come back and then share time at third base with Orlando Hudson, who will definitely hit better than Morel has thus far. Morel will most likely get his average up above .200, but I'm going to go out on a limb and say that he finishes 2012 with zero home runs.
Keep Reading

Chicago White Sox: Like this team?