Dorin Dickerson: Can He Be Productive in Chan Gailey's Offense?
May 23, 2012

Andy Lyons/Getty Images
After rookie training camp, the Buffalo Bills signed Dorin Dickerson to their roster. 
There are still going to be several cuts made throughout training camp and preseason, but if Dickerson ends up making the final 53-man roster, could he be a factor in Chan Gailey's offense? 
Dickerson was a workout warrior at the 2010 NFL Scouting Combine. 
Measured at 6'4" and 224 lbs, this athletic freak ran a 4.40 40-yard dash and recorded a 43.5" vertical jump.  He was drafted by the Houston Texans in the 7th round of the 2010 NFL draft and has since spent time on practice squads for the Patriots and Steelers before finding his way to Buffalo. 
Part of the reason that he's failed to find time on the field is because he's more of a jack-of-all-trades type of player, and it appears that he has not yet mastered any one position.  In college, he served as a WR, TE and LB, and the Buffalo Bills currently list him as a fullback. 
Common sense would say that if he's bounced around to that many squads in such a short period of time, he's probably not good enough to succeed in the NFL and will be lucky to even make the Buffalo Bills' roster.  However, common sense would also say that a 7th-round draft pick from Kentucky won't be the first WR to ever record back-to-back 1,000 yard seasons for the Buffalo Bills. 
Buddy Nix has an amazing ability to find gems that are cast-offs from other NFL squads, and Chan Gailey has an amazing ability to make those gems shine. 
Scott Chandler, Kraig Urbik and Chad Rinehart were all unwanted players with limited experience before Buddy Nix plucked them up, and all three were important members of the Buffalo offense in 2010.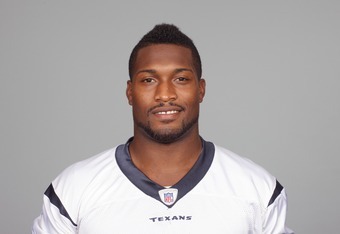 Handout/Getty Images
Could Dickerson be the next cast-off to prove his former coaches wrong?
I think he can. 
The main reason I think that, is that Chan Gailey values versatility in the members of his team.  He likes players that can line up in multiple locations so that the defense doesn't know what type of formation they're up against and can't make the appropriate substitutions. 
C.J. Spiller and Fred Jackson could both be in a huddle, causing opposing defensive coordinators to expect a run play, only to watch as they break from the huddle and split out wide in an empty back set.  On the next play, David Nelson could shift from receiver to fullback and help lead the way for a run by Fred Jackson. 
In Chan Gailey's offense, Dickerson's athleticism and versatility could be a huge advantage. 
If he is a capable blocker and has decent hands, the defense won't know what to expect when he's on the field.  Is he going to serve as the lead blocker on a running play?  Is he going to line up as a halfback on a passing play?  Is he going to stay in as a blocker (either in the backfield or in-line)? 
Could Chan decide to mix it up and hand him the ball a few times like the Patriots did with Aaron Hernandez late in the season? 
The possibilities are endless with this guy.  I don't expect him to put up Aaron Hernandez type numbers, but I think that Chan Gailey will be excited to have another toy to play with. 
Don't be surprised if Dickerson spends a significant amount of time on the football field during the 2012 season.