The Best Teammates Who Are Polar Opposites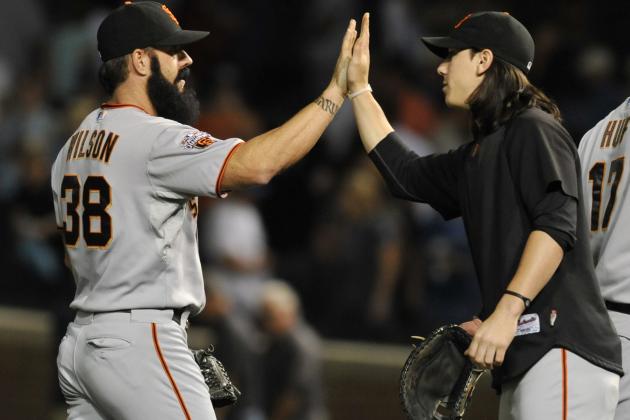 David Banks/Getty Images

Some teammates seem like they were were just meant to be. You know what I'm talking about—the Tom Brady's and Wes Welker's of the world are the exactly the opposite of what I'm talking about.
Sometimes athletes just come together in some kind of cosmic way and other times it just doesn't work out in quite the same way.
Let's take a look at the best teammates in sports who are polar opposites.
Begin Slideshow

»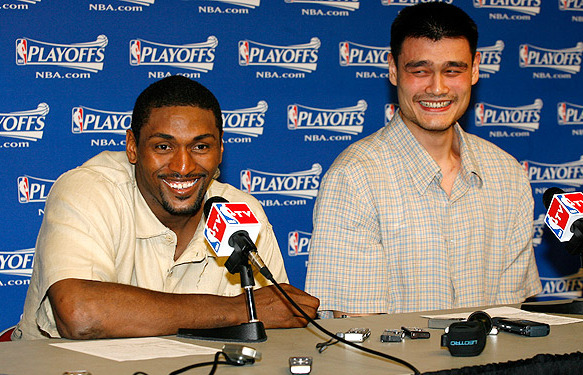 Image via TheTruthSports
Way before he was Metta World Peace, but after he was the dude that beats up fans, Ron Artest played one season with Yao Ming and the Houston Rockets.
They made the playoffs and lost to the Lakers in the second round. Obviously not a remarkable moment in time, but Artest and Ming were the NBA's most adorable odd couple that season.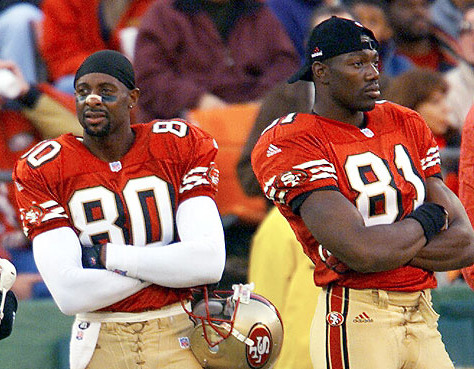 Image via USA Today
Legendary 49ers wide receiver Jerry Rice and Terrell Owens played four seasons together in San Francisco. Rice was obviously at the tail end of his career and Owens was just getting his start.
Who knows what the true nature of their relationship was, but there were no reports of animosity between the two. T.O. likely kept the peace because he idolized Rice growing up, but he certainly didn't try too hard to emulate his career.
Rice played the first 15 seasons of his career with one team, won three Super Bowls and is arguably the greatest NFL player ever. Owens entire career was 15 seasons, he played for five different teams and never won a Super Bowl.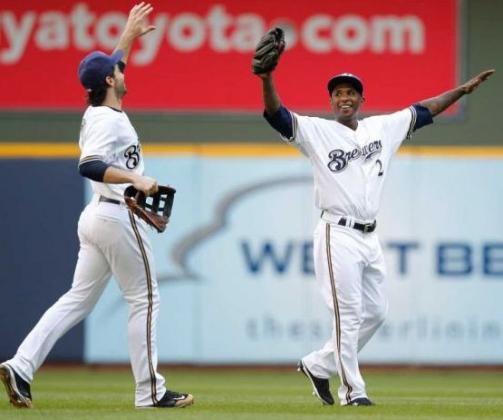 The Brewers Ryan Braun and Nyjer Morgan have only been playing together since 2011, so the best is yet to come from both of them. But, despite losing Prince Fielder, Brewers fans have to be excited about the potential of their young team.
Braun and Morgan aren't exactly on the same level. Braun is a four time All Star and the 2011 NL MVP and Morgan is a (potentially) reformed problem child who may have found his forever home in Milwaukee—although, time will tell on that one.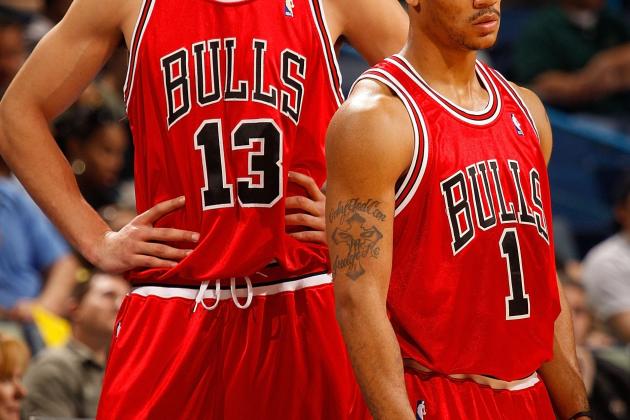 Chris Graythen/Getty Images

Bulls stars Joakim Noah and Derrick Rose have both had promising starts to their respective careers. They have yet to make much of a splash in the post season, but the general consensus is that a championship is on the horizon if they can stay healthy.
The two play well together, but their backgrounds couldn't be more different. Noah's father was a French singer and one time professional tennis player and his mother was a model and Miss Sweden 1978. He was born in New York City and attended a few prestigious high schools before playing college ball at Florida.
Rose was born and raised in Englewood, one of the most dangerous neighborhoods on the South Side of Chicago. Both parents were basketball players and Rose was a remarkable talent from a young age and played his college ball at Memphis.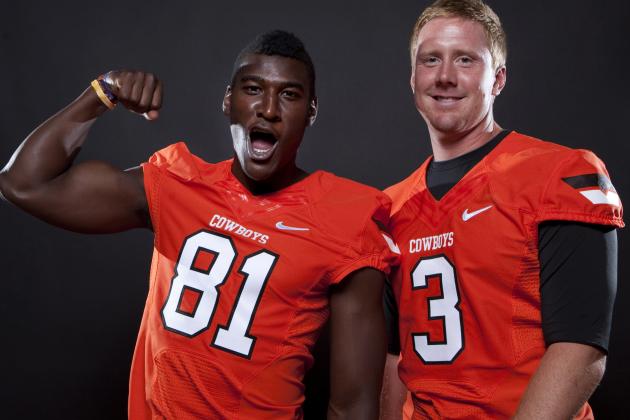 Image via NewsOK
Former Oklahoma State teammates Brandon Weeden and Justin Blackmon were both selected in the first round of the 2012 NFL Draft, but who knows where one would be without the other.
Oklahoma native Weeden was an all-state baseball player who was drafted in the second round of the 2002 MLB Draft and played four years in the minors before injuries convinced him to give up the game and give football another try.
Blackmon was born in California but played his high school ball in Oklahoma. He holds a number of NCAA records, but was listed as just the No. 91 wide receiver prospect in the class of 2008.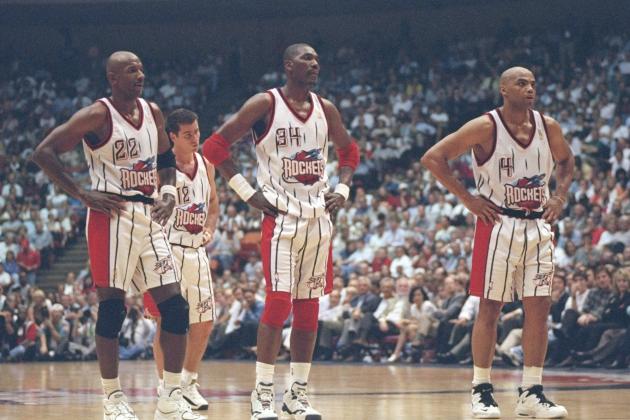 Stephen Dunn/Getty Images

Clyde Drexler, Hakeem Olajuwon and Charles Barkley all came together on the Houston Rockets in the late 90's in hopes of winning one last title before they all retired. Drexler and Olajuwon have three titles between them, but Sir Charles retired ringless.
It was Barkley who joined the other two on the Rockets in 1996, but his best days were long behind him. Barkley had worked hard and played hard his entire career and had to contend with countless injuries toward the end of his career.
The three just didn't mesh. Olajuwon was a devout Muslim, Drexler was a devout family man and Barkley was a devout booze hound and skirt chaser.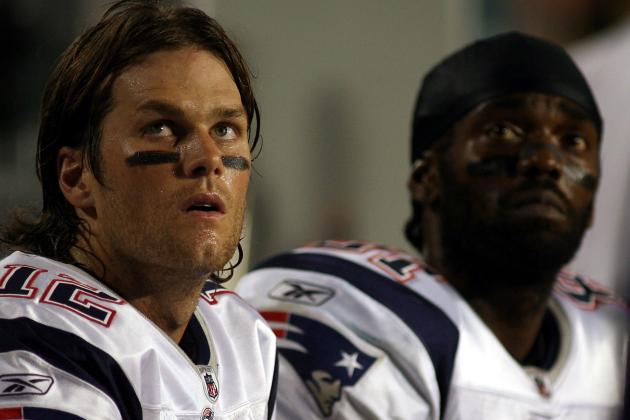 Marc Serota/Getty Images

Before being traded by the Raiders to the Patriots in 2007, Randy Moss spent nine seasons with the Vikings and Raiders as the NFL's most physically gifted, yet under achieving wide receiver.
Pairing Moss with quarterback Tom Brady, the most overachieving sixth round draft pick in history, didn't seem like a natural fit to most people who aren't Bill Belichick.
The two didn't win a championship together, but were together for three of the most statistically productive years of their respective careers.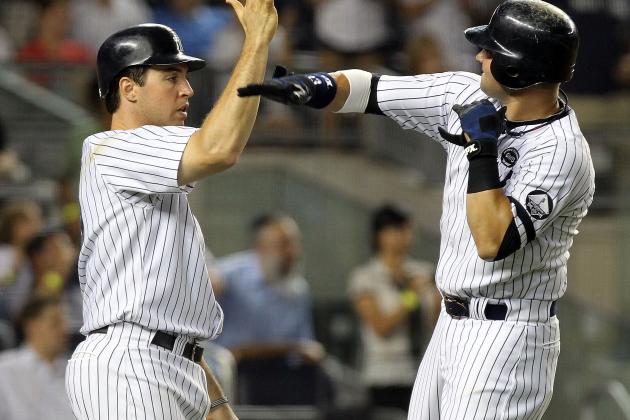 Nick Laham/Getty Images

Yankees first baseman Nick Swisher and third baseman Mark Teixeira both came to New York in 2009. The two are well known to be besties, despite having conflicting personalities.
A 2012 ESPN article referred to Swisher and Teixeira as the Yankees resident "odd couple." Calling Teixeira "as reserved as a CPA" and Swisher "as animated as a bobblehead."
The half-dynamic duo were both part of the Yankees World Series winning team in 2009.
Former Devils defenseman Scott Niedermayer and winger Claude Lemieux combined for a total of eight Stanley Cups. Four of their championships were shared in the Garden State.
Over his career, Niedermayer was known as a finesse defenseman would was more likely to beat you with a goal than with his fists.
Adversely, Lemieux was a winger who was known as a bruiser and a brawler who usually doubled his points in penalty minutes.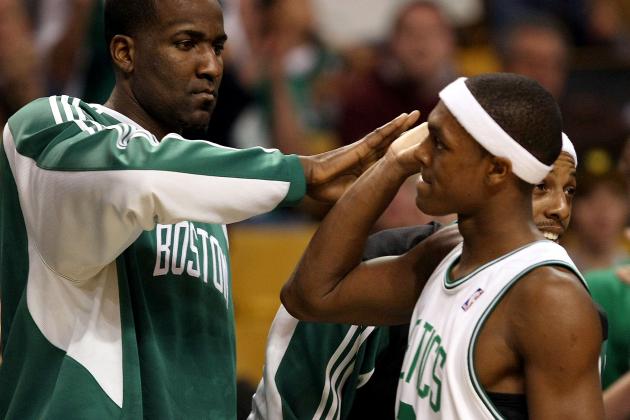 Elsa/Getty Images

When the Celtics traded away Kendrick Perkins and Nate Robinson to the Thunder for Jeff Green and Nenad Krstic in 2011, the general consensus seemed to be that the Thunder came out way on top in the deal.
Not only did they trade away more talent than they received in return, they also traded way star point guard Rajon Rondo's BFF and sent him into a season-long funk that took him almost a year to get out of.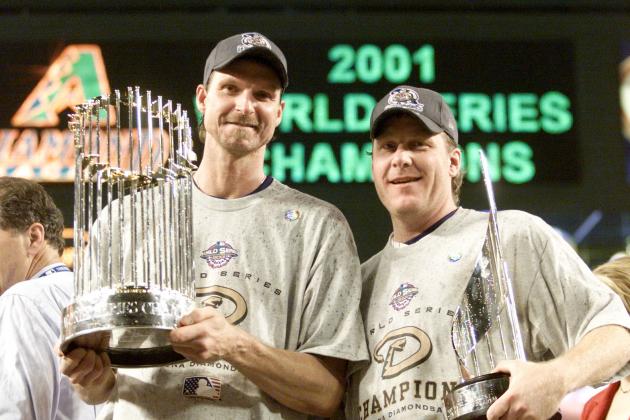 Jed Jacobsohn/Getty Images

Randy Johnson and Curt Schilling were two of the greatest MLB pitchers of a decade. But they found themselves in the same place at the same time in Arizona in 2001.
"The Big Unit" is a California boy, a 10x All-Star and a five time Cy Young Award Winner. Schilling is an Alaska native, a 6x All-Star and a no time winner of the Cy Young Award.
A. Messerschmidt/Getty Images

Quarterback Peyton Manning and wide receiver Marvin Harrison were both drafted by the Colts in the first round of the NFL Draft, two years apart. They had one of the most statically successful decades for a quarterback and wide receiver in NFL history, but only won one Super Bowl together.
Manning was obviously a legacy quarterback at Tennessee, the son of legendary Saints quarterback Archie Manning. Harrison attended Syracuse with Donovan McNabb.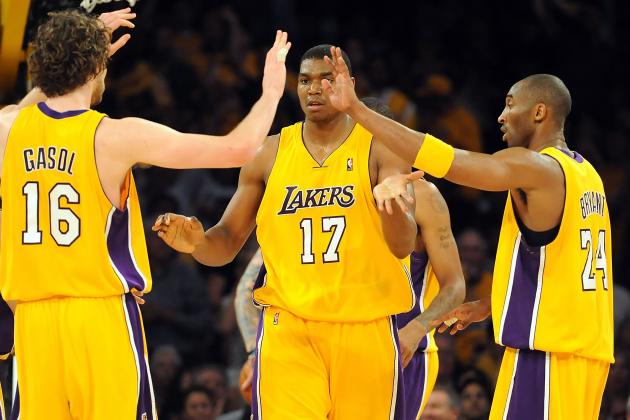 Harry How/Getty Images

After Kobe and Shaq pulled in a few championships, the Lakers were charged with rebuilding after Shaw ditched town. And, honestly, they did a pretty good job considering the circumstances.
Kobe and Shaq won three NBA championships together and Kobe, Bynum and Gasol won two. But the dynamic never quite worked between the three of them, and it's become more obvious in recent seasons.
Gasol and Bryant have pretty distinctive backgrounds, but Bryant and Bynum should've had more in common than they did. Bryant and Bynum were both drafted by the Lakers out of high school, but Bynum just didn't have the maturity and killer instincts that Kobe did.
Jim Rogash/Getty Images

One time Red Sox slugger Manny Ramirez and legendary DH David Ortiz were both members of the two World Series Winning teams of the 2000's. They are actually both from the Domincan Republic, but their similarities end there.
Ramirez went on to become one of the most reviled players in Red Sox history while Big Papi went on to become one of the most revered.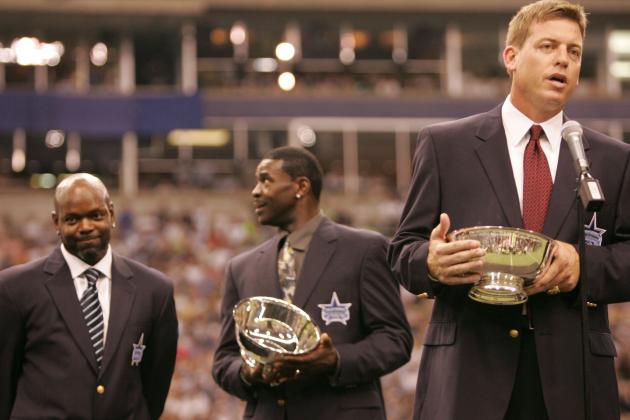 Ronald Martinez/Getty Images

Running back Emmit Smith, wide receiver Michael Irvin and quarterback Troy Aikman combined for a total of nine Super Bowl championships and played all but one of their total 25 seasons with the Cowboys.
There was next to nothing that these three had in common and they were the one example of Jerry Jones catching lightning in a bottle.–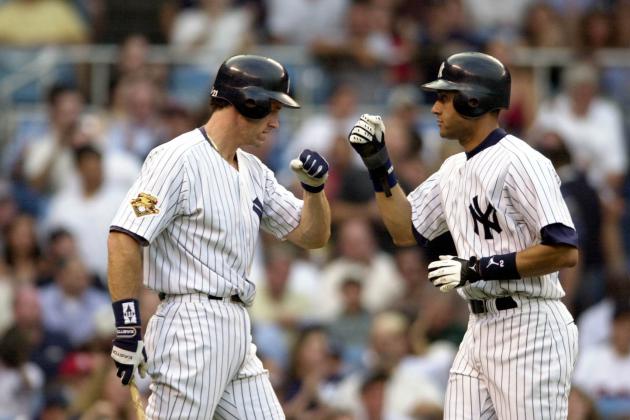 Ezra Shaw/Getty Images

Paul O'Neill and Derek Jeter are both Yankees greats who won five world series together. Ohioan O'Neill and Jersey boy Jeter never had much in common, but developed a friendship nonetheless.
In 2007, even Alex Rodriguez commented that he was on the outside looking in on the one-time relationship that Jeter had with O'Neill and Bernie Williams.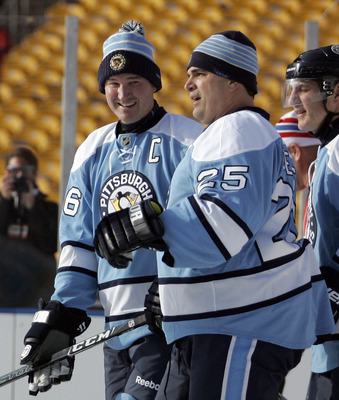 Image via PostGazette
If you're not a hockey fan or you're too young to remember the Pittsburgh Penguins of the early 90's, well then you've missed out on something spectacular.
The Pens were absolutely stacked with countless future hall-of-famers and, aside from Jaromir Jagr, there were no greater talents among them than Mario Lemieux and Kevin Stevens. Lemieux was drafted by the Penguins in 1984, with the entire future of the franchise resting on his French Canadian shoulders. Kevin Stevens was drafted out of Boston by the Pens three years later with similar expectations.
Both of their careers were mired by major injuries, but Stevens and Lemieux combined for some of the most productive seasons between a left wing and center in NHL history. It's hard to even imagine what their careers would have looked like had they been graced with the health and longevity of Wayne Gretzky and/or Mark Messier.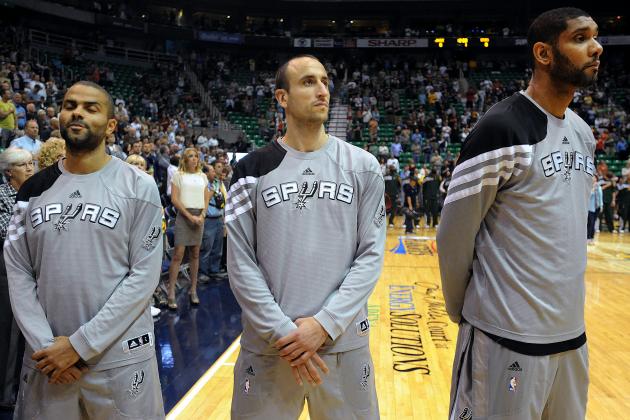 Steve Dykes/Getty Images

Over the last two decades, there's been no more under-the-radar dynasty in sports than the San Antonio Spurs quiet dominance in the NBA led by Tim Duncan, Tony Parker and Manu Ginobili .
They've done it as a trio three times, and Tim Duncan rocked it out before the other two arrived way back in 1999. They have been one of the most productive trios in NBA history and have managed to get along with each other as well.
It's not like they come from a similar background or anything. Duncan is an American who was born in the U.S. Virgin Island and attended Wake Forest. Parker was born in Belgium, but raised in France and didn't attend university before being drafted in 2001.
And Ginobilli was born in Argentina to an Italian-Argentine family of basketball players. Both Ginobilli and Parker idolized Michael Jordan growing up and were both selected by the Spurs in the second round of the draft—two years apart.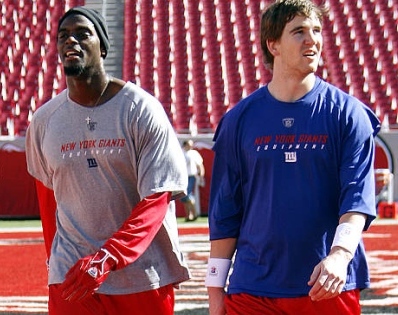 Image via NY Daily News
There are few quarterback/wide receiver duos more unlikely than Giants quarterback Eli Manning and (former) wide receiver Plaxico Burress.
Manning was obviously from a family of successful athletes and attended Ole Miss. Burress is from Mike Vick's neighborhood in Virginia and attended Michigan State. Both were first round draft picks.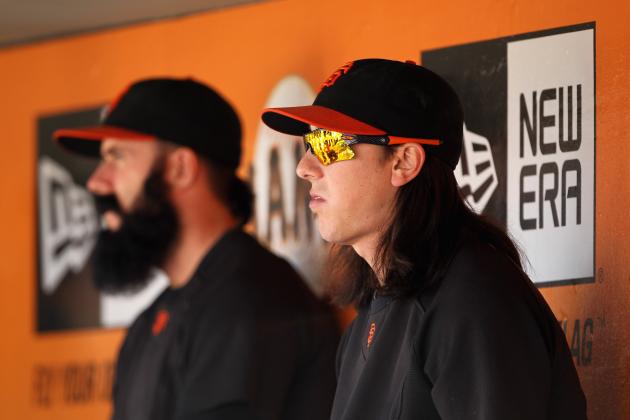 Ezra Shaw/Getty Images

Relief pitcher Brian Wilson debuted with the Giants in 2006 and ace Tim Lincecum followed just a year later. Instantly they became one of the most adorable pairs in sports.
Wilson successfully shifted his persona from frat boy faux hawk to lushly bearded, spandex donning weirdo. While, Lincecum has always been the Mitch Kramer lookalike who enjoys a doobie every now and again.
The two were both members of the World Series winning Giants team in 2010.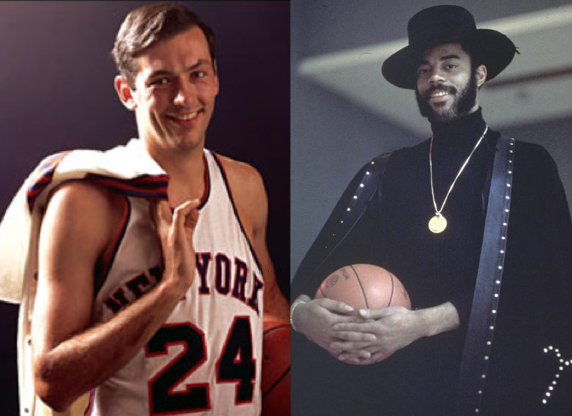 Bill Bradley and Walt "Clyde" Frasier were hilariously awkward looking teammates during the Knicks only two championship seasons…ever. The most recent championship was seven years before I was even born, but it must have been a great time for Knicks fans.
Bradley and Frasier are one of the oddest odd couples in sports history. Bradley came from a very privileged upbringing and was one of of the top high school recruits in the nation—he initially chose to attend Duke on scholarship, but an injury cost him his scholarship and he attended Princeton instead.
Frazier was the eldest of nine children and was born in raised in Atlanta, Georgia. He learned to play basketball on a dirt playground and was the quarterback of his high school football team. Frazier played his college ball at Southern Illinois.
The two were elected to the NBA Hall of Fame four years apart.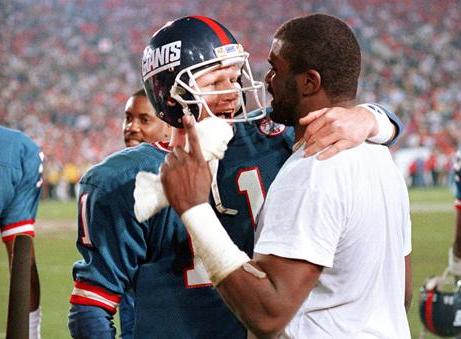 Both retired quarterback Phil Simms and linebacker Lawrence Taylor played their entire careers with the New York football Giants…together. Well, Simms had two seasons to get acquainted with the NFL before Taylor joined him.
They won two Super Bowls as teammates and that jewelry is about the only thing they have in common. Taylor was a hard living tough guy who has struggled with drugs/alcohol abuse and has had his share of run ins with the law.
And, well, they don't call Simms the "Choir Boy" ironically.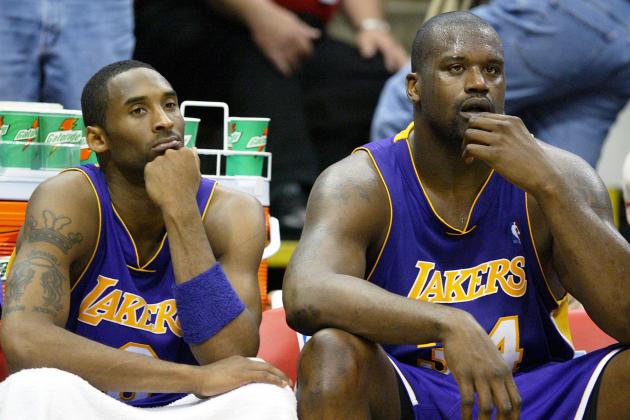 Jed Jacobsohn/Getty Images
Kobe Bryant & Shaquille O'Neal
The inability of one time Lakers teammates Kobe Bryant and Shaquille O'Neal to coexist may have cost them both at least two championships. They had at least two things in common: A combative nature and a massive ego. Eventually their egos got too big for Los Angles.
But that's where the similarities end. Kobe isn't funny, Shaq is hilarious. Kobe has played for one team his entire career, Shaq played for six. Kobe is a killer whose sole focus is basketball, Shaq was not. Kobe is always at his physical peak or desperately trying to get there, Shaq was not.
They're both Hall of Fame bound and won three consecutive championships together, but these two are polar opposites.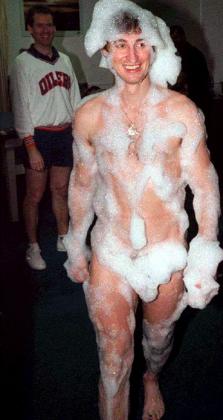 Image via SI
Mark "The Messiah" Messier and Wayne "The Great One" Gretzky played together on the Oilers for four of their five Stanley Cup seasons in the 1980's. They are still the best one-two punch in the history of the NHL.
Gretzky may have overshadowed Messier on the score sheet and in the history books, but the reality is that Messier was an imposing physical force on the ice and the undisputed leader in the Edmonton locker room.
They got along well, but couldn't have been more different—lucky for Oilers fans, they complimented each other perfectly.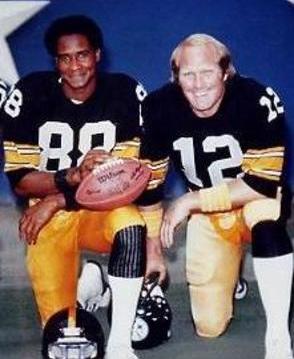 Retired quarterback Terry Bradshaw and wide receiver Lynn Swann were both members of all four Super Bowl winning Steelers team of the 1970's. That might be all these two have in common.
Bradshaw a southern boy from Louisiana who may lack a little in smarts, but makes up for it in personality. While Swann is an educated California conservative who has been pursuing a career in politics.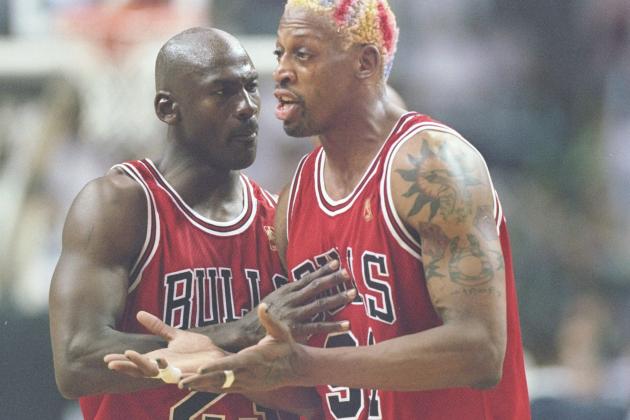 Andy Lyons/Getty Images

Michael "His Airness" Jordan and Dennis "The Menace" Rodman, along with Scottie Pippen, won three championships together in Chicago, but they didn't do it as friends. Outside of basketball, Jordan and Rodman had one thing in common—gambling—and they liked to do it separately.
Rodman's antics rubbed Jordan and Pippen the wrong way from the start and it was clear they weren't spending the offseasons together. Pippen once claimed he and Jordan never had a single conversation with Rodman—a claim that was verified by Rodman in 2011.