NBA All-Defensive Team 2012: Grading First and Second Team Picks
May 23, 2012

Stephen Dunn/Getty Images
The NBA released the rosters for its all-defensive squads on Wednesday, and there were quite a few head-scratchers. 
For example, how did Defensive Player of the Year Tyson Chandler get left off the first team? How in the world is that even possible? 
Unlike the DPOY, which is decided by the media, the NBA All-Defensive Team is voted upon by all 30 coaches in the league.
Clearly, the coaches haven't been paying attention because several of their selections were way off-base.
Here are grades for each of the 10 picks on the first and second team.
First Team
LeBron James, Small Forward, Miami Heat - A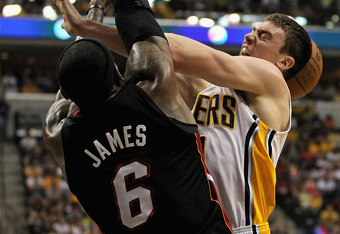 Jonathan Daniel/Getty Images
No argument here. He can lock down anyone from a power forward to a point guard and still has the energy to score 27 points per game.
His outstanding anticipation led to 1.9 steals per game during the regular season. Not surprised he was the leading vote getter. Nobody is more versatile in the league right now.
Dwight Howard, Center, Orlando Magic - F
You shouldn't qualify for a regular season award when you miss 12 games in a 66-game season, but coaches still believed he was more deserving than Chandler.
His 14.5 rebounds, 2.1 blocks and 1.5 steals are certainly worthy of first-team status—just not when you miss almost 20 percent of the season.
Serge Ibaka, Power Forward, Oklahoma City Thunder - A+
Typically this is a spot reserved for superstars, but there is no question Ibaka played like one on the defensive end of the floor this season.
He led the NBA in blocks (3.65) by over 1.5 per game and averaged 7.5 rebounds as well. 
Did I mention he only played 27 minutes a night?
It was an outstanding year for Ibaka, and a well-deserved honor.
Chris Paul, Point Guard, Los Angeles Clippers - B-
He may have led the NBA in steals (2.53), but he took too many plays off to be on the first team. He was doing so to save his knees, but that doesn't mean CP3 should get a free pass onto the first team.
Rajon Rondo should be here.
Tony Allen, Shooting Guard, Memphis Grizzlies - A
The stingiest one-on-one defender in the game makes life miserable for opponents and ranked fifth in the league in steals with 1.79.
Just like with Ibaka, I have no problems with a role player getting his due. 
Second Team
Tyson Chandler, Center, New York Knicks - F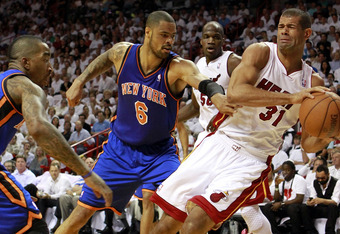 Marc Serota/Getty Images
He should have been on the first team, and it makes you wonder how many coaches completely zone out the rest of the NBA during the season.
The Knicks were in the top 10 in field goal defense (44 percent) because of Chandler's shot-blocking presence inside. A year after finishing 26th in the league, there is no question Chandler had an enormous impact on the team's defense.
Rajon Rondo, Point Guard, Boston Celtics - B
He certainly deserves to be recognized, even if he got snubbed from the first team.
His insane quickness and long arms make him incredibly difficult to dribble around and the result was 1.8 steals per game. No team allowed fewer assists per game than the Celtics (18.7).
He was also one of the main catalysts for the Celtics to finish second in points allowed this season at 89.3.
His teammate may have helped as well...
Kevin Garnett, Power Forward, Boston Celtics - B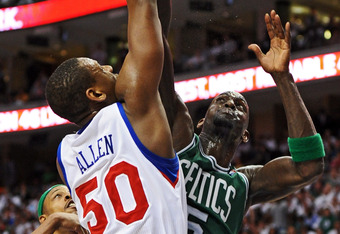 Drew Hallowell/Getty Images
Somehow the 36-year-old continues to be one of the most intimidating forces in the paint. His presence allowed the Celtics to secure the best field goal percentage defense (41 percent) in the league.
He can play tight D out on the perimeter as well, something you can't say for all of the big men on this list.
Luol Deng, Small Forward, Chicago Bulls - A
Deng was the leader of this team once Derrick Rose went down and he led by example with his defensive intensity.
He was one of the main reasons Chicago finished the regular season allowing the fewest amount of points (88.2) in the entire league.
Kobe Bryant, Shooting Guard, Los Angeles Lakers - D
Bryant makes the list on his name alone. 
His 1.2 steals per game were his lowest mark since his second year in the league. He sat on the perimeter and gambled for the steal far too often, often forcing teammates to pick up the slack when his man blew by him. 
Bryant rarely put out 100 percent effort on the defensive end unless he had to, a trait that doesn't belong on an all-defensive team.