Gabe Carimi vs. Derek Sherrod: Which 2nd-Year OT Has More Potential?
May 23, 2012

Two tackles entered the 2011 NFL Draft, were selected within four picks of each other by teams in the same division and were placed on injured reserve during their rookie season.
Who knew Gabe Carimi and Derek Sherrod had so much in common?
Sherrod's season ended when Kansas City linebacker Tamba Hali inadvertently rolled up his leg, giving him a double break. Carimi went down with a dislocated knee which took too long to heal.
Neither of them is ready to practice.
Both are now coming into their second year, their roles a little uncertain.
So we have two first-round picks, both injured and both looking to win back a job.
Which one has more potential? Which one has a shot at reaching it now?
Both are very good players—athletic, solid as both run and pass blockers, strong. I believe both are capable of playing left tackle in the NFL.
It's not the ability which will make the difference in reaching their potential anytime soon. It's situation.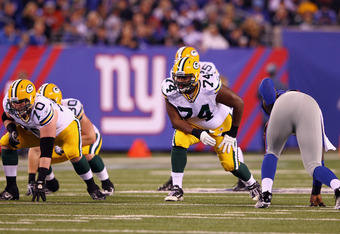 Al Bello/Getty Images
Sherrod is behind Marshall Newhouse who, after a shaky start to his career (ironically also marred by injury), took up the fallen flag at left tackle and looked very good in Sherrod's absence.
Carimi was still getting his feet under him when he hurt his knee. Nobody stepped up in his absence—J'Marcus Webb was out of his depth at left tackle and Chris Williams hasn't looked good in years—but the Bears currently have him at right tackle.
I should say they "inexplicably" have him at right tackle because I can't come up with a good reason for it.
He couldn't be worse than Webb or Williams, who is the rumored player taking over the left tackle spot. Carimi started at right tackle last year, but why keep him there when the two guys you were/are using haven't been effective?
In Carimi's favor is the fact that at the very least, he has the right tackle job. That's more than Sherrod has since he isn't just stuck behind Newhouse at left tackle—he's behind Bryan Bulaga who has become an excellent right tackle.
Sherrod isn't taking that job or Newhouse's if he continues playing well.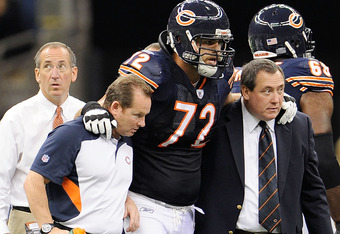 Stacy Revere/Getty Images
He's got potential, but what good does that do on the bench? He's not stealing TJ Lang or Rob Sitton's job either.
Maybe he can be the center of the future?
Carimi's route to a starting left tackle spot is much clearer as there is far less talent on the offensive line for the Bears than the Packers.
I talked about this with Aaron Nagler on one of the videos we did this week.
Chris Williams has underperformed not just at tackle, but at guard. If you can't hack it as a guard, you aren't making it as a tackle—much less as a left tackle.
I'm not J'Marcus Webb's biggest fan by any means, but there is only so much you can ask of a seventh rounder and taking over at left tackle is above and beyond. He might develop into a left or right tackle with time, but that's something the Bears just don't have.
You can't have an inexperienced player training at left tackle—you're going to get your quarterback killed.
At some point this season, Carimi will move to protect the blind side. Unless Williams or Webb surprises us in ways that we don't normally see, the Bears are going to need to see if Carimi is the answer.
There's too much at stake.
For the Packers, there is little need (barring injury) to see what Sherrod can do. Newhouse could regress, I suppose, but so far it seems unlikely.
Maybe neither of them takes that step this year, but with the Bears' offensive-line issues it seems only a matter of time before the team is forced to take a long look at their left tackle and Carimi is a natural fit.
In the end, Carimi has much more potential this year—and a better chance of reaching it.
Check out the B/R NFC North Facebook page - like us and keep up with everything NFC North on Bleacher Report!