Eastern Conference Finals 2012: Kevin Garnett Will Dominate Heat Without Bosh
May 23, 2012

Elsa/Getty Images
The Miami Heat are looking strong in their run to reach their second straight Eastern Conference Finals, but without star power forward Chris Bosh, they won't have a chance if they wind up playing Kevin Garnett and the Boston Celtics.
Garnett has been playing at a level we expected from him four years ago. He is averaging 19.3 points and 10.5 rebounds per game this postseason, including three games over 20 points in the series against the Philadelphia 76ers.
There is no doubt that LeBron James and Dwyane Wade have done an incredible job without Bosh in the lineup, but they really don't have an answer for a player like Garnett, especially at this level.
Bosh has been out since he got injured in Game 1 of the team's series against the Indiana Pacers, and while the team struggled at first, they have quickly bounced back to seem to be in control of the series.
While there hasn't been any official word on Bosh's status, the team should be worried about what they currently have in case Bosh doesn't make it back onto the court for at least this series.
The Heat are currently using guys like Shane Battier, Joel Anthony and Udonis Haslem, but there is no telling if they could truly step up and stop a guy like Garnett.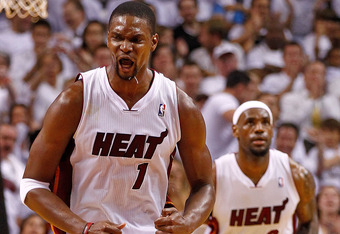 Mike Ehrmann/Getty Images
Garnett won't be able to carry a win going up against the likes of James and Wade, but he sure can be the sole difference in this potential series with Bosh out.
It is the biggest advantage to the Celtics game. 
There is no doubt that the Heat's powerful duo will continue to run the floor like they have been, but they can only do so much in terms of slowing down Garnett while also having to worry about guys like Paul Pierce, Rajon Rondo, Ray Allen and Brandon Bass.
Age may not be in the Celtics' favor, but at the rate of which they are playing, there is no reason to believe that they couldn't handle a Bosh-less Heat squad.