How to Fix the Cincinnati Bengals' Run Game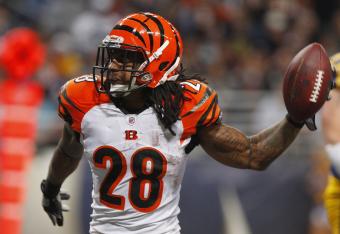 Bernard Scott saw his role in the Bengals offense increase last season, and his YPC dropped. How can this be fixed?
Whitney Curtis/Getty Images
Though the Cincinnati Bengals made some serious strides to improve their passing game in 2011, their running game ended up slipping through the cracks.
They ranked 19th overall in average rushing yards per game (111.1) and a dismal 27th overall in rushing yards per attempt (3.9) despite having the 10th-most attempts in the league. Their 10 touchdowns on the ground made them good for 21st in the NFL (all stats courtesy ESPN).
The Bengals are in the process of attempting to build one of the best, young passing offenses in the NFL, but they aren't there yet. This means that balance is still key if they want to improve upon the 9-7 record they had last season—and what better way to do so than to strengthen their run game.
Part of their issues last season were the result of the running back tandem of Cedric Benson's and Bernard Scott's underwhelming performances. Though Benson ended the season with over 1,000 rushing yards, he was averaging just 3.9 yards per carry and accounted for six of the team's 10 rushing touchdowns.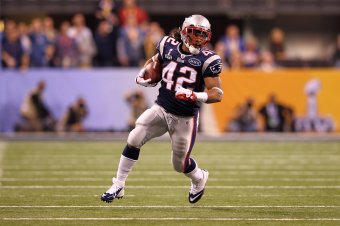 Al Bello/Getty Images
The Bengals were hoping that with an increased workload, Scott would emerge as a reliable option as a starter. With fewer than 100 carries in each of his previous two seasons, Scott averaged 4.3 and 4.9 yards per carry, respectively.
But in 2011, Scott's carries doubled, to 112, but his per-carry average dropped to 3.4 yards. Scott's still in the mix this year in the Bengals' latest permutation of their two-back committee, joined by BenJarvus Green-Ellis, the reliable former New England Patriot.
The Bengals better hope one of two things happens with these running backs in the intervening months before the season starts: One, that Green-Ellis emerges as capable of handling the majority of the workload, and, two, that if he can't (or even if he can, just to be safe) that Scott's dip in production had more to do with issues out of his control than an inability to produce when given more carries.
A third option remains, of course: Dan Herron. The Bengals' sixth-round pick out of Ohio State isn't very exceptional when it comes to running the ball, but if he can make a situational impact on a weekly basis, that will relieve a bit of the pressure on both Green-Ellis and Scott.
Another reason for the Bengals' struggle on the ground last year was because of their offensive line. As ESPN's Jamison Hensley points out, the Bengals averaged just 3.3 yards per carry when they ran up the middle—a number that ranked them 30th in the league.
Clearly, the interior of their offensive line had something to do with this—it wasn't just the shortcomings of Benson and Scott that were to blame. The Bengals did address this in the offseason by bringing on free agent guard Travelle Wharton and picking up another guard with excellent run-blocking, Kevin Zeitler, in the first round of the draft.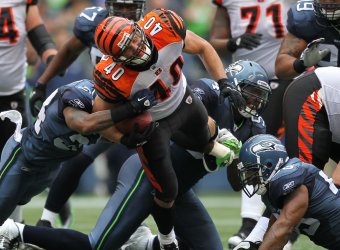 Otto Greule Jr/Getty Images
The additions of Wharton and Zeitler into the starting lineup should set up Green-Ellis and Scott to have a better chance to improve that yards-per-carry average.
Also worth discussing here is another Bengals running back, Brian Leonard. Leonard has been playing second fiddle to Scott and Benson for the past three seasons, never carrying the ball more than 27 times in a season.
As such, it's hard to tell if his five yards per carry average last season had to do with his limited touches (as it seems may have happened with Scott) or if he has the talent level to make an impact. Regardless, the Bengals would be well-served to up Leonard's number of carries this season if only to maximize his strengths and limiting the weaknesses of Scott and Green-Ellis.
What the Bengals need to do, more than anything, is take the same care they have with their passing game and translate it to their ground attack. Andy Dalton and his receivers may be the bread-and-butter of the Bengals' offense, but in order for the passing game to stay successful, rushing must come more easily.
An intelligent use of their running backs, combined with upgrades on the offensive line, should serve to right the wrongs of last season.
This article is
What is the duplicate article?
Why is this article offensive?
Where is this article plagiarized from?
Why is this article poorly edited?