Jeremy Lin: Arbitration Decision on Bird Rights to Shape New York Knicks' Roster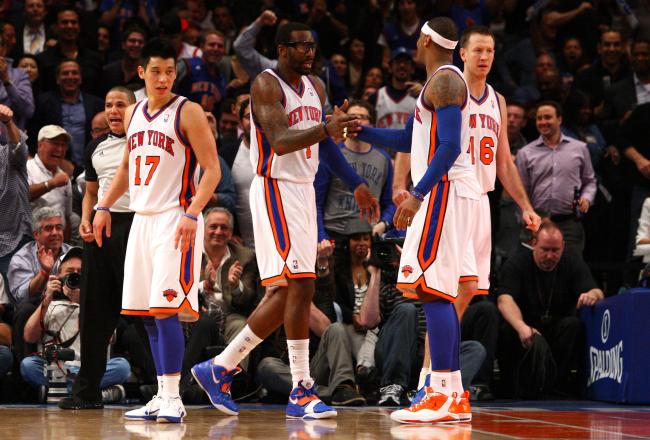 Unless the arbitration panel rules to extend early Bird rights to players claimed on waivers, Lin and Novak may be playing elsewhere next season.
Chris Chambers/Getty Images
UPDATE (5:01 PM, 6/22/12): Arbitrator Kenneth Dam has upheld the NBA Players Association's challenge, granting early-Bird rights to players claimed off waivers, including New York Knicks free agents Jeremy Lin and Steve Novak (via Howard Beck of the New York Times). They can now sign both players without their contracts counting against the salary cap, and retain their mid-level exception of approximately $5 million to sign another free agent. The NBA intends to appeal the ruling, which is considered a financial blow to owners.
The New York Knicks have a huge decision to make on Jeremy Lin. Their point guard, who briefly drove the globe Linsane last year, is a restricted free agent and will push them to the limits of the salary cap if they re-sign him this offseason. That is, unless the Player's Association wins their arbitration hearing to extend Bird rights to players claimed off waivers.
The NBA had a lockout in 2011. Perhaps you recall it. It resulted in a 66-game season where the league scheduled the sport like it was baseball. What the argument was over, mainly, was the salary cap, and what resulted was a very, very complicated collective bargaining agreement (CBA).
The end product was still a "soft cap" as opposed to a "hard cap" (as in the NHL). More or less, it means you can spend more than you're allowed to, but you have to pay a tax in order to do so. This extremely thorough explanation from computer scientist and CBA aficionado Larry Coon renders clearer some of the more intricate points of the CBA.
Should the Knicks re-sign Jeremy Lin?
One of the stickier aspects are exceptions. There is a mid-level exception and a mini mid-level exception, among others. Using these exceptions makes the soft cap harder. That is, if you use your exceptions, you can't go over the salary cap by as much money.
That limit is know as an "apron," which is $4 million above the tax line. Going above the apron has certain consequences, such as losing some of your exceptions.
So as currently situated, the Knicks want to re-sign Jeremy Lin, but to do so, they would have to use their mid-level exception, which is roughly $5 million (aka, the "Gilbert Arenas Rule"). This gives the player's current team the right to match any offer from any other team, and puts a maximum on the amount that other teams can offer the player.
They also signed J.R. Smith this season using their mini mid-level exception, which is roughly $2.5 million.
But if you are above the apron, you can't use you the mini mid-level exception at all, and your mid-level exception becomes smaller (roughly $3 million), thus stripping you of your "Gilbert Arenas" rights to match offers from other teams for your restricted free agents (since your don't have the full amount of the mid-level exception to offer).
While the salary cap fluctuates from year to year based on league revenues, what remains certain is that the Knicks owe a ridiculous amount of money to three players ($53 million total in 2012-13 for Carmelo Anthony, Amar'e Stoudemire and Tyson Chandler), all of who missed games due to injury last season.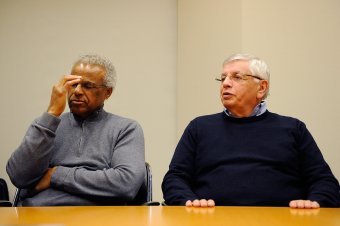 Basketball is fun. Negotiating the CBA is not.
Patrick McDermott/Getty Images
Qualifying veteran free agents are said to have Bird rights, named after Larry Bird. Under the CBA, teams can exceed the salary cap to re-sign their own free agents, up to a maximum contract, if the player in question has three years experience without being waived or signing a new contract with another team.
These Bird rights helped keep Kobe Bryant with the Lakers and Dirk Nowitzki on the Mavericks, among others.
Correspondingly, the "early Bird" exception is for free agents that have played for two years without being waived or signing a new contract. They may be signed for the average NBA salary or 175 percent of their previous salary, whichever is greater.
It is important to note that Bird rights currently carry through a trade but not through a waivers claim. However, Howard Beck of the New York Times explains the complicated situation which led the NBA Player's Association to file for arbitration this month, claiming that Bird rights should apply to players claimed off waivers.
The argument is that this amounts to a trade in which the player's original team received nothing in return, since the team that claims the waived player must assume his contract. This issue has never cropped up before because no player claimed off waivers has ever become so wildly valued so quickly.
That is, until Jeremy Lin went to New York.
If upheld, the arbitration decision would be a landmark development for the Knicks and the NBA. Ian Begley of ESPNNewYork.com reports that, according to an unnamed source, an arbitration hearing will take place in mid-June.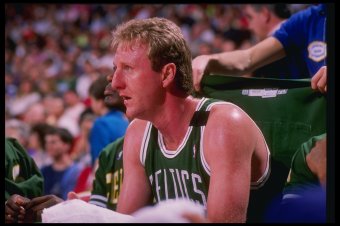 Larry Bird never played for the Knicks, but they desperately want the CBA clause named for him to extend to Jeremy Lin.
Tim DeFrisco/Getty Images
Free agency begins on July 1st. If Lin gets his early Bird rights, the Knicks could re-sign him without using their mid-level exception and also have the option to retain Steve Novak on a contract which wouldn't count against the salary cap.
Having the mid-level exception available would also give them enough room to sign a player of significant talent and value in the offseason.
Unrestricted free agents this offseason include: Steve Nash, Andre Miller, Raymond Felton, Jameer Nelson (player option), Ramon Sessions (player option) and Lou Williams (early termination option), all of whom would be good uses of that mid-level exception.
Other free agents the Knicks could target are Jason Kidd, Jerry Stackhouse, Kirk Hinrich, Ray Allen, John Lucas III, Antawn Jamison, Jason Terry, Nate Robinson, Marcus Camby, Leandro Barbosa, Reggie Evans, Kwame Brown, Derek Fisher, Boris Diaw, Josh Howard and Maurice Evans. Oh, and Gilbert "The Rule" Arenas.
The Knicks are close to having enough talent at each position to make some serious noise in the playoffs. But even with all the injuries that befell them in the playoffs this year (Lin, Iman Shumpert, Baron Davis, Amar'e Stoudemire and Jared Jeffries), it was obvious that the Knicks still needed more depth and players that better complement one another.
The Knicks will have to address their needs through free agency because they have no first-round draft pick in 2012 (traded to Houston for Tracy McGrady). And they have a second-round pick only because when they offered it to Phoenix in the Amar'e sign-and-trade, they had the foresight to top-55 protect it.
The extra second-round pick they got from Golden State in the David Lee deal was traded away to Denver for 'Melo, along with the boatload of players. Ditto the 2013 second-round choice from Denver.
With J.R. Smith likely to look for more money in free agency and the return of Landry Fields in question, the Knicks' roster could look substantially different next year. Especially if the arbitration panel rules in favor of the Player's Association and grants Bird rights to Lin and Novak.
If they lose in arbitration, the Knicks have already spent all their lunch money and they'll be dumpster diving this offseason, whether or not they re-sign Lin with the mid-level exception.
This article is
What is the duplicate article?
Why is this article offensive?
Where is this article plagiarized from?
Why is this article poorly edited?

New York Knicks: Like this team?