2013 NFL Mock Draft: Teams in Need of Immediate Impact Playmakers
May 23, 2012

Harry How/Getty Images
The 2012 rookies have barely gotten into their playbooks, but it's never too early to take a look at the 2013 NFL Draft and what teams might be looking for next April.
A lot is going to happen in the next 11 months, especially for the NFL teams, but looking ahead gives us a jumping off point for when teams open the year 0-7 or 1-6.
Every winter, we talk about players that can come in and make an immediate impact—they're the most sought after players in every draft. Not every team needs them, but they typically bring the most value.
So with that understood, let's take a look at teams that will be in dire need of an immediate impact player next year.
1. Jacksonville Jaguars: Matt Barkley, QB, USC (Sr. - 6'2", 220 pounds)
If the Jacksonville Jaguars land the first overall pick, you can bet the house that they'll be looking for a new franchise quarterback—they'll likely be looking for one if they land in the top five.
This team is in the first year of a new regime (although they kept GM Gene Smith), and they need to fix their anemic offense above anything else.
It remains to be seen what Blaine Gabbert is going to do in the NFL, but if his rookie year was any indication, he's not long to be a starter on Sundays for very long.
Matt Barkley is widely expected to be the top player in the class, but question marks are already starting to fly around him. Expect there to be a lot of chatter about him this year.
2. Indianapolis Colts: Star Lotulelei, DT, Utah (Sr. - 6'3", 325 pounds)
This monster of a defensive lineman is the complete opposite of what the Colts used to look for up front, but we know that new coach Chuck Pagano is focused on making this a bigger team.
3. Cleveland Browns: Robert Woods, WR, USC (Jr. - 6'1", 185 pounds)
The Browns basically neglected the wide receiver position in the 2012 draft (they used one of their 11 picks on a WR—Travis Benjamin in the 4th round), but their is some intriguing receiving talent in the 2013 class.
Woods is, and will be again, uber-productive at USC with Barkley throwing the ball. He's a dynamic playmaker who, like Justin Blackmon this past year, doesn't have elite size but is an elite football player.
He'll need to mature physically a bit more, but he's as talented as they come ,and he will help whoever the Browns decide their quarterback is pretty quickly.
4. Minnesota Vikings: Keenan Allen, WR, California (Jr. - 6'3", 205 pounds)
Another Pac-12 receiver, Allen has great a great size and speed combination and is the big-play threat the Vikes would love to pair up next to Percy Harvin.
They took a chance on two receivers from Arkansas in this year's draft, but they still lack that explosive deep threat with size.
Allen should have another big season and he'd be an immediate contributor wherever he goes. 
5. Miami Dolphins: Sam Montgomery, DE/OLB, LSU (r-Jr. - 6'4", 245 pounds)
Assuming everything works out with Ryan Tannehill, the Dolphins are going to be looking for an impact pass rusher early next year.
Montgomery is just the man for them as he will star again this year for an LSU team that could challenge for another national title.
6. Arizona Cardinals: Tyler Wilson, QB, Arkansas (r-Sr. - 6'3", 220 pounds)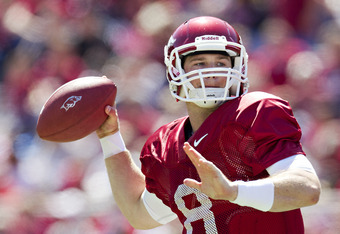 Wesley Hitt/Getty Images
The Cardinals have two quarterbacks right now, which basically means they don't have one. If they stumble this year, they'll likely decide to move on from both Kevin Kolb and John Skelton.
If that is the case, Wilson is one of the best quarterbacks in the entire country, and he has a number of scouts extremely intrigued.
With all of his top receivers gone and a new coach coming in, it will be interesting to see what type of year he puts together.
7. St. Louis Rams: D.J. Fluker, OT, Alabama (r-Jr. - 6'6", 335 pounds)
Protecting Sam Bradford will always be a need for this ball club, so landing the draft's top tackle is something they'll obviously consider.
8. Oakland Raiders: Tyler Bray, QB, Tennessee (Jr. - 6'5", 210 pounds)
The Raiders have a number of young, talented and fast receivers but nobody to throw them ball (yes, that is me saying Carson Palmer won't do them any good).
Bray is the perfect fit as he'll be working with two speedy, talented receivers this year in Knoxville, and he has the arm the Raiders covet.
If he can stay healthy, look for him to lead the Volunteers back to relevance in 2012.
9. St. Louis Rams (via WASH): Marquess Wilson, WR, Washington State (Jr. - 6'2", 190 pounds)
After protecting Sam Bradford, the next big step for St. Louis is giving him weapons to throw to. This is a bit high for Wilson, but he's an impressive physical specimen and another Pac-12 receiver who'll wow teams this year.
The Rams can't rest just because they used a high second round pick on a receiver this year.
10. Seattle Seahawks: Jarvis Jones, DE/OLB, Georgia (r-Jr. - 6'2", 242 pounds)
Pete Carroll's team surprised many when they took Bruce Irvin at No. 15 this year, but it is obvious that they're looking for ways to get after the quarterback on a regular basis.
Jones, who would've been a first round pick had he entered the 2012 draft, is a regular in opposing backfields.
11. Tampa Bay Buccaneers: David Amerson, CB, N.C. State (Jr. - 6'2", 193 pounds)
The Bucs are desperate for a playmaker in the secondary, so what better way to address that than by adding the nation's leading ball hawk?
Amerson has great size, speed and ball skills and could be the cornerback that the Bucs missed out on this year.
12. Buffalo Bills: Jelani Jenkins, OLB, Florida (r-Jr. - 6', 230 pounds)
Jenkins is a tackling machine, and the Bills will continue to focus their efforts on the defensive side of the ball as they look to finally crawl out from behind the shadows of the Patriots and Jets.
13. Tennessee Titans: Tyrann Mathieu, CB, LSU (Jr. - 5'9", 180 pounds)
Despite his diminutive size, Mathieu is the best defensive playmaker in the country and plays with a fire coaches love. 
The Titans saw their most fiery defensive back leave this offseason, and Mathieu could help fill that role.
14. Carolina Panthers: Johnathan Hankins, DT, Ohio State (Jr. - 6'3", 335 pounds)
While a playmaking receiver may be in order, stuffing the run game is more important for this team hoping to make the playoffs.
15. Denver Broncos: Marcus Lattimore, RB, South Carolina (Jr. - 6', 230 pounds)
Oh yes, the Broncos will eventually take another running back, because it is only a matter of time before Knowshon Moreno is sent packing and Willis McGahee either retires or gets hurt again.
Lattimore is a bruising force in the backfield with impressive physical skills.
Assuming he stays healthy this year, he'll wind up going in the middle of the first round.
16. Kansas City Chiefs: Manti Te'o, ILB, Notre Dame (Sr. - 6'2", 255 pounds)
A heady, trustworthy inside linebacker fits in perfectly for the Chiefs here. It remains to be seen what they'll do about the quarterback position, but the job is Matt Cassel's for now. 
If Landry Jones bounces back this year he could easily be the pick here.
17. Chicago Bears: Sharrif Floyd, DT, Florida (Jr. - 6'3", 298 pounds)
Chicago avoided the defensive tackle position in the 2012 draft, so they're sure to find one here in 2013. A stout force up the middle can only help their outside pass rush.
18. Cincinnati Bengals: Barkevious Mingo, DE/OLB, LSU (r-Jr. - 6'4", 240 pounds)
If the Bengals want to continue competing in the AFC North, they'll have to keep finding a way to hit Joe Flacco and Ben Roethlisberger. Their offense has a number of great young pieces, but continuing to add youth to their defense (which has a lot of veteran and questionable free agent acquisitions) through the draft is important.
19. Philadelphia Eagles: Ricky Wagner, OT, Wisconsin (r-Sr. - 6'6", 320 pounds)
Andy Reid and an available offensive lineman? This works out just perfectly.
20. Dallas Cowboys: Jackson Jeffcoat, DE/OLB, Texas (Jr. - 6'5", 255 pounds)
The Cowboys have had a front-row seat to the Giants' pass rush for a few years now and it's only a matter of time before they buy into the fact that you can never have too many pass rushers.
A big, promising prospect like Jeffcoat will be hard to pass up should he still be on the board.
21. New York Jets: Jake Matthews, OT, Texas A&M (Jr. - 6'5", 305 pounds)
The Jets did not take an offensive tackle if 2012, so expect them address that position in 2013.
22. San Francisco 49ers: Barrett Jones, G/C, Alabama (r-Sr. - 6'4", 312 pounds)
This is simply too good a fit for a team that wants to solidify the interior of their offensive line. Joe Looney wasn't a bad pick at all in 2012, but Jones' versatility and talent would be hard to pass up.
23. New Orleans Saints: Landry Jones, QB, Oklahoma (r-Sr. - 6'4", 230 pounds)
The Saints are proving at this very minute that they need a more trustworthy backup than Chase Daniel. If Jones is still on the board this late, he's a steal.
24: San Diego Chargers: T.J. McDonald, S, USC (Sr. - 6'2", 205 pounds)
The Chargers actually nabbed a potential starter at safety in 2012 with their selection of Brandon Taylor, but McDonald is a local kid who has great upside in this league.
25. Atlanta Falcons: Alex Okafor, DE, Texas (Sr. - 6'4", 260 pounds)
The Falcons have a desperate need for pass rush help, and they didn't get in the 2012 draft. Okafor is a veteran player who doesn't have a ton of upside, but can be trusted to his job.
That is saying something for a Falcons team that failed miserably with the Jamaal Anderson project.
26. Baltimore Ravens: Chris Faulk, OT, LSU (r-Jr. 6'6", 325 pounds)
This late in the first round, the Ravens are just hoping to find someone who could potentially be a starter down the road. Their 2012 tackle selection, Kelechi Osemele, is better suited to play guard in the NFL.
27. Green Bay Packers: Xavier Rhodes, CB, Florida State (r-Jr. 6'1", 215 pounds)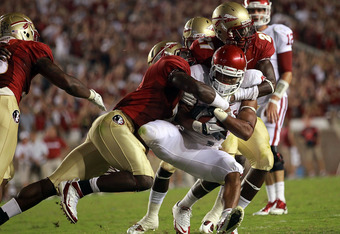 Ronald Martinez/Getty Images
The Pack know Charles Woodson cannot play forever (there is already talk of moving him to safety), and the Pack only took one corner (albeit a second rounder) in the 2012 draft.
Rhodes is a unique prospect who could see his stock soar by draft time. He's big, physical, athletic and has great upside.
He fits the Packers' scheme well and would be a steal here. 
28. Pittsburgh Steelers: Kawann Short, DT, Purdue (r-Sr. - 6'3", 310 pounds)
Pittsburgh landed one massive defensive tackle in the 2012 draft, but they can add another with a solid resume here. Short is a player who won't wow you, but he will do what you ask of him.
Adding youth to their front seven is key for the Steelers if they want to stay relevant over these next few years.
29. Detroit Lions: Luke Joeckel, OT, Texas A&M (Jr. - 6'6", 310 pounds)
The Lions have a number of young players, so with a late first round pick, their best bet is to target the best available player. Fortunately for them, it is a great insurance policy at the tackle position in this scenario.
30. Houston Texans: C.J. Mosley, ILB, Alabama (Jr. - 6'2", 235 pounds)
A playmaking inside linebacker with experience in the 3-4, Mosley is the ideal fit to come in and start for the Texans from day one. He's a bit undersized, but he plays like a madman and comes from Nick Saban's system.
31. New England Patriots: Khaled Holmes, G/C, USC (r-Sr. - 6'3", 310 pounds)
More value up front never hurts, and Holmes' versatility gives the Patriots someone they can plug in at three different positions. That is something Bill Belichick values a ton.
32. New York Giants: Eric Reid, S, LSU (Jr. 6'2", 208 pounds)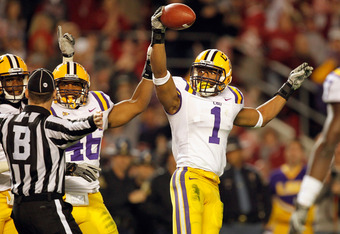 Streeter Lecka/Getty Images
Big Blue had to unfortunately cut ties with former LSU safety Chad Jones when he suffered a setback in his rehab. The Giants have a few safeties, but how long they're going to get away with the gambling Antrel Rolle and maxed out Kenny Phillips remains to be seen.
Reid is promising young player who will rise to stardom this year.