5 Under-the-Radar NFL Players Primed for Big Seasons in 2012
Bob Levey/Getty Images

The 2012 season likely won't produce a bigger surprise than the performance of Victor Cruz in 2011, but there are still a number of players who will rise from relative obscurity into the nation's collective conscience.
A full offseason will allow players to fully acquaint themselves with their respective playbooks and teammates rather than being rushed through an abbreviated offseason like last year.
This will be extremely helpful to the second-year players who weren't able to slowly adapt to the NFL. As a result, many second-year players should see a big spike in their production this season.
The lull that takes place between the NFL draft and the start of training camp can be excruciatingly painful for some fans, which is why an exercise like this is essential to retaining our sanity.
Without further ado, let's take a look at five under-the-radar players who are poised for huge years in 2012.
Begin Slideshow

»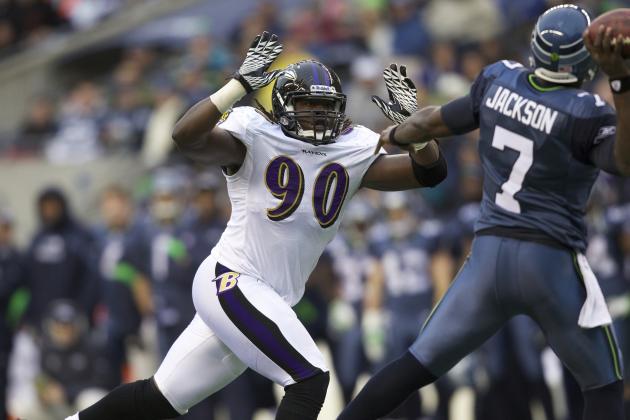 Stephen Brashear/Getty Images

In the absence of Terrell Suggs, the Baltimore Ravens will have to look elsewhere for their sacks.
Enter Pernell McPhee.
In McPhee's rookie season, the defensive end racked up six sacks in a limited amount of playing time.
Suggs logged 48 percent of his 2011 playing time at defensive end. McPhee will attempt to seamlessly fill the huge void left by Suggs on the defensive line.
McPhee utilizes his amazing quickness off the snap to beat offensive guards and reach opposing quarterbacks.
Furthermore, McPhee has a nonstop motor, which allows him to make big plays even after he is initially stonewalled by opposing linemen.
The combination of a quick first step and a nonstop motor are two qualities that most elite pass-rushers possess.
Following the 2011 season, McPhee looked like he was well on his way towards becoming a very good player in the NFL, but he just had to wait for the opportunity.
With the injury to Suggs, it looks like McPhee is on the fast track to stardom.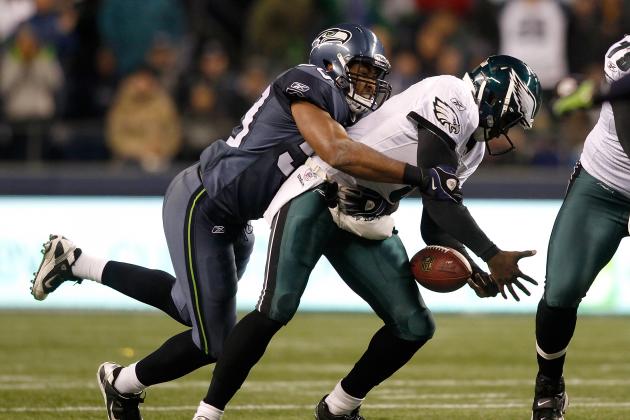 Jonathan Ferrey/Getty Images

We go from one former Mississippi State defensive player in McPhee to another in K.J. Wright.
Wright was drafted in the fourth round of the 2011 draft, and McPhee went in the fifth round. It looks like a lot of scouts really whiffed on scouting the Mississippi State defense.
Wright inspired enough confidence in Pete Carroll and the rest of the Seattle Seahawks organization last season that they decided to sever their ties with former first-round selection Aaron Curry.
Wright doesn't possess the same athletic ability as Curry, but he has fantastic instincts and is always in the correct position.
In his rookie season, Wright not only stopped the run effectively, but was also able to put pressure on opposing quarterbacks as well.
In 2011, Wright had a run-stop percentage of 8.9 in 280 snaps, which ranked him in the top 10 among all 4-3 OLBs.
Wright showed vast improvement from the start to the finish of the 2011 season, and having a full offseason of preparation will be extremely helpful to his development.
If Wright improves at the same rate moving forward, there's no doubt that he will become a top linebacker in the NFL in a very short time.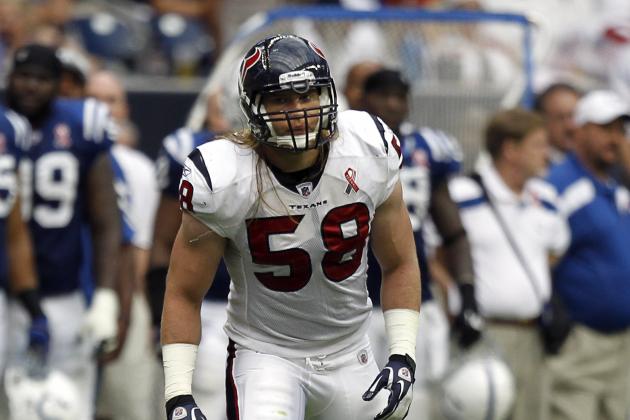 Bob Levey/Getty Images

Brooks Reed's game compares favorably to Clay Matthews' style of play. The two even have similar long locks of blond hair.
Reed is tasked with filling the shoes of Mario Williams this year. Luckily, he will have Connor Barwin rushing the passer opposite him, which means that Reed will not be facing many double teams in 2012.
Reed flashed his pass-rushing ability in the playoffs. In the Texans' victory over the Cincinnati Bengals, Reed recorded one sack.
In the Texans' playoff loss to the Baltimore Ravens, Reed dropped Flacco multiple times en route to two-and-a-half sacks and one forced fumble.
Reed's fantastic performance against the Ravens is an encouraging sign in his development as a pass-rusher extraordinaire.
Texans fans are sad to see Williams leave to Buffalo, but they have to be extremely happy about the prospect of Reed potentially developing into their own version of Clay Matthews.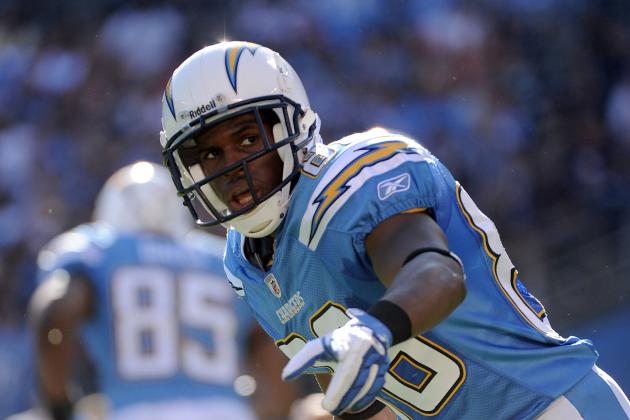 Harry How/Getty Images

In Vincent Brown's rookie season, he flashed the ability to make big plays when they were needed most.
Brown tallied just 19 catches on the year, but he racked up an impressive 329 yards, which averages out to 17.3 yards per catch.
With the addition of Robert Meachem to the roster, expect Norv Turner to continue to send his wide receivers out on deep routes. Meachem will utilize his speed to get open deep while Malcom Floyd uses his lanky frame to catch deep balls.
While other receivers stretch the field, Brown should be able to work the middle of the field with his precise route running.
Brown doesn't possess blazing speed or great size, but he certainly knows how to get open.
Furthermore, Brown attacks the ball when it is in the air instead of waiting for it to come to him. Brown truly believes that any ball that leaves Philip Rivers' hand belongs to him.
There's no doubt that Brown's tireless work ethic coupled with his self-confidence will propel him to a high level of success in his second season.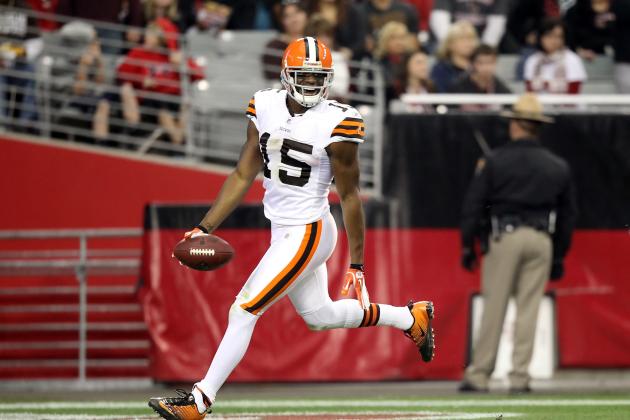 Christian Petersen/Getty Images

Greg Little had an impressive rookie season for the Cleveland Browns, finishing the year with 61 catches for 709 yards.
What's frightening to other teams in the AFC North is that Little has so much room for improvement.
Little did not play football for UNC in 2010 after being ruled ineligible by the NCAA.
On the heels of Little's disappointing 2010, he hardly had any time to prepare for the Cleveland Browns' 2011 season.
Thanks to a full offseason, Little has improved his body by becoming much leaner than last season.
According to ProFootballTalk, Browns coach Pat Shurmur has said that he is impressed by Little's development since the 2011 season ended.
Furthermore, Little will be helped out by the additions of Brandon Weeden and Trent Richardson.
With more offensive weapons on the roster and a full offseason to spur his development, Little looks to be on track for a huge 2012 season.
Mike Walkusky is a featured columnist on Bleacher Report. Follow him on Twitter