Denard Robinson led his team to a win over Ohio State and a victory in the Sugar Bowl last season, and has been named by ESPN's Brian Bennett as the best QB in the Big Ten.
Gregory Shamus/Getty Images
May 23, 2012
Denard Robinson was voted the Big Ten's best quarterback and No. 6 best player in the conference overall, by ESPN.com Big Ten writer Brian Bennett on Tuesday.
In College Football Live's "100 Days Till Kickoff" countdown, Bennett broke down the Big Ten's 25 best players and crowned Robinson the No. 1 signal caller.
Michigan's senior Heisman Trophy candidate is one of the most electrifying players in the country, but hasn't quite developed into a true quarterback during his three seasons in Ann Arbor.
Robinson completed 142-of-258 pass attempts (55 percent), for 2,173 yards and 20 touchdowns in 2011. But he also threw 15 interceptions last season which was worst in the Big Ten.
His passing numbers declined from 2010, when he completed 182-of-291 passes for 2,570 yards, and he threw seven more touchdowns (18) than interceptions (11) two years ago.
"There might not be a more exciting player in the country than 'Shoelace,' who's put together more heroics than a comic book character the past two seasons," Bennett wrote in the countdown. "But his passing remains suspect, as evidenced by his Big Ten-worst 15 interceptions last season."
Robinson's value has definitely been his legs.
In the last two seasons, he's rushed 477 times for 2,878 yards and 30 touchdowns. He had the most rushing touchdowns in the country as a QB last season, and had the second most rushing yards among quarterbacks, behind Northern Illinois' Chandler Harnish.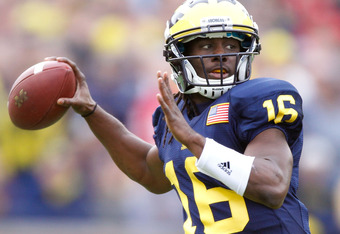 Robinson tends to throw off his back foot, and put the ball up for grabs when he's in trouble. He'll need to improve his mechanics this season.
Gregory Shamus/Getty Images
He forces opposing teams to focus their defensive game plan almost solely on him, and he can go the distance from anywhere, anytime he touches the ball.
"The word out of spring practice was that Robinson had improved his fundamentals and looked sharp as a passer," Bennett wrote. "If he can add accuracy to his other many talents, the sky is the limit for him and the Wolverines this season."
Michigan offensive coordinator Al Borges said Robinson has worked tirelessly to improve his passing. 
"The two things that have gone away in Denard's game are falling off throws, off your back foot, and indiscriminate decision-making," Borges said to the Sporting News after Michigan's spring game on April 14. "He had very few interceptions this spring. He had cut his interceptions from last spring to this spring four times."
Robinson's numbers could have been worse last season if not for former receiver Junior Hemingway bailing him out on several errant jump balls. He also benefited from the country's No. 6 scoring defense, which kept opposing offenses off the field, and often gave Michigan short yardage.
He has gone into the last two seasons as a long-shot Heisman contender but faded down the stretch each year. If he takes better care of the ball, and proves to be the best QB in the Big Ten, he could find himself in the Heisman conversation come December.
Robinson was named the conference's best QB over returning starters Caleb TerBush from Purdue, Penn State's Matt McGloin, Illinois' Nathan Scheelhaase, Ohio State's Braxton Miller, and Nebraska's Taylor Martinez.
The players in front of Robinson on the list are:
No. 5: Penn State, LB, Gerald Hodges
No. 4: Michigan State, DE, William Gholston
No. 3: Ohio State, DE, John Simon
No. 2: Nebraska, RB, Rex Burkhead
No. 1: Wisconsin, RB, Montee Ball
Like the new article format? Send us feedback!