NFL Rumors: Latest Buzz Surrounding NFL's Disgruntled Stars
May 23, 2012

Jed Jacobsohn/Getty Images
Drew Brees, Matt Forte and Wes Welker, all elite offensive players, appear frustrated by contract negotiations. 
The players want massive deals to reward their high level of play, but the teams know their productivity could soon decline. 
Here's the latest buzz surrounding thee disgruntled NFL starts. 
Drew Brees
Drew Brees is not at the New Orleans Saints organized team activities (OTA's) due to his contract dispute with New Orleans Saints ownership, Sporting News reports. Chase Daniel is receiving the snaps as the first-team quarterback. 
The Saints franchise tagged Brees in the offseason, but Brees wants a long-term commitment. The Saints signed Brees to a six-year, $60 million deal in 2006. 
Brees called the contract talks "frustrating" and the two sides do not appear to be anywhere close to a new deal. Brees rewarded the Saints franchise with their only Super Bowl win, but ownership isn't exactly going to give Brees a blank check. 
Matt Forte
The Eagles recently signed tailback LeSean McCoy to a five-year, $45 million deal. Forte probably wants a similar deal, but the Bears know running backs have a short shelf life in the NFL.
For a guy like Forte, who receives a ton of touches, his productivity could take a decline, even at 26 years of age because of the brutal hits he receives.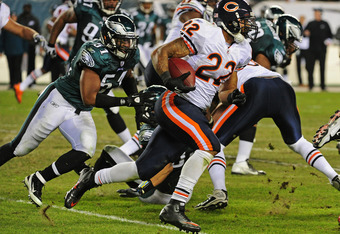 Scott Cunningham/Getty Images
For insurance, the Bears signed former Raider running back Michael Bush in the offseason, giving the Bears all the leverage in the contract negotiations.
Although Forte's catching ability out of the backfield would surely be missed, the Bears have a staple of backs they could go to if Forte and the Bears can't come to an agreement. 
Wes Welker
After telling The Boston Herald that contract negotiations with the New England Patriots had gotten worse, wide receiver Wes Welker rescinded those statements.
 "I'm not frustrated whatsoever. I know the words that came out maybe seemed that way," Welker said, referring to an interview he gave the Herald last Thursday. "But I'm not frustrated at all. I'm making five times more than I did last year. There's no frustration there."
More than likely, Welker is frustrated with the contract negotiations and realized he made a mistake by spilling his thoughts to the media. 
The Patriots for sure saw those comments, and that could be used against Welker in the negotiations.