Devils vs. Rangers: Breaking Down Which Stars Must Shine Brightest
May 23, 2012

Jim McIsaac/Getty Images
With the New Jersey Devils and the New York Rangers all squared up at 2-2 in the Eastern Conference Finals, Game 5 must see certain stars shine bright if their team wants a chance to advance.
While it's obvious that the starting goaltenders are important, there is hardly a matchup in the NHL as driven by the netminder battle more than 2012's Eastern Conference Finals.
As much as the goalie war is sure to be pivotal in this three-game series, the real winner of the offensive stalemate between Ilya Kovalchuk and Marian Gaborik will win the series.
Henrik Lundqvist
While Martin Brodeur is the more decorated goaltender in this matchup, there is no question who the superior talent is right now—New York Rangers starter Henrik Lundqvist.
With an unreal goals against average of 1.56, a .943 save percentage and three shutouts in the 2012 postseason, Lundqvist is playing Conn Smythe level hockey right now.
These are the kind of numbers Bernie Parent was putting up for the Flyers in 1974.
For Lundqvist to maintain his torrid pace, the Rangers must button down defensively in front of him and give him the time and space to make his saves. If Lundqvist stays hot, the Rangers are headed to the Stanley Cup.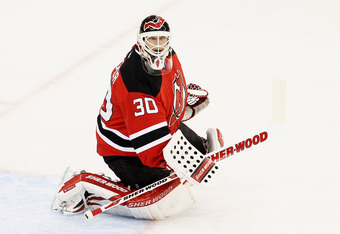 Jim McIsaac/Getty Images
Martin Brodeur
While New Jersey Devils goalie is the old man in this series at 40 years old, no one can doubt just how talented the man has been during this series. No wonder the Devils have kept him around.
New Jersey is a defensive team built to grind it out over a long series. They need more offensive help, but as long as the team is playing strong defense, Brodeur will always keep them in the game.
Especially in the playoffs.
As impressive as Lundqvist's numbers have been, Brodeur's 1.98 goals against average and .922 save percentage are nothing to bat an eye at. If Brodeur wants one final Stanley Cup, he needs to stand on his head.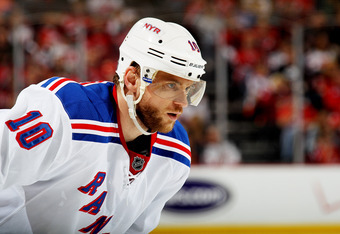 Bruce Bennett/Getty Images
Ilya Kovalchuk/ Marian Gaborik
With Ilya Kovalchuk and Marian Gaborik being the big offensive stars on their respective teams, one would hope that the top dog would be coming up large in key moments.
That couldn't be farther from the truth for this duo.
Combined, the fearsome pair have only managed two points—with both being scored by Ilya Kovalchuk. For two of the highest paid players in the NHL, this is the definition of bust.
Whichever team gets their main star going first will ultimately find the edge in this series and go on to advance to the Stanley Cup Finals. Neither team will beat Los Angeles if their stars aren't scoring.
Check back for more on the National Hockey League as it comes, and check out Bleacher Report's NHL Page to get your fill of all things hockey.