Reconstructing the Los Angeles Lakers Is Simple: More Starpower Is Needed
May 23, 2012

Stephen Dunn/Getty Images
After disappointing back-to-back playoff exits, the Lakers are left with a future that is up in the air.  The good news for the Lakers is that there is a fairly quick and easy fix to the quandary that they currently find themselves in.  Let's be frank: the Lakers not making a deep playoff run in two seasons is akin to the Bobcats making a deep playoff run ever. It doesn't happen.
My fix for the Lakers: more star power.  You might say "more stars in L.A.?"  Yes, the phrase :too many cooks in the kitchen" can be evoked here.  And let's be frank, the hordes of celebrities who feign sudden interest in basketball come playoff time is one of the most detestable things about the franchise.
But this article isn't about Laker-bashing (tempting though it is), but rather about Laker-fixing.  While many major sports journalists and reporters think that trading Pau Gasol is the best and most likely answer (I'm looking at you, Chris Broussard), I completely disagree.  The most effective way for Los Angeles to begin to make strides towards dominance is to do the following:
TRADE ANDREW BYNUM
Let me first preface this by noting that I am on record as saying that Andrew Bynum is one of the most overrated players in the NBA.  While his talent and physical attributes certainly make him a dominant (at times) post force, there are plenty of other factors that take away from Bynum's bigger development picture.  
Bynum is not mentally tough:  This is one of Bynum's greatest downfalls.  Mental toughness is a must in the post, where all the dirty stuff happens, and so far Bynum has not shown that he has the mental toughness to dominate the NBA.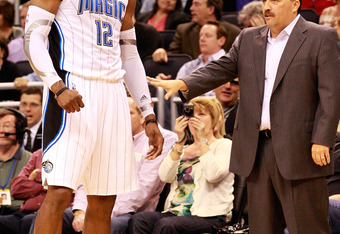 Sam Greenwood/Getty Images
He fell apart in last year's playoffs against Dallas when he ferociously and unnecessarily leveled J.J. Barea after it was clear that Laker elimination was soon to follow.  There's going out with class when you're beaten and then there's going out like a punk.  You tell me which option Bynum chose.
Speaking of going out in style, Bynum released another gem after Monday's loss to the Thunder. When asked about his future, Bynum responded by telling reporters, "It doesn't matter to me.  I'll play anywhere."  Maybe he was just being honest, and I guess good for him if that's the case.  But if you're Laker GM Mitch Kupchak, this quote should tell you all you need to know.  
You want to see Bynum saying, "I'm a Laker, Los Angeles is where I want to be."  But it seems that with talk of either him or Gasol moving this summer, the idea of trade rumors has struck a chord inside of Bynum and he realizes he could be gone.  
Another Bynum quote from just a week ago caused a stir in the NBA when he announced that "close out games are easy."  Saying that close out games are easy and then not dominating the paint the following game isn't a good look.  If Kobe had said this the series would likely have been over that night.  Luckily for Denver it wasn't, and the series was extended.
Dwight Howard is the answer:  A year ago, Orlando probably would have laughed at a Howard-for-Bynum swap.  But with the recent turmoil involving Howard and Stan Van Gundy, this trade becomes much more plausible.  Van Gundy was fired, yet Howard has still made it clear that his future is elsewhere.  There is no sense in trying to convince him to stay anymore.  Doing so is wasting more and more valuable time in which the Magic can still get a solid return for Howard, and they need to act before Howard leaves as a UFA and they get nothing.
As much as I have slighted Bynum above, he does possess the talent to be a dominant center.  If he can mature, get mentally tougher and stay healthy, the Magic will get a valuable player back.  A Bynum-centered deal is far more likely to garner Dwight Howard than a Gasol-centered trade, and the Magic would be stupid to not listen.  Bynum is by far the best player they are going to get back for Howard and if it is offered they should accept.  Something like Bynum, Andrew Goudelock and a future 1st makes sense for both sides.
SIGN DERON WILLIAMS
Signing Deron Williams may seem obvious, but truthfully I think that it is the best option.  Williams can opt out of his contract with the Nets and if he does, L.A. is a perfect destination.  When he has a strong supporting cast, Williams has proven that he is one of the top five point guards in the NBA.  
In many ways he is like Rajon Rondo: he is dominant when he has viable scoring options around him, but fades out of the conversation a bit when he has to do it on his own (like he was forced to in New Jersey). Unlike Rondo, though, Williams possesses an uncanny ability to put the ball in the hole for a PG, something the Lakers need.
It would be hard to find more reliable scoring options for Williams to play with than Kobe and Howard and point guard is an area of major need for L.A.  After failing to close the deal on a Chris Paul trade and no thanks to David Stern, Derek Fisher was moved in favor of Ramon Sessions.  Sessions is a fine PG, but not for a team aspiring to win an NBA title.
Make no mistake, Sessions was solid in his time in Los Angeles and he can certainly not be blamed for their playoff exit.  But he makes more sense as a backup PG.  Adding Williams and keeping Sessions around as the backup would instantly give Los Angeles one of the better PG combos in the league.
RE-SIGN LAMAR ODOM
After witnessing Odom's rapid downward spiral after going to Dallas, most of the league probably wouldn't touch him with a 30 foot pole.  And who could blame them?  Truth be told, Odom was incredibly immature for a professional athlete about last season's transition to the Mavericks.  That being said, it was clear that Los Angeles was the place Odom wanted to be, despite forcing himself out of the city.
A reunion between the two sides could be the solution for both the Lakers and Odom.  The Lakers sorely missed the depth and scoring punch Odom provided off the bench.  Odom sorely missed playing in the city where he has made a bigger name for himself and has his family rooted.  However, the expression "time heals all wounds" is surely applicable here.  
I'm sure if the Lakers offered him a contract, Odom would be more than happy to put his big boy pants back on, swallow his pride, and go back to the team that he obviously wishes he had never left.  
Adding Odom and Sessions to the bench immediately makes the Lakers deeper and stronger.  Plus, it brings Khloe Kardashian back to Los Angeles, and that is clearly the difference between another ring or another first round exit.
WORLD CLASS STARTING LINEUP
If trading for Howard and signing Williams both come to fruition, the Lakers will boast a lineup that can compete with anybody.  As a larger plus, it will also keep Kobe happy who, I'm sure by now, will be able to play with another star player sharing the court with him.
The potential lineup for '12-'13 looks as follows:
PG: Deron Williams
SG: Kobe Bryant
SF: Metta World Peace
PF: Pau Gasol
C: Dwight Howard
Extremely impressive and, if the Heat can manage to make their cap situation work, I see no reason why this isn't a plausible fix for the Lakers.