Why Orlando Magic Made the Wrong Move in Letting Go of Stan Van Gundy
May 23, 2012

Kevin C. Cox/Getty Images
The Orlando Magic will come to regret firing Stan Van Gundy, and they will start to feel that regret sooner rather than later. 
Van Gundy is considered to be one of the best coaches in the league, and is excellent at putting his players in positions that allow them to shine. 
Due to Dwight Howard's pre-season trade request, the Magic were forced to deal with more distractions than any other team in the league. Even still, they were the third-best team in the East for about two-thirds of the season, and if not were not for Howard being sidelined by a herniated disc in his back, the Magic might still be in the playoffs.   
After Howard's injury, Van Gundy had to use all of his basketball genius to come up with a game plan that could keep his undermanned squad in games. 
In the first round of the playoffs, the Magic were hopelessly out-gunned and under-sized against the Indiana Pacers but still managed to keep the series competitive. 
The Magic did not go quietly into the night, and they stole Game 1 on the road, in large part due to Van Gundy's scheme. 
It was incredible to see how hard the Magic players fought in the final couple games of the series for Van Gundy. They undoubtedly left everything they had on the court, and the head coach deserves at least a little bit of the credit for his teams energy and desire. 
What did Van Gundy, the winningest coach in Magic history, get in return for his hard work?
His walking papers.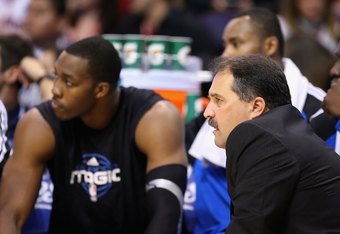 Christian Petersen/Getty Images
The NBA is a player's league and Van Gundy's dismissal is the perfect example of that. 
How can you justify firing a coach that went 259-135 and led you to the NBA Finals? 
The upper management for the Magic have made their final and most desperate play in hopes of keeping Howard, but shouldn't expect it to be successful. 
Firing such a successful head coach for a player that won't commit to a long term extension isn't a plan that is likely to produce anything but failure.
After firing Van Gundy, Magic CEO Alex Martins told the media the following:
"I don't think there's any surprise that there were challenges in the relationship between Dwight and Stan. But let me say in no uncertain terms that Dwight did not want to be part of this decision, he did not want to make this decision, he never asked me to make this decision," 
Anyone who thinks that this decision wasn't done in an attempt to appease Howard isn't thinking logically. 
The departure of Van Gundy and also of GM Otis Smith seem to have done little to sway Howard, as there are reports that he still desperately wants to get out of Orlando.
The Magic have proven that they will do whatever it takes to make him happy, but that isn't enough for Howard.
He appears to want a big market, where he will be showered with big endorsements and the love of his new fans. The Magic have given in to all of Howard's demands, who through his actions, has made it quite clear that he wants out of Orlando. 
With Van Gundy's firing, it's all but assured that at the start of next season, they will be without the elite player and coach that they started this season with. 
If Van Gundy wants to coach in the NBA next season, then he won't be on the market for long before someone scoops him up.
The Magic will soon be in rebuilding mode, and won't find a head coach nearly as capable as Van Gundy is to lead that effort.  Orlando will soon learn that the grass is not always greener on the other side.